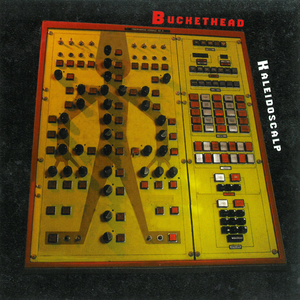 Kaleidoscalp is the fifteenth studio album by guitarist Buckethead. Some of the songs on the album use instruments and effects that have been circuit bent to create sounds quite unlike anything previously heard on Buckethead albums. Kaleidoscalp features the song "The Android of Notre Dame" which is a tribute to Pantera's guitarist Dimebag Darrell who was killed during a concert. The song was first called "Dime" (nickname of Darrell) and was released shortly after the incident on his web page without any cost and later released on the album with tracks of circuit-bent instruments added to it. "The Android of
Read Full Bio
Kaleidoscalp is the fifteenth studio album by guitarist Buckethead. Some of the songs on the album use instruments and effects that have been circuit bent to create sounds quite unlike anything previously heard on Buckethead albums.

Kaleidoscalp features the song "The Android of Notre Dame" which is a tribute to Pantera's guitarist Dimebag Darrell who was killed during a concert. The song was first called "Dime" (nickname of Darrell) and was released shortly after the incident on his web page without any cost and later released on the album with tracks of circuit-bent instruments added to it. "The Android of Notre Dame" is also a homage to a collection of Japanese gore films called "Guinea Pig", with one of the films being named the same as the song.
Genre not found
Artist not found
Album not found
Search results not found
Song not found
Frankenseuss Laboratories
Buckethead Lyrics
We have lyrics for these tracks by Buckethead:



Botnus Run, Run, Run... Blast, Blast across your face Deep cuts wi…
BUCKETHEAD'S T.V. SHOW 14. BUCKETHEAD'S T.V. SHOW "Can I try that?" "Buckethead…
Can You Help Me Gonna dig up bodies Gonna dig up bodies Gonna dig up bodies …
Carpal Tunnel Tomb Torker I'M COO COO FOR COCO PUFFS! *guitar* Male:Well I'll be. It's…
Clones Instrumental.…
Coma He stays still He stays here Unholy, unholy He stays still S…
Frozen Brains Tell No Tales What's between robot land and the cemetery Is a realistic re…
Fun For You I work in the slaughter house, I am the gutter Working…
Health & Safety Advisory As you know bucketheadland has been the source of a…
I Come In Peace (TV voice 1) He's as tall as a redwood tree, He weighs…
Intro: Park Theme Welcome to Bucketheadland Welcome Wel, Welcome Welcome to Bu…
Machete Mirage Oh, I wish I was in Dixie! Ole Ole! I…
Nosin' Yeah I thought they were outside playing, out there ya'…
Onions Unleashed Hey Kids! Onions here! And let's have a real good time!…
Pure Imagination maybe you can answer this strange question for me there youn…
Recreational Cryonics [Instrumental]…
Running from the Light If the angel should awake Live the life I want…
The Ballad of Buckethead "Who's this guitar-playing sonsa bitch?", is a question comm…
The Cobra's Head Bucketheadland the worlds premier amusement park. Where all …
The Cobra's Hood Buckethead Land, the world's premier abusement park. Where …
The Hand My Hand, My Hand, My Hand, My hand, myyyy handd! why'd …
Three Fingers Three fingers on a swollen hand Beside a dented garbage can …
Two Pints Hey mister bartender give me a drink I wanna cold wet…
Unemployment Blues They fired me from my job I worked at the slaughterhouse T…
Vladimir Pockets' Incredible Bloated Slunk Show Killer sideshow, bobble. It is the world's first theme pa…
Waiting Hare I talked to you today About all the troubled times when…
WARWEB I'm walking on the beach, a devil's in my head.…

The lyrics can frequently be found in the comments below, by filtering for lyric videos or browsing the comments in the different videos below.