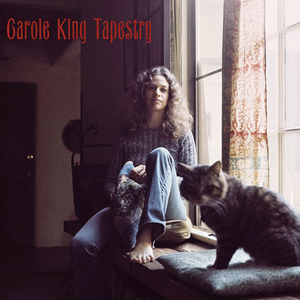 In 1971, a year after the release of the critically-acclaimed yet commercially unsuccessful album Writer, an undaunted King gave thoughtful, folk-flavored reinterpretations of some of her early pop hits as a songwriter, interweaving them with new compositions in the aptly-titled Tapestry. The album would become the turning point in her career. Tapestry was instantly recognized as one of the landmark albums of the singer-songwriter genre of the early 1970s. With numerous hit singles, it would remain on the charts for nearly six years, selling over 10 million copies in the United States alone, and an estimated 22 million worldwide, making
Read Full Bio
In 1971, a year after the release of the critically-acclaimed yet commercially unsuccessful album Writer, an undaunted King gave thoughtful, folk-flavored reinterpretations of some of her early pop hits as a songwriter, interweaving them with new compositions in the aptly-titled Tapestry. The album would become the turning point in her career.

Tapestry was instantly recognized as one of the landmark albums of the singer-songwriter genre of the early 1970s. With numerous hit singles, it would remain on the charts for nearly six years, selling over 10 million copies in the United States alone, and an estimated 22 million worldwide, making it King's most popular album to this day among fans and critics alike. The album garnered four Grammy Awards at the 1972 ceremony, including Album of the Year; Best Pop Vocal Performance, Female; Record of the Year (It's Too Late); and Song of the Year (You've Got a Friend).

Tapestry was placed at #36 on Rolling Stone's 500 Greatest Albums of All Time, while "It's Too Late" was placed at #469 on Rolling Stone's 500 Greatest Songs of All Time. And until Michael Jackson's groundbreaking album Thriller came along in 1982, Tapestry was the top-selling pop solo album of all time, with sales of 13 million copies in 1971 alone.
Genre not found
Artist not found
Album not found
Search results not found
Song not found
I Feel the Earth Move
Carole King Lyrics
I feel the Earth move under my feet
I feel the sky tumblin' down
I feel my heart start to tremblin'
Whenever you're around
Ooh, baby, when I see your face
Mellow as the month of May
Oh, darlin', I can't stand it
When you look at me that way
I feel the Earth move under my feet
I feel the sky tumblin' down
I feel my heart start to tremblin'
Whenever you're around
Ooh, darlin', when you're near me
And you tenderly call my name
I know that my emotions
Are somethin' I just can't tame
I've just got to have you, baby
Uh-uh-uh, uh-uh-uh, yeah
I feel the Earth move under my feet
I feel the sky tumblin' down, a-tumblin' down
I feel the Earth move under my feet
I feel the sky tumblin' down, a-tumblin' down
I just lose control
Down to my very soul
I get hot and cold
All over, all over, all over, all over
I feel the Earth move under my feet
I feel the sky tumblin' down, a-tumblin' down
I feel the Earth move under my feet
I feel the sky tumblin' down, a-tumblin' down
A-tumblin' down, a-tumblin' down
A-tumblin' down, tumblin' down
Lyrics © DistroKid, Sony/ATV Music Publishing LLC
Written by: Carole King

Lyrics Licensed & Provided by LyricFind
To comment on specific lyrics,
highlight them