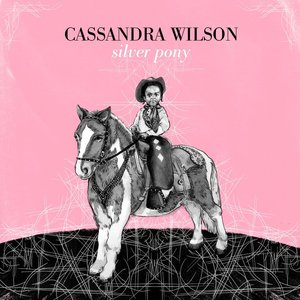 Widely regarded as the top Jazz singer of her generation (TIME magazine actually named her "America's Best Singer" in recent years), Grammy winner Cassandra Wilson has been praised as an innovator who has reinvented the art form and expanded its boundaries time and time again on such albums as Blue Light 'Til Dawn, New Moon Daughter, Traveling Miles, Thunderbird and Loverly. The sultry, smokey-voiced chanteuse breaks new ground once again on her new album Silver Pony. A collection of live and studio recordings that highlight the creative prowess of a stellar band, the original idea behind Silver Pony was to
Read Full Bio
Widely regarded as the top Jazz singer of her generation (TIME magazine actually named her "America's Best Singer" in recent years), Grammy winner Cassandra Wilson has been praised as an innovator who has reinvented the art form and expanded its boundaries time and time again on such albums as Blue Light 'Til Dawn, New Moon Daughter, Traveling Miles, Thunderbird and Loverly. The sultry, smokey-voiced chanteuse breaks new ground once again on her new album Silver Pony. A collection of live and studio recordings that highlight the creative prowess of a stellar band, the original idea behind Silver Pony was to use excerpts from the live shows as the genesis for further explorations in the studio. Blending the two environments leads to some truly inspirational moments and brand new songs evolve as the band in the studio continues to develop some of the same themes initiated in live performances from Warsaw, Seville, and Granada.
Genre not found
Artist not found
Album not found
Search results not found
Song not found
The sky was blue and high above
The moon was new and so was love
This eager heart of mine was singing
Lover, where can you be?
You came at last, love had its day
That day is past, you've gone away
This aching heart of mine is singing
Lover, come back to me
I remember every little thing
You used to do, I'm so lonely
Every road I walked along
I walked along with you
No wonder I am so lonely
The sky was blue, the night was cold
The moon was new but love was old
And while I'm waiting here
This heart of mine is singing
Lover, come back to me
Oh, I remember every little thing
You used to do, I'm so lonely
Every road I walked along
I walked along with you
No wonder I am so lonely
Oh, the sky was blue, the night was cold
The moon was new but love was old
And while I'm waiting here
This heart of mine is singing
Lover, come back, lover, come back, lover, come back
Lover, come back, lover, come back, lover, come back
Lover, lover, come back, lover, come back
Lover, come back, lover, come back, lover, come back
Lover, come back, lover, come back, lover, come back
Lover, come back, lover, come back to me
Lover, come back, love, love, love, love, love
Love, love, love, love, love, love
Lover, come, lover, come, lover, come back
Lyrics © CONCORD MUSIC PUBLISHING LLC, Warner Chappell Music, Inc.
Written by: OSCAR HAMMERSTEIN, II, OSCAR II HAMMERSTEIN, SIGMUND ROMBERG

Lyrics Licensed & Provided by LyricFind
To comment on specific lyrics,
highlight them