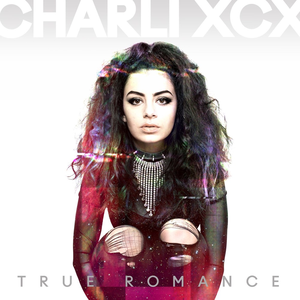 True Romance is the debut studio album by English singer and songwriter Charli XCX, released on 12 April 2013 by Asylum and Atlantic Records. Originally scheduled for release in April 2012, the album's release was delayed for a full year and had been in the making since early 2010 when Charli met with producer Ariel Rechtshaid in Los Angeles. To promote the album's release, Charli embarked on a three-date UK promotional tour in April 2013.

"You're
Read Full Bio
True Romance is the debut studio album by English singer and songwriter Charli XCX, released on 12 April 2013 by Asylum and Atlantic Records. Originally scheduled for release in April 2012, the album's release was delayed for a full year and had been in the making since early 2010 when Charli met with producer Ariel Rechtshaid in Los Angeles. To promote the album's release, Charli embarked on a three-date UK promotional tour in April 2013.

"You're the One" has been compared to Siouxsie and the Banshees' 1991 song "Kiss Them for Me" and Charli agreed: "At the time, I was listening to a lot of dark pop, so I was inspired by a lot of the deep bass sounds. Sure, Siouxsie is there, too. We just kind of rolled with it."

Charli explained the meaning being the album's title: "Every corner of my own romantic history is explored on this record, so for me, it's very raw, it's very honest, and it's very true." The majority of the album's tracks was previously released on the You're the One EP, and through the Heartbreaks and Earthquakes and Super Ultra mixtapes.> The album is named after the Quentin Tarantino-written 1993 film of the same name, which is sampled on "Velvet Dreaming" from the Super Ultra mixtape. On 9 April 2013, the standard edition of album became available to stream on Pitchfork Media in full.
Genre not found
Artist not found
Album not found
Search results not found
Song not found
Nuclear Seasons
Charli XCX Lyrics
Let my car run out
Cars burn out
I wont scream or shout
Lost my breath now
Let's die together, no one lives forever (Cars burn out)
Let's die together, no one lives forever
Falling through the clouds
No one lives forever
Falling through the clouds
('Cause I feel like I'm in heaven, dancing) (No one lives forever)

When you go please don't leave your love in the sun
My heart would melt away
In the night with your twisted tongue
When you drop the bomb, I'm blown away

'Cause I refuse to hide in a page of this story
I come out the box, I won't say I'm sorry

We in the nuclear season
In the shelter I survived the storm
We in the nuclear season
Summer lovin' in the backseat, gone

No facing this on my own
'Cause you taste the blast and it shook your bones
I'm a warrior all alone
In the field of lies, I wont go home

'Cause I didn't burn my skin in the blaze of glory
I come out your hands, I won't say I'm sorry

We in the nuclear season
In the shelter I survived the storm
We in the nuclear season
Summer lovin' in the backseat, gone

We survived nuclear seasons
We survived nuclear seasons

Oh, I can feel it, I can feel the fear
I can feel it, inside of her soul
Inside of us all

We in the nuclear season
In the shelter I survived the storm
We in the nuclear season
Summer lovin' in the backseat, gone

We survived nuclear seasons (Good times, dark nights)
We survived nuclear seasons (Good times, dark nights)
We survived nuclear seasons (Good times, dark nights)
We survived nuclear seasons (Good times, dark nights)

Lyrics © Sony/ATV Music Publishing LLC, Kobalt Music Publishing Ltd.
Written by: Ariel Rechtshaid, Justin Raisen, Charlotte Emma Aitchison

Lyrics Licensed & Provided by LyricFind
To comment on specific lyrics,
highlight them