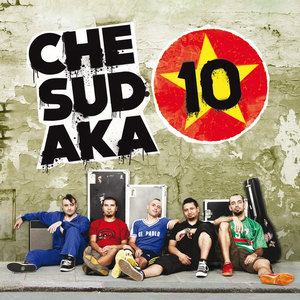 Che Sudaka combines Argentinian and Colombian musicians which were known in Barcelona's Old Town, meeting point for buskers from all over the world and source of inspiration for a fusion of various styles.
Right from the start, the band has shown their protest nature which lead the band to reflect social issues in their lyrics. Most of their songs look at immigration, social inequality and the conflict of interests that look down on human being. In 2002 the band began to play in Barcelona: the streets
Read Full Bio
Che Sudaka combines Argentinian and Colombian musicians which were known in Barcelona's Old Town, meeting point for buskers from all over the world and source of inspiration for a fusion of various styles.
Right from the start, the band has shown their protest nature which lead the band to reflect social issues in their lyrics. Most of their songs look at immigration, social inequality and the conflict of interests that look down on human being. In 2002 the band began to play in Barcelona: the streets, the bars, the tube and the suburban trains were their first stages. The band was first noticed internationally through their contribution SIN PAPELES on the sampler LA COLIFATA, which represents the mestizo scene of Barcelona.
They dedicated their debut TRIPPI TOWN (2003) to the Plaza del Trippi (George Orwell Square), the place where they met. The album is a product of many different musical influences: a journey through reggae, ragga, punk-latin and argentinian folklore. A subsequent tour followed through Europe (France, Belgium, Italy, Spain). Lots of shows and lots of friends from all over the world… a great influence for their second album: ALERTA BIHOTZA!!! (2005)
It is a multicultural album that takes the listener to the reggae-punk energy the band irradiates in their live shows. For the production, the band enlisted Gambeat, Radio Bemba's bassist, who is the responsible both for the harder sound and for the elaboration of their extreme energetic live show. The album also counts on some special guests appearances: Fermin Muguruza (Kortatu, Negu Gorriak), Yacine (Cheb Balowski, Nour), Dede Trake (Cannabistro), Gambeat (Radio Bemba, French Lovers, Piratas Urbanos) and Lina (Azaiza).
More than 2 years and 300 gigs... A tour through Germany, Switzerland, Austria, Denmark, Italy, Spain, France, Holland and Argentina... Now, CHE SUDAKA comes back with MIRANDO EL MUNDO AL REVÉS (2007), a new acoustic cd which is released together with a dvd including a documentary about the band, an interview and some other extra files. The album features some special friends appearances: Amparo Sánchez (Amparanoïa), Un Kuartito and Karamelo Santo (both bands from Argentina).
As when they played in the streets of Barcelona, their positive energy and the willingness to give it all to the audience are the most remarkable attributes of CHE SUDAKA.
Genre not found
Artist not found
Album not found
Search results not found
Song not found
10
Che Sudaka Lyrics
diez años ya se fueron
diez años de pasion
diez años y la guitarra
tocan la misma cancion

la vida empieza otra vez (x2)

diez años siempre soñando
diez años contra el dolor
diez años siendo inocentes
siempre buscando al amor

la vida empieza otra vez (x2)

Con alegria empezamos a cantar
sabes lo que te digo, con el universo
siempre de testigo, todas sus estrellas
alumbrandonos el camino, siguiendo nuestro rumbo
cumpliendo el destino
sabes lo que te digo por que juntos lo vivimos
luchando, trabajando nos hicimos muy amigos
contando dia a dia todo lo que vivimos, inmigrantes
buscando su destino.
...
mil noches y una aventura
mil noches y una verdad
mil noches y una utopia camino hacia la unidad
la vida empieza otra vez (x2)
mil noches la carretera
mil noches y una mision
La ruta fiel compañera, testigo de la ilusión
La vida empieza otra vez (x2)
...
Por eso salimos, volamos del nido
volando por el mundo, conociendo los vecinos
comenzo de cero, empieza ahora mismo
siempre adelante en contra del racismo
quebrando la tierra como la quiebra un cismo
soñando, saltando como si fueramos simios
autogestionados pa' que bailen todos pa' que bailen tus hijos!
mil noches siempre soñando contra el dolor
la vida empieza otra vez
mil noches siendo inocente buscando al amor
la vida empieza otra vez
diez años un camino y una explosion
la vida empieza otra vez
el vivir con utopia alegrando corazon
la vida empieza otra vez
y vuelve a empezar la vuelta otra vez y otra vez
la vida empieza otra vez
y el inmigrant soul que te acompaña donde estes
la vida empieza otra vez
la vida empieza otra vez a decirte la verdad
la vida empieza otra vez
alegrarte a ti y al mundo y toda la humanidad


Contributed by James E. Suggest a correction in the comments below.
To comment on specific lyrics,
highlight them