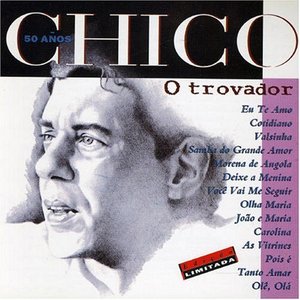 Chico 50 Anos - O Trovador
Francisco Buarque de Hollanda, better know as Chico Buarque, is a Brazilian sing…
Read Full Bio ↴
Francisco Buarque de Hollanda, better know as Chico Buarque, is a Brazilian singer-songwriter, guitarist, composer, playwright, writer and poet. He is best known for his music, which often includes social, economic and cultural reflections on Brazil.

The firstborn son of Sérgio Buarque de Hollanda, Buarque lived at several locations throughout his childhood, though mostly in Rio de Janeiro, São Paulo, and Rome. He wrote and studied literature as a child and found music through the bossa nova compositions of Tom Jobim and João Gilberto. He performed as a singer and guitarist in the 1960s as well as writing a play that was deemed dangerous by the Brazilian military dictatorship of the time. Buarque, along with several Tropicalist and MPB musicians, was threatened by the Brazilian military government and eventually left Brazil for Italy in 1969. However, he came back to Brazil in 1970, and continued to record, perform, and write, though much of his material was suppressed by government censors. He released several more albums in the 1980s and published three novels in the 1990s and 2000s.

In 2019, Buarque was awarded the Camões Prize, the most important prize for literature in the Portuguese language.
Genre not found
Artist not found
Album not found
Search results not found
Song not found
Chico 50 Anos - O Trovador
Chico Buarque Lyrics
As Vitrines
Eu te vejo sair por aí Te avisei que a cidade…
Cotidiano
Todo dia ela faz tudo sempre igual Me sacode às seis…
Deixe A Menina
Não é por estar na sua presença Meu prezado rapaz Mas você…
Eu te amo
Ah, se já perdemos a noção da hora Se juntos já…
João E Maria
Agora eu era o herói E o meu cavalo só falava…
Morena De Angola
Morena de Angola que leva o chocalho amarrado na canela Será…
Olha Maria
Olha, Maria Eu bem te queria Fazer uma presa Da minha poe…
Pois é
Pois é Fica o dito e o redito por não dito E…
Samba Do Grande Amor
Tinha cá pra mim Que agora sim Eu vivia enfim o grande…
Tanto Amar
Amo tanto e de tanto amar Acho que ela é bonita Tem…
Valsinha
Um dia ele chegou tão diferente Do seu jeito de sempre…
Voce Vai Me Seguir
Você vai me seguir Aonde quer que eu vá Você vai me…