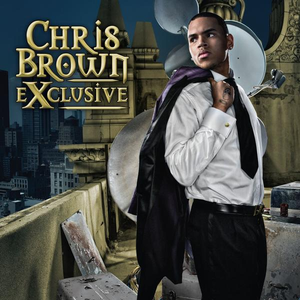 Exclusive is the second studio album by American singer Chris Brown. It was released on October 16, 2007, by CBE, Jive Records. The record serves as Chris Brown's second studio release under his CBE record label, as well as with Jive. The record also serves as the follow-up to his multi-platinum selling debut album, Chris Brown (2005).
Genre not found
Artist not found
Album not found
Search results not found
Song not found
[talking] yeaa...yu know being from Virginian
(haha) I gotta go back to my roots
The whole go-go thang... dc wats up
(haha) Virginia you already know how we bout to do it
Lets go...yessir
Been sittin here for an hour talkin
But we ain't sayin nothin
I ain't even trippin mama thats cool
No betta way to waste time then to with you
Ain't that a trip cause usually I do my thing and I dip (ooh)
But she got me wanna stick around for the second show
Have her do her thing on the stage for me once more
And in like....ooo
I can't wait for us to be alone (tell me)
So tell me, tell me what ya say ma
You've been keepin it 100 up to this far
So what ya wanna do
I'm tryna give it but I'm losing my cool (for you)
Cause shorty got me throwed
Thrown off, lil mama, she got thrown (ayy)
Thrown off, lil mama, she got thrown (ayy)
Now I can't say all the things I wanna say
(but your body is a problem for me)
And I put shame on a man that walked away
(but I'm glad he left yu here for me yeaa)
Thats real cause usually I can't express how I feel
Its like I'm in my favorite scene on a movie screen
Diamond studded tee, crown holdin my spike lee's
And I'm like whoaa...
I can't wait for us to be alone (tell me)
So tell me, tell me what ya say ma
You've been keepin it 100 up to this far
So what ya wanna do
I'm tryna give it but I'm losing my cool (for you)
Cause shorty got me thrown
Thrown off, lil mama, she got thrown (ayy)
Thrown off, lil mama, she got thrownn (ayy)
Girl you got that knock, I hear it down the block
And if I get a chance, guaranteed I keep it hot
I gotta get you locked, so baby pick ya feet up
Adjust my two seater, holla if you hear me now
Girl you got that knock, I hear it down the block
And if I get a chance, guaranteed I keep it hot
I gotta get you locked, so baby pick ya feet up
Adjust my two seater, holla if you hear me now
Ooo...i can't wait for us to be alone (tell me)
So tell me, tell me what ya say ma
You've been keepin it 100 up to this far
So what ya wanna do
I'm tryna give it but I'm losing my cool (for you)
Cause shorty got me thrown
Thrown off, lil mama, she got thrown
Thrown off, lil mama, she got thrown
Yessir...two up two down
Holla at me...its all about u
We out..lets go
Gotta me feelin like...hey hey heyyy
Lyrics © Universal Music Publishing Group, Sony/ATV Music Publishing LLC, Warner Chappell Music, Inc.
Written by: CHRIS BROWN, BRYAN COX, KASEEM DEAN, DONNIE SCANTZ, TAURIAN SHROPSHIRE, TAURIAN ADONIS SHROPSHIRE, JAHI SUNDANCE

Lyrics Licensed & Provided by LyricFind
To comment on specific lyrics,
highlight them