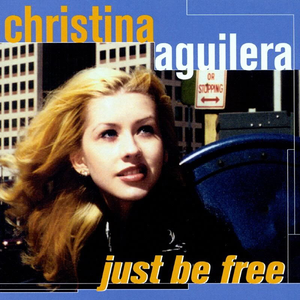 Just Be Free is an unofficial album of American pop/R&B singer Christina Aguilera's early demo recordings, which were submitted when she was fourteen and fifteen years old. These tracks were never intended to be released to the public, but were instead used as a tool to enter the music industry. In 2000, by which time she was a household name, a single emerged into record stores called "Just Be Free", one of the demos Aguilera recorded. When RCA Records discovered the single, they officially advised fans not to purchase it, since it was unauthorized, and had German authorities pull the
Read Full Bio
Just Be Free is an unofficial album of American pop/R&B singer Christina Aguilera's early demo recordings, which were submitted when she was fourteen and fifteen years old. These tracks were never intended to be released to the public, but were instead used as a tool to enter the music industry.

In 2000, by which time she was a household name, a single emerged into record stores called "Just Be Free", one of the demos Aguilera recorded. When RCA Records discovered the single, they officially advised fans not to purchase it, since it was unauthorized, and had German authorities pull the single off shelves as well. Months later, indie label Warlock Records was set to release Just Be Free, an album which contains the demo tracks. Aguilera filed a breach of contract and unfair-competition suit against Warlock and former producers Michael Brown and Robert Alleca in an effort to block the release, arguing that the album didn't reflect her music direction because of her age when she recorded it, and how they used Aguilera's name, likeness and image without permission to advertise a product.

In the end, the two parties came to a settlement to release the album to the public. She lent out her name, likeness and image for an unspecified amount of damages. Many of the details of the lawsuit remain confidential. When the album was released on August 21, 2001, it had a photograph of Aguilera when she was fifteen years old, and the following statement from her written in its liner notes:

Dear Friends:

Just Be Free was recorded when I was 14 and 15 years old. At that young age, I made the recordings as a possible stepping stone to a career in music, which is my ultimate passion. They were made just so that I could get my foot in the door of the music business.

I did not intend that the recordings would be widely released, especially after I signed with a major record label. I have not updated or finished the versions recorded in my childhood, and they are being released "as is", although I tried to prevent the release for several years.

The recordings do not in any way reflect my current musical taste and where I am as an artist. The growth and vocal development I experienced as I matured into young adulthood is not reflected in the recordings. The album of new recordings that I intend to release this fall will be the album that truly reflects my artistry, my vision, and my passion. The Just Be Free recordings will hopefully be a footnote in a musical career that I dream will last for many years to come.
Genre not found
Artist not found
Album not found
Search results not found
Song not found
Oh, yeah yeah yeah
Move it to the rhythm
On your feet, on your feet, ohh
Rap to the beat, yeah
Move it to the rhythm
Dance floor's open, feeling free
Music's pumping to get on your feet
Take a chance and feel the beat
Get on up and, you gotta dance with me
Just be free (on your feet)
Now stop moving, no way
On your feet (on your feet)
Move it to the rhythm (oh)
Just be free
Now stop moving, no way
On your feet (on your feet)
Move it to the rhythm
Don't you see, you just can't fight
We'll be dancing till the morning light
Just keep going, don't let it slip away
There's no stopping till the break of day
On your feet (oh)
On your feet (oh)
On your feet
Move it to the rhythm (oh)
Dance floor's open, feeling free
Music's pumping to get on your feet
Take a chance and feel the beat
Get on up and, you gotta dance with me
Just be free (on your feet)
Now stop moving, no way (oh)
On your feet (on your feet)
Move it to the rhythm (oh)
Just be free (on your feet)
Now stop moving, no way
On your feet (on your feet)
Move it to the rhythm
Don't you see, you just can't fight
We'll be dancing till the morning light
Just keep going, don't let it slip away
There's no stopping till the break of day
(Don't stop it...)
Just be free
Now stop moving, no way
On your feet (on your feet)
Move it to the rhythm (oh)
Just be free (oh)
Now stop moving, no way
On your feet
Move it to the rhythm
You're moving, you're moving
Oh oh oh yeah yeah, oh
Oh, oh, no, oh, oh ooh oh yeah yeah
Just be free (on your feet)
Now stop moving, no way
On your feet, on your feet, oh
Move it to the rhythm
On your feet (oh)
(On your feet)
On your feet
Move it to the rhythm (oh)
Just be free (on your feet)
Now stop moving, no way (oh)
On your feet (on your feet)
Yeah yeah, hey hey hey, oh
Move it to the rhythm
Just be free
Now stop moving, no way
On your feet (on your feet)
Move it to the rhythm (oh)
Just be free
Now stop moving, no way
On your feet (on your feet)
Move it to the rhythm (oh)
On your feet (oh)
(On your feet)
On your feet
Move it to the rhythm (oh)
Just be free (on your feet)
Now stop moving, no way
On your feet
Just be free
Now stop moving, no way
Never never stop moving
Never, never, never
Stop moving
Lyrics © Universal Music Publishing Group
Written by: Chirstina Aguilera, Michael Brown, Robert Allecca

Lyrics Licensed & Provided by LyricFind
To comment on specific lyrics,
highlight them