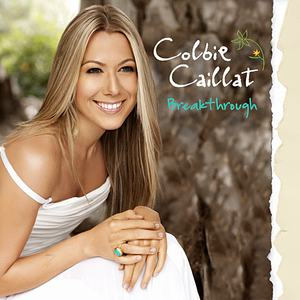 Breakthrough is the second studio album by American singer-songwriter Colbie Caillat. The album was released on August 19, 2009 through Universal Republic Records. The follow-up to her successful debut album, Coco (2007), Breakthrough was developed in late 2008 when Caillat returned to her home after two years on tour, with the singer setting up a "writing camp" with songwriters and producers in Hawaii and writing over 40 songs for the record.

Inspired
Read Full Bio
Breakthrough is the second studio album by American singer-songwriter Colbie Caillat. The album was released on August 19, 2009 through Universal Republic Records. The follow-up to her successful debut album, Coco (2007), Breakthrough was developed in late 2008 when Caillat returned to her home after two years on tour, with the singer setting up a "writing camp" with songwriters and producers in Hawaii and writing over 40 songs for the record.

Inspired by the fact that she was trying to find herself again and breaking the creativity chains that surrounded her, Breakthrough deals with themes of growing up, experiencing life, love, making mistakes and learning from them, as well as heartbreak and why everlasting love seems elusive. To help develop her expected sound and lyrics, Caillat worked with previous collaborators, such as Mikal Blue, Ken Caillat and Jason Reeves, while working for the first time with Kara Dioguardi, Rick Nowels, John Shanks and Greg Wells.

Breakthrough received generally mixed to favorable reviews from contemporary music critics, with some praising its rich texture and for being a consistent album with catchy tracks, while others dismissing its title and finding issues with some of the song's lyrics. The album was nominated for Best Pop Vocal Album at the 52nd Grammy Awards. Commercially, it was successful in the United States, debuting at number one on the Billboard 200, selling 106,000 copies in its first week, becoming her first album to top the Billboard charts. Elsewhere, it reached the top-ten in four countries, while failing to replicate the success of her debut album in other territories.

The album produced two singles. The first single, "Fallin' for You", was released on June 29, 2009 and was a success on the Billboard Hot 100, reaching number twelve, while also finding success on the Adult radio. Elsewhere, it was a moderate hit. The second single, "I Never Told You", was released on February 16, 2010, and found similar success on the Adult charts, while being more moderate on the Billboard Hot 100. To promote the record, Caillat embarked on her Breakthrough World Tour (2009-2010).
Genre not found
Artist not found
Album not found
Search results not found
Song not found
I won't do what you told me
I won't do what you said (no)
I'm not gonna stop feeling
I'm not gonna forget it
I don't wanna start over
I don't wanna pretend it
You are not my lover
That you're only my friend
Cause when you took my heart
It took it all
When you gave it back
I fell apart
So
I won't do what you told me
I won't do what you said, no
I'm not gonna stop feeling
I'm not gonna forget it
I don't wanna start over
I don't wanna pretend it
You are not my lover
That you're only my friend
My friend
I won't
Well, maybe you're not right for me
Maybe this is hard to see
I get lost in your beauty
And I just stop questioning
Cause when you took my heart
You took it all
When you gave it back
It fell apart
So
I won't do what you told me
I won't do what you said, no
I'm not gonna stop feeling
I'm not gonna forget it
I don't wanna start over
I don't wanna pretend
That you are not my lover
That you're only my friend
Friend
I won't
You say it's easier to burn than to build
You say it's easier to hurt than to heal
But I say you lose when you give up what you love
And I've lived my life without you long enough
So
I won't do what you told me
I won't do what you said, no
I'm not gonna stop feeling
I'm not gonna forget it
I don't wanna start over
I don't wanna pretend
That you are not my lover
That you're only my friend
Friend
I won't
I won't
I won't
I won't
No, I won't
Lyrics © Sony/ATV Music Publishing LLC
Written by: COLBIE CAILLAT, JASON REEVES, MAKANA ROWAN

Lyrics Licensed & Provided by LyricFind
To comment on specific lyrics,
highlight them