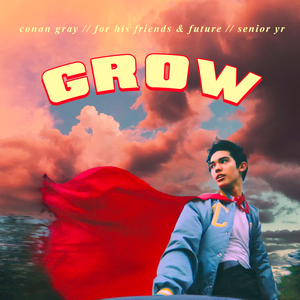 Conan Gray is an American singer-songwriter and social media personality. He was born on December 5, 1998, in Lemon Grove, California. As an infant, his family moved to Hiroshima, Japan and short after returned to California, before settling in Georgetown, Texas.

He started his career on Youtube under his channel 'ConanxCanon' before officially changing to 'Conan Gray'. While on his time on Youtube he released multiple original songs, with the most
Read Full Bio
Conan Gray is an American singer-songwriter and social media personality. He was born on December 5, 1998, in Lemon Grove, California. As an infant, his family moved to Hiroshima, Japan and short after returned to California, before settling in Georgetown, Texas.

He started his career on Youtube under his channel 'ConanxCanon' before officially changing to 'Conan Gray'. While on his time on Youtube he released multiple original songs, with the most famous one being 'Idle Town' the lead single of his debut EP 'Sunset Season' released on November 16, 2018. Before releasing the EP he signed with Republic Records in October of 2018. He supported the EP with the singles 'Generation Why' and 'Crush Culture'.

In 2019, Conan officially started to release a series of singles for his debut studio album 'Kid Krow'. Since June he has released 3 official singles, with the most notable one being 'Maniac', which garnered success in South Korea, Australia, New Zealand and on many Spotify charts around the world. Two days before the release of his album, he released the third official single 'Wish You Were Sober'. On March 20th Conan released 'Kid Krow'. The album debuted at #5 on the Billboard 200 albums chart and following the commercial success of Kid Krow, Apple Music named Conan as an Up Next artist and released an exclusive mini-documentary about him in April 2020.
Genre not found
Artist not found
Album not found
Search results not found
Song not found
We have lyrics for 'Grow' by these artists:



108 Grow, but what/who will have to go? you know i…
Advent I wanna breathe I wanna bleed I wanna, let you know I…
AK feat. Veela "What's the update?" "My dear girl, it's gotten worse than y…
Algee Smith I'm coming from a place of delusions and being blinded I…
April Start I should have been there Should have made it by now But,…
Automorrow I won't be satisfied With the world I see If I don't…
Awake the Dreamer I have waited this past few years But the months do…
B.A.N.G Who are you when the lights come on Do you even…
B.A.N.G. [Chorus:] They call me The Wild Rose But my name was Elisa…
Bedroom Everything keeps changing for the worst, its not the first. …
BONNIE PINK This kind of feeling This kind of vibration Too much to hold…
Bourbon Tabernacle Choir Easy judging when you're sittin' up in your highchair No li…
Cozz I went from a hobby rapper to a nobody can…
day after tomorrow Odayaka na kaze ni fukare itsumo no michi wo…
Defences Oh, these things we do to ourselves We love and…
Delorean Maybe, maybe, maybe, maybe, maybe, maybe Maybe, maybe, mayb…
E.dread Time ain't on your side Get a little money and survive And…
Fauntella Crow Bring me a cig Get it lit I need something besides…
Frances Don't put your eyes down You're not to blame I know there…
Gypsy We have been gay, going our way Life has been beautiful,…
Hawk House Topic two: The Thought Process When the evening's over and …
Hearts And Minds You want attention but not the blame If you're the circus…
Hi-5 We have been gay, going our way Life has been beautiful,…
Hi5 Grow Grow Grow Grow Grow Grow Grow Grow Grow Grow Grow Grow…
Hoax Sugar be sweet The world doesn't sleep When you're…
Jack Hawitt I′m aching from love My body's in a mess from love The…
Jah Gaïa Grow, grow, grow inna the land Grow inna the illusion city I…
Jay Sarma Tonight I wish that I had known, I'd be sleeping alone But…
Jeangu Macrooy When I'm sad I am unreasonable Just like a little kid Mad at…
JJ Heller Why did the rain go away Was it something I said Counting…
Kidnap I will chase the footsteps The ones we walk for years Lies…
KnowMads feat. La & Smoke Dza DZA, riiiiiiiiiiiiight, uh... A nigga gotta keep it G though…
Kolby Koloff Down in the dirt buried deep There is a promise there's…
Kubb Who said Broken pieces don't mend I say I say…
LA HAVAS Lianne I resisted the charms of evil's arms As she stood by…
Laoud We're standing still on ground we've broken When everything'…
Le Loup Come to me, my darling, I am not afraid. Please forgive…
Lianne La Havas I resisted the charms of evil's arms As she stood by…
Machine Est Mon Coeur A stray smile from the street Reminds how far and steep. A…
Malika Tirolien When I Was feeling low I thought that I could never…
Man On Earth We're melting ruby hearts A confusing trade To burn the ore …
MIA GLADSTONE I know Baby, I'll grow like a flower Yeah, yeah Oh yeah, yea…
Modwheelmood I drew all my conclusions I've crossed the bridge that no-o…
Mr. Jones and JP Phillippe When I grow up I want to be Everything except that I…
Mree Tell me how How to live on the edge of my…
Muna I want to grow up I want to put away my…
Neulore I hold you underneath the moon Made up the scars and…
Nils Wülker And it signified, by single file Through the avenues, over t…
Nordton a.k.a Nomad The blue above was waiting for a cloud We fell in…
Odessa Kiss me soft and tenderly Our love is young Our hearts they…
Palmaria I set up my alarm every morning same time 6 am…
Paul Travis Dead like the growth of grass in the winter time,…
Prang You're always waiting for the right time I only see you…
Rae Morris All of the thoughts we waste Under the weight of the…
Rae Morris & Tom Odell I can feel you breathing With your hair on my skin As…
Red Roots I'm just a girl in a big old world And people…
Ryan Vail You don't know what I've been told I'll die young, But…
Safiyyah Feel Huh-huh, yeah-yeah Let it go Let it grow Let me show y…
Samm Henshaw (So in love) (More in love) I just need you near me With…
Sartaj Virk Fresh side the best side 20 mother fucker in trending Yeah,…
Satsang These are the times we've been stuck in, Feeling out of…
Soley I descend from hundreds of fights I'll be gone before storyt…
Staggered Crossing I feel so beat up again I've been holding on to…
Steam Phunk feat. M. Maggie Who are you when the lights come on Do you even…
Swiss Lips Must been a record Must been a fastest time Looking for a…
Teena Hope you know that I'm thinking of you this time The…
Terry Hall & Mushtaq With Terry Hall, you-Roy and the Skatalites I will never gro…
The band called Oh Need a make over at home edition Nothing fancy, coexisting D…
The Cold and Lovely when i think of all these years the ordeals we're through i…
The Day day after tomorrow - grow 作词 misono 作曲 铃木大辅 穏やかな风に吹かれ いつもの道を…
The Defaced Been safe for some time now Never thought that this was…
The Last Dinosaur I realized that skin and bone were merely craft of stick…
The Main Squeeze For all we think, and all we know What happens now,…
The Oh Hellos Between the seams that line your living room A vine of…
The Originals - 1.03 - Rae Morris When I grow up I will be tall enough to reach…
The Posies He closed his eyes and was alone He held his hand…
Tomii Chan Sure we try to find the perfect light Through a window…
U-Manoyed Who are you when the lights come on Do you even…
W. C. Lindsay Castle on the borderline is surely like this Approaching of …
Waiian Lord thank you for making me a dope ass rapper Not…
Wake Owl I went down on one knee asking for forgiveness oh…



We have lyrics for these tracks by Conan Gray:



(Can We Be Friends?) Could you be my best friend? Let's hang out every weekend Go…
(Online Love) You only pass through my city Every once in a million…
Affluenza Mama's got a new man And daddy's got a new mansion…
Astronomy We drive through the woods Rich neighborhoods to watch We jo…
Checkmate You think you're funny, right? Calling me drunk when it's to…
Comfort Crowd This hurt that I'm holding's getting heavy But I'ma keep a…
Crush Culture Crush culture My god don't look at your phone No one's gonn…
Fight or Flight Something's gotten into you You don't really look at me the…
Generation Why Why why why why Why why why why Why why why I was…
Greek God I don't really care if you like me or not But…
Heather I still remember third of December Me in your sweater, you…
Idle Town This town will never change People come and go, it's all…
Jigsaw (Ooh-ooh, ooh) (Ooh-ooh, ooh) If changing my clothes would …
Little League Do you remember days on our old block? Messing with our…
Lookalike Let's go back to the summer night When we met eyes,…
Maniac Maniac You were with your friends, partying When the alcoho…
Overdrive Only met on the weekend Said I'm not catching feelings Oh, I…
People Watching That wasn't funny, but she laughed so hard, she almost…
Telepath Don't even finish that sentence, babe Already know how this …
The Cut That Always Bleeds I don't love you anymore A pretty line that I adore Five…
The King Crush always making me feel like I got nothing to…
The Other Side I've got tired eyes, a black sky Making its home under…
The Story Let me tell you a story About a boy and a…
Wish You Were Sober (Wish you were so, wish you were so, wish you…

The lyrics can frequently be found in the comments below or by filtering for lyric videos.