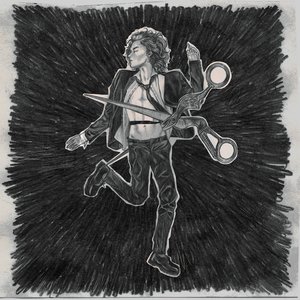 Conan Gray is an American singer-songwriter and social media personality. He was born on December 5, 1998, in Lemon Grove, California. As an infant, his family moved to Hiroshima, Japan and short after returned to California, before settling in Georgetown, Texas.

He started his career on Youtube under his channel 'ConanxCanon' before officially changing to 'Conan Gray'. While on his time on Youtube he released multiple original songs, with the most
Read Full Bio
Conan Gray is an American singer-songwriter and social media personality. He was born on December 5, 1998, in Lemon Grove, California. As an infant, his family moved to Hiroshima, Japan and short after returned to California, before settling in Georgetown, Texas.

He started his career on Youtube under his channel 'ConanxCanon' before officially changing to 'Conan Gray'. While on his time on Youtube he released multiple original songs, with the most famous one being 'Idle Town' the lead single of his debut EP 'Sunset Season' released on November 16, 2018. Before releasing the EP he signed with Republic Records in October of 2018. He supported the EP with the singles 'Generation Why' and 'Crush Culture'.

In 2019, Conan officially started to release a series of singles for his debut studio album 'Kid Krow'. Since June he has released 3 official singles, with the most notable one being 'Maniac', which garnered success in South Korea, Australia, New Zealand and on many Spotify charts around the world. Two days before the release of his album, he released the third official single 'Wish You Were Sober'. On March 20th Conan released 'Kid Krow'. The album debuted at #5 on the Billboard 200 albums chart and following the commercial success of Kid Krow, Apple Music named Conan as an Up Next artist and released an exclusive mini-documentary about him in April 2020.

Conan has taken a liking to leaving hints of future events on instagram stories, and is currently at 6.2 million followers. His Sophomore album, Superache, is set to release June 24, 2022, and includes tracks such as Memories, People Watching and more. Memories in particular has taken certain areas of social media, such as Tik Tok. Recently Conan has jumped from 228th artist on Spotify to 192nd. He has had several interviews while on his North America and European shows, and possibly more now that his tour is wrapping up.
Genre not found
Artist not found
Album not found
Search results not found
Song not found
(Ooh-ooh, ooh)
(Ooh-ooh, ooh)
If changing my clothes would make you like me more
If changing my hair would make you care
Then I'd grab the kitchen scissors
And cut myself to slivers
For you
If being more polite would keep you satisfied
If being less insane would make you stay
Then I'd be more like my sister
Say, "Thank you, Ma'am and Mister"
To you, for you
I've changed every part of me
Until the puzzle pieces aren't me, at all
I look in the mirror, now I'm just a jigsaw
Ah-ah
You take every part of me, all of the things you need
Then the rest you discard
I look in the mirror, now I'm just a jigsaw
Ah-ah
All I did just to make you happy
Still, you don't even fuckin' love me
(Jigsaw, jigsaw, jigsaw, jigsaw)
Killin' parts of myself to fit you
Clear as shit I was not the issue
If I made you like me, would I even like myself?
Pointin' out all my flaws doesn't help
Why don't you love me?
Don't you love me?
I've changed every part of me
Until the puzzle pieces aren't me, at all
I look in the mirror, now I'm just a jigsaw
Ah-ah
You take every part of me, all of the things you need
Then the rest you discard
I look in the mirror, now I'm just a jigsaw
Ah-ah
Lyrics © Sony/ATV Music Publishing LLC
Written by: Conan Gray, Daniel Nigro

Lyrics Licensed & Provided by LyricFind
To comment on specific lyrics,
highlight them