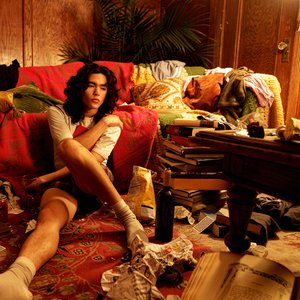 Conan Gray is an American singer-songwriter and social media personality. He was born on December 5, 1998, in Lemon Grove, California. As an infant, his family moved to Hiroshima, Japan and short after returned to California, before settling in Georgetown, Texas.

He started his career on Youtube under his channel 'ConanxCanon' before officially changing to 'Conan Gray'. While on his time on Youtube he released multiple original songs, with the most
Read Full Bio
Conan Gray is an American singer-songwriter and social media personality. He was born on December 5, 1998, in Lemon Grove, California. As an infant, his family moved to Hiroshima, Japan and short after returned to California, before settling in Georgetown, Texas.

He started his career on Youtube under his channel 'ConanxCanon' before officially changing to 'Conan Gray'. While on his time on Youtube he released multiple original songs, with the most famous one being 'Idle Town' the lead single of his debut EP 'Sunset Season' released on November 16, 2018. Before releasing the EP he signed with Republic Records in October of 2018. He supported the EP with the singles 'Generation Why' and 'Crush Culture'.

In 2019, Conan officially started to release a series of singles for his debut studio album 'Kid Krow'. Since June he has released 3 official singles, with the most notable one being 'Maniac', which garnered success in South Korea, Australia, New Zealand and on many Spotify charts around the world. Two days before the release of his album, he released the third official single 'Wish You Were Sober'. On March 20th Conan released 'Kid Krow'. The album debuted at #5 on the Billboard 200 albums chart and following the commercial success of Kid Krow, Apple Music named Conan as an Up Next artist and released an exclusive mini-documentary about him in April 2020.

Conan has taken a liking to leaving hints of future events on instagram stories, and is currently at 6.2 million followers. His Sophomore album, Superache, is set to release June 24, 2022, and includes tracks such as Memories, People Watching and more. Memories in particular has taken certain areas of social media, such as Tik Tok. Recently Conan has jumped from 228th artist on Spotify to 192nd. He has had several interviews while on his North America and European shows, and possibly more now that his tour is wrapping up.
Genre not found
Artist not found
Album not found
Search results not found
Song not found
We have lyrics for these tracks by Conan Gray:



(Can We Be Friends?) Could you be my best friend? Let's hang out every weekend Go…
(Online Love) You only pass through my city Every once in a million…
Affluenza Mama's got a new man And daddy's got a new mansion…
Astronomy We drive through the woods Rich neighborhoods to watch We jo…
Checkmate You think you're funny, right? Calling me drunk when it's to…
Comfort Crowd This hurt that I'm holding's getting heavy But I'ma keep a…
Crush Culture Crush culture My god don't look at your phone No one's gonn…
Fight or Flight Something's gotten into you You don't really look at me the…
Generation Why Why, why, why, why Why, why, why, why Why, why, why I was…
Greek God I don't really care if you like me or not But…
Heather I still remember third of December Me in your sweater, you…
Idle Town This town will never change People come and go, it's all…
Jigsaw (Ooh-ooh, ooh) (Ooh-ooh, ooh) If changing my clothes would …
Little League Do you remember days on our old block? Messing with our…
Lookalike Let's go back to the summer night When we met eyes,…
Maniac Maniac You were with your friends, partying When the alcoho…
Overdrive Only met on the weekend Said I'm not catching feelings Oh, I…
People Watching That wasn't funny, but she laughed so hard, she almost…
Telepath Don't even finish that sentence, babe Already know how this …
The Cut That Always Bleeds I don't love you anymore A pretty line that I adore Five…
The King Crush always making me feel like I got nothing to…
The Other Side I've got tired eyes, a black sky Making its home under…
The Story Let me tell you a story About a boy and a…
Wish You Were Sober (Wish you were so, wish you were so, wish you…

The lyrics can frequently be found in the comments below or by filtering for lyric videos.