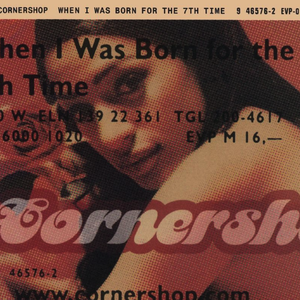 When I Was Born for the 7th Time
When I Was Born for the 7th Time is the third studio album by the British indie …
Read Full Bio ↴
When I Was Born for the 7th Time is the third studio album by the British indie rock band Cornershop, released on 8 September 1997 by Wiiija. The album received high acclaim from music critics and features the international hit single "Brimful of Asha".

When I Was Born for the 7th Time was recorded over a period of approximately two months. Singer and guitarist Tjinder Singh described the recording process as "very intense. There was a lot of smoking going on, it was a very relaxed time, and very enjoyable all the way through. At the end, our engineer had to go for medical assistance. He got freaked out. He smoked so much and then he stopped and he went loopy. He was on medication. His body couldn't take it."

The album was released on 8 September 1997 by the independent record label Wiiija. The song "Brimful of Asha" was released as a single and became an international hit. The track "Candyman" was used in a Nike commercial featuring LeBron James, while "Good Shit" was featured in a commercial for Target with the chorus being altered to read "Good Stuff ..."; in the single release and in the video played on MTV Europe the title was "Good Ships".

As of February 2002, the album has sold 198,000 copies in the U.S. according to Nielsen SoundScan.
Genre not found
Artist not found
Album not found
Search results not found
Song not found