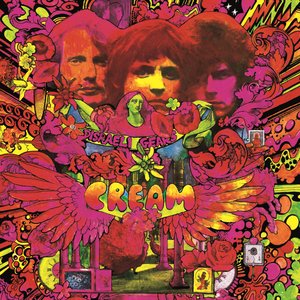 Disraeli Gears is the second album by British blues-rock group Cream. It was released in November 1967 and went on to reach #5 on the UK album chart. It was also their American breakthrough, becoming a massive seller there in 1968, reaching #4 on the American charts. The album features the two singles "Strange Brew" and "Sunshine of Your Love". By this time, the group was veering quite heavily away from their blues roots to indulge in more psychedelic sounds. The title of the album was taken from an inside joke. Eric Clapton had been thinking of buying a racing
Read Full Bio
Disraeli Gears is the second album by British blues-rock group Cream. It was released in November 1967 and went on to reach #5 on the UK album chart. It was also their American breakthrough, becoming a massive seller there in 1968, reaching #4 on the American charts. The album features the two singles "Strange Brew" and "Sunshine of Your Love". By this time, the group was veering quite heavily away from their blues roots to indulge in more psychedelic sounds.

The title of the album was taken from an inside joke. Eric Clapton had been thinking of buying a racing bicycle and was discussing it with Ginger Baker, when a roadie named Mick Turner commented, "it's got them Disraeli Gears", meaning to say "derailleur gears," but instead alluding to 19th Century British Prime Minister, Benjamin Disraeli. The band thought this was hilarious, and decided that it should be the title of their next album. Had it not been for Mick's turn of phrase, the album would simply have been entitled "Cream."

Clapton, Baker, and Jack Bruce all contributed songs with the help of lyricist Pete Brown and producer Felix Pappalardi. The track "Blue Condition" was unusual in that Baker, although not well known for his singing, took the lead vocal. The album was recorded at Atlantic Studios in New York during May 1967, following the band's nine shows as part of Murray the K's "Music in the 5th Dimension" concert series. Cream's American label, ATCO, was a wholly owned subsidiary of Atlantic Records.

The psychedelic cover art was created by Australian artist Martin Sharp, who lived in the same building as Clapton at the time of the Chelsea artists colony The Pheasantry. At their first meeting in a London club, Clapton mentioned that he had some music that needed lyrics, so Sharp wrote out a poem he had composed on a napkin and gave it to Clapton, who recorded it as "Tales of Brave Ulysses."

When interviewed on the episode of the VH1 show, Classic Albums, which featured Disraeli Gears, Bruce stated that when writing the song "Take it Back", he had been inspired by the contemporary media images of American students burning their draft cards and wrote the song in that spirit of rejecting militarism.

In 2004, the album was released as a 2-disc Deluxe edition including the complete album in both mono and stereo, demos, alternate takes and tracks taken from the band's live sessions on BBC radio. In 2003 the album was ranked number 112 on Rolling Stone magazine's list of the 500 Greatest Albums of All Time. VH1 also named it their 87th greatest album of all time the same year.
Genre not found
Artist not found
Album not found
Search results not found
Song not found
Strange Brew
Cream Lyrics
Strange brew, kill what's inside of you.
She's a witch of trouble in electric blue,
In her own mad mind she's in love with you.
With you.
Now what you gonna do?
Strange brew, kill what's inside of you.
She's some kind of demon messing in the glue.
If you don't watch out it'll stick to you.
To you.
What kind of fool are you?
Strange brew, kill what's inside of you.
On a boat in the middle of a raging sea,
She would make a scene for it all to be
Ignored.
And wouldn't you be bored?
Strange brew, kill what's inside of you.
Strange brew, strange brew, strange brew, strange brew.
Strange brew, kill what's inside of you
Lyrics © Universal Music Publishing Group, Warner Chappell Music, Inc.
Written by: ERIC PATRICK CLAPTON, FELIX PAPPALARDI, GAIL COLLINS

Lyrics Licensed & Provided by LyricFind
To comment on specific lyrics,
highlight them