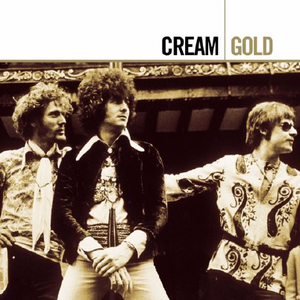 FROM A CONTEMPORARY PERSPECTIVE, it's startling to realize that Cream only existed for a little over two years, from mid-1966 to late1968. But, during a period in which rock music was evolving and mutating at a dizzyingly rapid rate, the pioneering British trio attained staggering levels of creativity and influence. In its brief but eventful existence, Cream – Eric Clapton (guitar and vocals), Jack Bruce (bass and vocals) and Ginger Baker (drums) – released four groundbreaking albums that helped to radically redraw rock's stylistic and conceptual parameters. Meanwhile, their fiery live performances introduced improvisation to the rock arena, establishing Cream
Read Full Bio
FROM A CONTEMPORARY PERSPECTIVE,
it's startling to realize that Cream only existed for a little over two years, from mid-1966 to late1968. But, during a period in which rock music was evolving and mutating at a dizzyingly rapid rate, the pioneering British trio attained staggering levels of creativity and influence.

In its brief but eventful existence, Cream – Eric Clapton (guitar and vocals), Jack Bruce (bass and vocals) and Ginger Baker (drums) – released four groundbreaking albums that helped to radically redraw rock's stylistic and conceptual parameters. Meanwhile, their fiery live performances introduced improvisation to the rock arena, establishing Cream as the first band to fully explore the possibilities of the power-trio format. In the process, the group played a crucial role in laying the grounwork for the hard-rock and heavy metal that would flourish in decades to come.

Beginning as imaginative blues revivalists, Cream quickly evolved into a far riskier, more challenging unit. Mining an audacious assortment of blues, jazz, folk, pop and psychedelic elements, Cream made adventurous, original music that reflected the restless energy of its era, yet continues to resonate nearly four decades later.

Clapton's incendiary, precedent-setting guitar work gave Cream its flashiest selling point. But the threesome's musical identity was shaped equally by the innovative rhythm section of Bruce, whose commanding voice, distinctive songwriting and aggressive, melodic bass playing drove many of their best-known tunes; and Baker, whose idiosyncratic, massively influental drumming ranged from nimble, jazz-informed swing to primal pounding.

The visionary trio's recorded legacy often seems to document two parallel groups: the wildly experimental studio outfit, and the tripped-down live trio. This career-spanning collection spotlights both sides of the Cream catalog, combining 21 newly remastered studio classics (Disc One: In the Studio) along with eight historic live performances (Disc Two: Live) to present a definitive portrait of this remarkable band.

Altough Cream's success would quickly eclipse the three musician's previous endeavors, Clapton, Bruce and Baker already possessed imposing résumés when they launched Cream in July 1966. Clapton's work with the Yardbirds and John Mayall's Bluesbreakers had already made him a hero on the London blues-revival scene. Bruce had played alongside Clapton in the Bluesbakers, and with Baker in Alexis Korner's Blues Incorporated and the Graham Bond Organisation; he'd also tasted pop success during a short stint with Manfred Mann. Baker had also played with trad jazz bandleaders Acker Bilk and Terry Lightfoot, before replacing Charlie Watts in Blues Incorporated.

While Clapton had once quit the Yardbirds in protest when they strayed from blues basics, by 1966 he, Baker and Bruce were eager to break free from their prior combo's strict R&B/blues structures. Cream was designed to allow for more stylistic, compositional and improvisational freedom, a fact that became apparent on their debut LP Fresh Cream. The album, recorded between Luly and September of 1966, was dominated by the band's reworkings of American blues standards, notably Skip James "I'm So Glad," which gets a punchy, compact four minute treatment that scarcely hints at the extended live number that the song would soon become.

Impressive as their blues interpretations are, Cream's musical agenda is better represented by such a s "I Feel Free," an irresistible slice of pop psychedelia penned by Bruce and frequent collaborator Pete Brown. Bruce's "N.S.U." which shifts from singsongy playfulness to swooping operatics, is similarly electic, as is the propulsive "Sweet Wine," which Baker co-wrote with Bruce's then-wife Janet Godfrey.

While Fresh Cream was a formidable debut, it was on their second longplayer Disraeli Gears that Cream truly came into its own. Recorded in a mere six days during April and May of 1967, the album downplayed the group's revivalist inclinations in favor vividly inventive originals. With key contributions from American producer Felix Pappalardi (who'd later form the Cream-inspired trio Mountain) and engineer Tom Dowd, Disraeli Gears was the album that brought Cream to mainstream attention in the U.S., and still considered by many to be the band's creative peak.
Bruce wrote or co-wrote five of the album's nine originals, singing lead on his own slow-burning "We're Going Wrong"; the moody "World of Pain," written by Pappalardi and wife Gail Collins; and the Bruce/Brown composition "Swlabr." The latter is a marvel of acid surrealism whose lyrical imagery lives up to the conceit of its title, an acronym for "She Walks Like a Bearded Rainbow."

Bruce also delivers a gripping vocal on "Tales of Brave Ulysses," co-written by Clapton and album-cover artist Martin Sharp, whose colorful lyrics recast Homer's Odyssey as a psychedelic fever dream. Clapton's "Strange Brew" is both earthy and mystical; it had begun life as a straight blues track, "Lawdy Mama," before being rewritten with a retooled melody and new lyrics by Collins.

By mainstream listeners, though Disraeli Gears' calling card was "Sunshine of Your Love," co-written by Bruce, Clapton and Brown. The complex yet catchy tune finds the bassist and guitarist trading vocals on the verses and harmonizing on the chorus, while Clapton and the rhythm section wrestle with an instrumental hook whose genius lies in its simplicity. As a single, "Sunshine of Your Love" initially only scraped the lower reaches of the U.S. Top 40, but became a Top Five hit when it was reissued in mid-1968.

The summer of 1968 saw the release of the ambitious double LP Wheels of Fire, a sprawling epic combining separate discs of studio and live material. The studio sides, produced again by Pappalardi, spawned the band's second Top Ten single in Bruce and Brown's "White Room," whose haunting lyric is matched by Bruce's keening vocal and Clapton's howling guitar pyrotechnics. The Bruce/Brown compositions "Politician" and "Deserted Cities of the Heart" maintain a similar balance of majesty and menace, as does the uneasy "Those Were the Days," co-written by Baker and jazz pianist Mike Taylor.

Elsewhere on Wheels of Fire, Clapton's blues muse rages eloquently on riveting readings of Howlin' Wolf's "Sitting on Top of the World" and Albert King's "Born Under A Bad Sign," which find the guitarist summoning up vocal fireworks to match his instrumental ferocity. Clapton's blues improvisations were also prominent on Wheels of Fire's live LP, recorded is March 1968 at San Francisco's Fillmore and Winterland venues. While the four-and-a-half-minute, Clapton-led live version of Robert Johnson's "Crossroads" is a masterpiece of concise, focused intensity, a brooding 16-and-a-half-minute version of Willie Dickson's "Spoonful" demonstrates how effectively Cream applied the principles of jazz improvisation to the rock idiom. Cream exercises its most bombastic tendencies on Baker's "Toad," which stretches the modest Fresh Cream number into a 16-minute jam.

Also recorded during the Wheels of Fire sessions was "Anyone for Tennis," a gentle Clapton/Sharp composition that showcases Cream's whimsical side. With a bemused Clapton vocal and a spare, largely acoustic arrangement, the song was originally released as a single prior to Wheels of Fire, and also served, somewhat incongruously, as the main title theme of director Richard Rush's bikers-vs.-Native-Americans b-movie The Savage Seven.

Wheels of Fire, topped the U.S. Album charts, sealing Cream's status as one of world's best-selling recording acts and top-drawing concert attractions. So the Band's announcement, shortly after the album's release, of its decision to disband shocked fans and mystified the music industry.

Cream bid adieu to its public with a late-1968 farewell tour, followed by the January 1969 release of the Goodbye album, which again combined studio and live recordings. The latter was highlighted by a fierce nine-and-a-half-minute workout of "I'm So Glad," which finds Clapton alternating between tasteful picking and explosive chording, over Bruce and Baker's chugging runaway-train bottom.

Of Goodbye's three studio tracks, "Badge" – which Clapton co-wrote with George Harrison, who also plays rhythm guitar under the pseudonym "L'Angelo Misterioso" – demonstrates a sublime melodic sensibility and features a confident, charismatic Clapton vocal. Bruce and Brown's jaunty, piano-driven "Doing That Scrappy Thing" catches Cream in a light-hearted mood, while Baker's giddy "What A Bringdown" closes the band's recording career on an appropriately kaleidoscopic note.

The same batch of San Francisco recordings that yielded Wheels of Fire's concert sides were tapped for a pair of live albums issued after the band's breakup. Live Cream, released in April 1970, consisted largely of songs from Fresh Cream, including a thunderous ten-minute take of Bruce's "N.S.U." and muscular renditions of Muddy Water's "Rollin' and Tumblin'" and the languid Bruce/Godfrey blues "Sleepy Time Time."

Live Cream, Volume 2 followed in March 1972, combining more Winterland tracks with tracks cut at the Oakland Coliseum during the farewell tour. Concentrating on versions of some of Cream's better-known standards, the album's highlights included a triumphant seven-and-a-half-minute "Sunshine of Your Love."

In hindsight, Cream's relatively brief lifespan isn't surprising, considering the three musician's wide-ranging talents and ambitions. In the decades since, Clapton, Baker and Bruce have gone on to pursue divergent yet rewarding musical paths. So the announcement of a 2005 Cream reunion-a prospect that had long been considered to be the stuff of unattainable fan fantasy-came as an even bigger surprise than the band's original decision to break up while still at the top of their game. But regardless of what transpires in Cream's second lease on life, the band's place in the rock pantheon was assured long ago, and the evidence is right here.
Genre not found
Artist not found
Album not found
Search results not found
Song not found
I Feel Free
Cream Lyrics
Bomp, bomp, bomp, bomp, bomp
Bomp, bomp, bomp, bomp, bomp
I feel free
Bomp, bomp, bomp, bomp, bomp
I feel free
Bomp, bomp, bomp, bomp, bomp
I feel free
Bomp, bomp, bomp, bomp, bomp
I feel free
Bomp, bomp, bomp, bomp, bomp
I feel free
Bomp, bomp, bomp, bomp, bomp
I feel free
Bomp, bomp, bomp, bomp, bomp
I feel free
Bomp, bomp, bomp, bomp, bomp
I feel free
Bomp, bomp, bomp, bomp, bomp
I feel free
Feel when I dance with you
We move like the sea
You, you're all I want to know
I feel free
I feel free
I feel free
I can walk down the street, there's no one there
Though the pavements are one huge crowd
I can drive down the road, my eyes don't see
Though my mind wants to cry out loud
I, I, I, I feel free
I feel free
I feel free
I can walk down the street, there's no one there
Though the pavements are one huge crowd
I can drive down the road, my eyes don't see
Though my mind wants to cry out loud
Though my mind wants to cry out loud
Dance floor is like the sea
Ceiling is the sky
You're the sun and as you shine on me
I feel free
I feel free
I feel free
I, I, I, I
Lyrics © Warner Chappell Music, Inc.
Written by: JACK BRUCE, PETE BROWN, PETER CONSTANTINE BROWN

Lyrics Licensed & Provided by LyricFind
To comment on specific lyrics,
highlight them