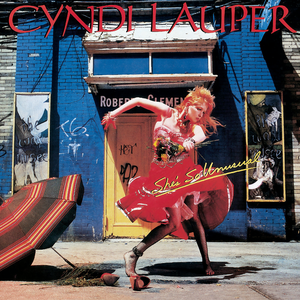 She's So Unusual is the debut studio album by American pop singer-songwriter Cyndi Lauper, released in 1983 by Portrait Records. The album catapulted Lauper to stardom with such hits as "Girls Just Want to Have Fun", "She Bop" and "Time After Time". The album peaked at #4 on the Billboard pop albums chart (U.S.), and stayed in the top-forty of the Billboard 200 for sixty-five weeks; remaining on the charts for 172 weeks. The album was sold over 9.5 million copies worldwide . The album was nominated for six Grammy Awards: Record of the Year ("Girls Just Want to Have
Read Full Bio
She's So Unusual is the debut studio album by American pop singer-songwriter Cyndi Lauper, released in 1983 by Portrait Records. The album catapulted Lauper to stardom with such hits as "Girls Just Want to Have Fun", "She Bop" and "Time After Time". The album peaked at #4 on the Billboard pop albums chart (U.S.), and stayed in the top-forty of the Billboard 200 for sixty-five weeks; remaining on the charts for 172 weeks. The album was sold over 9.5 million copies worldwide .

The album was nominated for six Grammy Awards: Record of the Year ("Girls Just Want to Have Fun"), Best Female Pop Vocal Performance ("Girls Just Want to Have Fun"), Song of the Year ("Time After Time"), Album of the Year, Best Album Package, and Best New Artist, winning the latter two.

It was produced by Rick Chertoff and William Wittman. Chertoff would go on to produce Nervous Night for The Hooters. He would also team up with Wittman to produce singer-songwriter Patty Smyth's debut album, Never Enough for MCA in 1987.

In 2003, the album was ranked number 494 on Rolling Stone magazine's list of the 500 greatest albums of all time.

Allmusic's Stephen Thomas Erlewine gave the record 3.5 stars, calling it "giddy mix of self-confidence, effervescent popcraft, unabashed sentimentality, subversiveness, and clever humor".
Genre not found
Artist not found
Album not found
Search results not found
Song not found
Money Changes Everything
Cyndi Lauper Lyrics
I said I'm sorry baby I'm leaving you tonight
I found someone new, he's waitin' in the car outside
Ah honey how could you do it
We swore each other everlasting love
I said well yeah I know but when we did;
There was one thing we weren't
Thinking of and that's money
Money changes everything
I said money, money changes everything
We think we know what we're doin'
That don't mean a thing
It's all in the past now
Money changes everything
They shake your hand and they smile
And they buy you a drink
They say we'll be your friends
We'll stick with you till the end
Ah but everybody's only
Looking out for themselves
And you say well who can you trust
I'll tell you it's just
Nobody else's money
Money changes everything
I said money, money changes everything
You think you know what you're doin'
We don't pull the strings
It's all in the past now
Money changes everything
Money, money changes everything
I said money, money changes everything
We think we know what we're doing
We don't know a thing
It's all in the past now
Money changes everything
Money changes everything
Money changes everything, money changes everything, money changes everything, money changes
Lyrics © BMG Rights Management
Written by: Thomas Gray

Lyrics Licensed & Provided by LyricFind
To comment on specific lyrics,
highlight them