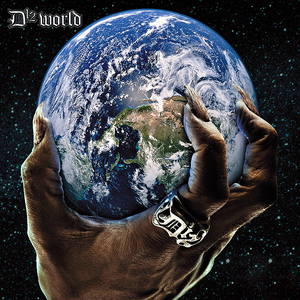 D12 World is the second studio album by Detroit rap group D12, released on April 27, 2004. There is a rare bonus CD containing the tracks "Slow Your Roll", and "Barbershop". D12 member Eminem was the executive producer of the album recruiting Dr. Dre as producing tracks himself, Kanye West appeared in the D12 World credits as Kayne West. The album also features guest appearances by Obie Trice and B-Real. Unlike their previous album, it contains no intro. The album's first single "My Band" is a humorous take on the widespread, if incorrect, view that the band is solely a
Read Full Bio
D12 World is the second studio album by Detroit rap group D12, released on April 27, 2004. There is a rare bonus CD containing the tracks "Slow Your Roll", and "Barbershop".

D12 member Eminem was the executive producer of the album recruiting Dr. Dre as producing tracks himself, Kanye West appeared in the D12 World credits as Kayne West. The album also features guest appearances by Obie Trice and B-Real. Unlike their previous album, it contains no intro. The album's first single "My Band" is a humorous take on the widespread, if incorrect, view that the band is solely a creation of Eminem rather than a rap crew that has been together since 1996. The tracks "Good Die Young" and "Bugz 97" on D12 World are also in the memory of Bugz, a former member shot in 1999. The album contains some diss-oriented lyrics aimed at other rappers or people. The album features a great deal of adult content and the Bizarre's track "Just Like U" had to be left off the edited version of the album. Also, the song "Bitch" is listed as "*****" on the edited version of the album, The edited/clean version of the album cuts all violent references, drug content, sexual content, and almost all the swearing by blanking, on the skits they put a DJ swish over swearing and backmask. The track "Get My Gun" is featured on the Scarface: The World is Yours soundtrack, tells a hilarious parody of what happens when Eminem and his crew get angry. It tells the theme of a man repeatedly and obnoxiously asking Eminem for an autograph on a bad day, and Eminem proceeding to get his gun and murder the man, although Kon Artis attempts to calm him down in the beginning skit. In the middle of the song, Eminem comes back and pulls his gun on the man in public, but it jams. Eminem gets the pistol to shoot, injuring the autograph seeker, his girlfriend, and his friend. The other band members also perform scenarios of their own.

D12 World debuted at the top of the US, UK and Australian album charts and number 2 in Germany, selling over half a million records in its first week of release in the US alone. "My Band", the first single, also has been successful reaching number one in Australia and the US rhythmic top 40, top 5 in the UK and Germany and top 10 on the Billboard Hot 100.
Genre not found
Artist not found
Album not found
Search results not found
Song not found
Git Up
D12 Lyrics
10, 9, 8, 7, 6, 5 ,4, 3, 2, 1
Ready or not here we come, here comes trouble in the club
11,12,13, pistols big as M 16's
How the fuck we sneak in with this many heaters in our jeans
Nina, 2 nina's, a peace and they don't even see us
Some shit pops off we squeeze each one they gon' think its machine guns
Vanos vo vano, bananas in our flannels
Hands around our colt handles, hold them like roman candles
Vannas vo vannas, banana fanna fo fannas
Who come back all bananas, banna clips loaded
Managers, bouncers and the club owners, the motherfuckers don't want us
To come up and rush in the club and run up in it with a bunch of
Motherfuckers from Runyan, steady popping them onions,
Ready set to go nut up, prepare to tear the whole club up
Fixing to get into some shit just itching to choke someone up
You know we finna loc'n when we mixing coke with coke and nut rum up
Yeah Yeah oh, what up, see my people throw shit up
See you talk that hoe shit now when you down you don't get up
And can't sit up your so slit up, the ambulance won't sew you up
They just throw you up in the trunk once they tag your big toe up
Heater no heater, automatic no matic
Mac or no mac it don't matter if I have or don't have it
You never know what I'm packin' so you just don't want no static
And open up a whole can of whoop ass you don't wanna chance to
Risk it no biscuit, mili mac a mac milli
Really homie don't be silly, homie you don't know me really
You're just gonna make yourself dizzy wonderin what the dealy
Fuck it lets just get busy D Twizzys back up in the hizzy!
Git Up Now!
Lets get it cracking, Git, Its on and popping
Its D12 is back up in this bitch, uh, there ain't no stopping
We're gonna get it crackalatin
What you waiting for the waiters orders
Say no more for trying to play the wall and quit hating
Git Up Now!
Notice you're sitting, what the fuck is you deaf
You motherfuckers don't listen, I said,
We bout to get this motherfucker crackalatin'
Quit, procrastinating
What the fuck you waiting for get off the wall and quit hating
I keep a shit load of bullets a pitbull to pull it out
And automatically explode on motherfuckers until they mouth be closed permanently
You get burned until I quickly you can not hit me niggas to terrified to come get me,
Tempt me if you think Swifty won't send a slug, people run,
When the reaper comes, the repercussions' gon' leak your blood,
Inglewood, steepin' without a weapon, you leave, you gone,
I'm still runnin' with stolen toasters while on parole,
Snatch you out our home, like eviction notices hoe,
When I unload, I'm known to never leave witnesses to roam,
When I'm blowed, I'll write the wicked in scroll,
At the toll, when I'm sober I'm prone to roll up and disconnect your soul, nigga.
Now it's proven it's about to be a misunderstanding
In furniture moving, bullets flying, lawyers & mothers suing
Cause niggas don't know the difference, you bitches just stick to fiction
It's sickening, you can't even walk in my jurisdiction rippin' it,
Grippin' the pump and who wanna fuck with a walking psychopathic
Pyromaniac shady cats with 80 gats
And maybe that's the reason that you gon' get it the worst a
And since you jumpin' in front of everybody you gon' get it first
I disperse the crowd with something vigor and versatile
So go on and record you verses now while you got a mouth,
And it's not a joke, it's some kind of riddle,
Kunizzle will lift up a 12 gizzle and throw a party from my equittle,
And a glock that ? stop you from waking,
Bullets'll hit your liver, I'll even shoot native Americans,
A ? nigga, we back in you life and back in your wife,
Hit you in the back with a knife and get it crackin' tonight.
Git Up Now!
Lets get it cracking, Git, Its on and popping
Its D12 is back up in this bitch, uh, there ain't no stopping
We're gonna get it crackalatin
What you waiting for the waiters orders
Say no more for trying to play the wall and quit hating
Git Up Now!
Notice you're sitting, what the fuck is you deaf
You motherfuckers don't listen, I said,
We bout to get this motherfucker crackalatin'
Quit, procrastinating
What the fuck you waiting for get off the wall and quit hating
Lyrics © Sony/ATV Music Publishing LLC, Kobalt Music Publishing Ltd.
Written by: LUIS RESTO, MARSHALL B III MATHERS, ONDRE C MOORE, VON M CARLISLE

Lyrics Licensed & Provided by LyricFind
To comment on specific lyrics,
highlight them