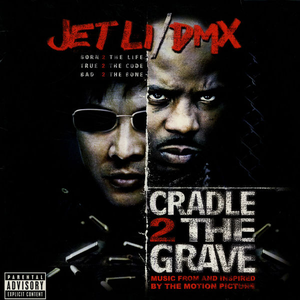 Earl Simmons (December 18, 1970 - April 9, 2021), better known by his stage name…
Read Full Bio ↴
Earl Simmons (December 18, 1970 - April 9, 2021), better known by his stage name DMX (Dark Man X), was an American rapper from Yonkers, New York and actor signed to Ruff Ryders Entertainment. In 1998 he released his debut solo album, It's Dark and Hell Is Hot, and has since released 1998's Flesh of My Flesh, Blood of My Blood, 1999's ...And Then There Was X, 2001's The Great Depression, 2003's Grand Champ and 2006's Year of the Dog...Again.

DMX died on April 9, 2021 in White Plains, New York, after he was hospitalized on April 2 following a reported heart attack.

Biography

Earl Simmons was the second of three children of a single mother, and was born in Mount Vernon, New York Simmons ended up growing up in the School Street housing projects of Yonkers, New York. He began rapping around the age of 13, amusing crowds of children with rhymes that relied on spelled-out words, a style he called "spellbound." A local rapper eventually asked the young Earl to beatbox for him, and Simmons agreed, adopting the stage name DMX, which stands for "Dark Man of the Unknown," X being an algebraic expression for unknown. But at the time, stood for a drum system that delivered amazing beats. Eventually he decided to try his hand at serious rapping, and honed his skills during a stint at a group home. He also got into fights and frequently was on the run from police. During this period, he also began doing shows and battling other rappers (Once battling and defeating Jay-Z), making a name for himself in the New York area. He released his first album called "DMX: Unleashed and Unreleased" which was an instant hit on the streets of Yonkers. He was also featured in the Unsigned Hype section of The Source in 1988.

He stated he wanted to be a preacher when he retires from his rapping career as he stated in his reality TV Show DMX: Soul Of A Man.

DMX was a fan of the Pit Bull type dogs (American Pit Bull Terriers and American Staffordshire Terriers). He had a tattoo of one of his deceased dogs, on his back, which read "One Love Boomer". He later contributed over $1 million to the United Negro Association for unfortunate black children in New York City..

Recording career

In and out of jail, DMX decided to focus solely on his rap career. He began seriously looking for a deal and linked up with Pete McCormick Schaub, an A&R for Small Island at the time. Eventually, he signed a management deal with Ruff Ryders. They negotiated deals with both Bad Boy and Death Row Records, but he eventually landed at Def Jam. He is currently at Sony BMG, set to release his first of three albums on August 1st 2006. Rumors also arose that DMX had signed for 50 Cent's G-Unit Records, but were dismissed in a public news conference.

It's Dark and Hell Is Hot

Before It's Dark and Hell Is Hot, DMX released the single "Born Loser" which was banned on MTV due to the video's graphic images. DMX's debut single was "Get At Me Dog", which was an instant hit. His critically-acclaimed debut album, It's Dark and Hell Is Hot, is often credited with revitalizing Hardcore Rap in the mainstream scene, after the death of Tupac Shakur, and after Puff Daddy and Bad Boy Entertainment briefly dominated the charts with their pop-oriented and sample-reliant tunes.

In 1997, DMX earned a second major-label shot with Def Jam, and made a successful guest appearance on LL Cool J's "4, 3, 2, 1." Additional guest spots on Ma$e's "24 Hours to Live" and fellow Yonkers MCs the The LOX's "Money, Power, & Respect" created an even stronger buzz, and in early 1998, he released his debut Def Jam single, "Get At Me Dog." The song went gold and was a hit on the rap and dance charts. The single paved the way for DMX to release his classic first full-length album, It's Dark and Hell Is Hot, which debuted as number one on the pop charts.

Produced mostly by Damon "Dame Grease" Blackman, (Swizz Beatz produced the "Ruff Ryders' Anthem", paving the way for future projects between the two). It's Dark and Hell Is Hot earned DMX numerous comparisons to Tupac Shakur for his booming and aggressive presence on the mic. The album went on to sell over four million copies and earned him credit for revitalizing Hardcore Rap after the deaths of Tupac Shakur and The Notorious B.I.G. Shortly after the album's release in May 1998, DMX was accused of raping a stripper in the Bronx, but was later cleared by DNA evidence. He made his film debut together with Nas and Method Man in Hype Williams' mildly successful film Belly. Although not a critical success, the film found a strong following with hip hop audiences.

Flesh of My Flesh, Blood of My Blood

DMX completed his second album before the end of 1998, and a pending buyout of Def Jam pushed the record into stores December 15. Flesh of My Flesh, Blood of My Blood entered the charts at number one and eventually went triple platinum. This number one hit made DMX the first rapper to have two number one albums in the same year. The cover photo of the rapper covered in pig's blood caused some controversy. The single "Slippin'" became his first chart hit in the UK. DMX hit the road with Jay-Z and the Method Man/Redman team on the blockbuster Hard Knock Life tour the following year. He had a song called "Jack Moves" with the legendary rap group Bone Thugs-N-Harmony, but the song did not appear on the album.

...And Then There Was X

DMX released his third album on December 21, 1999, ...And Then There Was X, which was his third straight album to debut at number one. Party Up was his biggest single since "Get at Me Dog" which became his first Top Ten hit on the R&B charts. His next singles off the album, "What's My Name" & "What These Bitches Want" feat. Sisqó were also popular. ...And Then There Was X is the rapper's best-selling album to date, going 6x platinum and 9x platinum worldwide, & one of the fastest made by DMX : Def Jam urged him to realise the tracks within a month, while DMX used to take a year to write songs.

The Great Depression

After resolving his legal problems, DMX returned to the studio and completed his fourth album, The Great Depression. Released October 3, 2001, it was DMX's fourth straight album to debut at number one. The album demonstrated his still strong allegiance with the Ruff Ryders. The Great Depression went platinum quickly, but lacked the staying power of his previous releases.

Grand Champ

Released in 2003, Grand Champ was DMX's fifth straight album to debut at number one, extending DMX's position as the only artist in history to have 5 albums (his entire album catalog at that point) debut at #1. Fans and critics claimed disappointment with the album, most stating that it felt formulaic. After its release, DMX informed the public that he planned on retiring from the rap game and that Grand Champ would be his final album. He later ended his brief retirement and announced his plans to record the album Year of the Dog...Again. It debuted with approximately 125,000 albums sold, but failed to give DMX a sixth consecutive #1 album. The album is his lowest selling to date, and has yet to reach Gold in the U.S.

Year of the Dog...Again

Released August 1st 2006, Year of the Dog...Again had numerous problems due to DMX switching record labels, as well as numerous delays. The album's five predeccesors debuted at #1, while this album missed the top spot by only a few thousand sales. In March, 2006 it was announced that the album had been renamed to "Year of the Dog, Again," from "Here We Go, Again." When DMX switched to Sony, Def Jam allowed him to keep all of the tracks he had created for the album. It was reported that most of the tracks were being reworked, with updated production, however the reworked album has also been leaked. DMX has also appeared on Busta Rhymes' "Touch It (The Remix)". He has also released his new singles "Lord Give Me A Sign", and "We In Here" feat. Swizz Beatz, which are included in "Year of the Dog...Again".
Genre not found
Artist not found
Album not found
Search results not found
Song not found