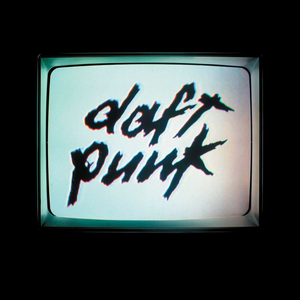 "Human After All" is the third studio album by French duo Daft Punk, first released on March 14, 2005 internationally and a day later in the United States. With it, Daft Punk apply Minimalism and rock music to their French house musicstyle. It received mixed reviews noting its reported six-week creation, which is particularly short compared to previous albums Discovery and Homework. Conception The Japanese edition of the album artwork features a quote from Daft Punk stating: "We believe that Human After All speaks for itself." In a later statement, Daft Punk considered Human After All to be the favorite
Read Full Bio
"Human After All" is the third studio album by French duo Daft Punk, first released on March 14, 2005 internationally and a day later in the United States. With it, Daft Punk apply Minimalism and rock music to their French house musicstyle. It received mixed reviews noting its reported six-week creation, which is particularly short compared to previous albums Discovery and Homework.

Conception

The Japanese edition of the album artwork features a quote from Daft Punk stating: "We believe that Human After All speaks for itself." In a later statement, Daft Punk considered Human After All to be the favorite of their three studio albums and regard it as "pure improvisation." The album's brief creation and minimal production had been decided upon beforehand as counterpoint to their previous album.As Thomas Bangalter stated, "We were definitely seduced at the time by the idea of doing the opposite of Discovery." Human After All was created mainly with two guitars and without synthesizers.Furthermore it was produced in two weeks and mixed in four, a session in sharp contrast to their older material.

Bangalter has stated that the album is an attempt to discover where human feelings reside in music. He later commented that "we felt like the third album was about this feeling of either fear or paranoia... not something intended to make you feel good". When questioned on the positive reaction to the use of the tracks in Daft Punk's recent live performances, Bangalter expressed that, "Human After All was the music we wanted to make at the time we did it. We have always strongly felt there was a logical connection between our three albums, and it's great to see that people seem to realize that when they listen now to the live show."

The cover image of Human After All features the Daft Punk logo displayed on a television screen. Each single from the album ("Robot Rock", "Technologic", "Human After All" and "The Prime Time of Your Life") features a cover with a different image on a similar screen. This television theme is also expressed with tracks from the album, including "On/Off" and "Television Rules the Nation".

Reception

When the album was leaked on the Internet several months before release, fans speculated that it was a fake designed to foil online filesharing. Reviews noted that the album's tracks were overly repetitive and of primitive quality. Critics also felt that, despite the re-affirmation of humanity suggested in its title, the album remained overtly mechanical.

Nevertheless, Human After All is seen as a strange and gutsy musical statement. One review in Stylus Magazine stated, "it's the same story, track after track, willfully mistaking alternation for variation, intensification for development and dynamics. In other words, a shining example of pop songcraft in the 21st century."

The recent live tour featuring tracks from Human After All caused people to reconsider what they felt about the album. Pedro Winter, Daft Punk's manager at the time, stated, "When we put out Human After All, I got a lot of bad feedback, like, 'It's so repetitive. There's nothing new. Daft Punk used to be good.' Then they came back with the light show, and everyone shut their mouths... People even apologized, like, 'How could we have misjudged Daft Punk?' The live show changed everything. Even if I'm part of it, I like to step back and admire it. Me, I cried."

The first single "Robot Rock" received moderate attention, reaching #32 in the UK and #15 on the U.S. dance charts, but was not a major hit. The second single "Technologic" only hit #40 in the UK but did considerably better in airplay. The track has also been featured on The O.C. and in an iPod commercial. A sample of the track has also been used as the chorus for Busta Rhymes' single "Touch It".

Human After All was nominated for the 2006 Grammy Award for Best Electronic/Dance Album.

Remix Album

Human After All: Remixes was released on March 29, 2006 exclusively for Japan. It features numerous remixes previously unavailable on CD in a limited pressing of 3,000 copies. A limited edition of the album included a set of Daft Punk Kubricks. The album implements a Copy Control system.
Genre not found
Artist not found
Album not found
Search results not found
Song not found
Human After All
Daft Punk Lyrics
We are human after all
Flesh uncovered after all
We are human after all
Flesh uncovered after all
We are human after all
Flesh uncovered after all
We are human after all
Flesh uncovered after all
We are human after all
Flesh uncovered after all
We are human after all
Flesh uncovered after all
We are human after all
Flesh uncovered after all
We are human after all
Flesh uncovered after all
Human, human, human, human
Human, human, human, human
Human, human, human, human
Human, human, human after all
Human, human, human, human
Human, human, human, human
Human, human, human, human
Human, human, human after all
Human, human, human, human
Human, human, human, human
Human, human, human, human
Human, human, human after all
Human, human, human, human
Human, human, human, human
Human, human, human, human
Human, human, human after all
Human, human, human, human
Human, human, human, human
Human, human, human, human
Human, human, human after all
Human, human, human, human
Human, human, human, human
Human, human, human, human
Human, human, human after all
Human, human, human, human
Human, human, human, human
Human, human, human, human
Human, human, human after all
Lyrics © Universal Music Publishing Group
Written by: Guy Manuel Homem-Christo, Thomas Bangalter

Lyrics Licensed & Provided by LyricFind
To comment on specific lyrics,
highlight them