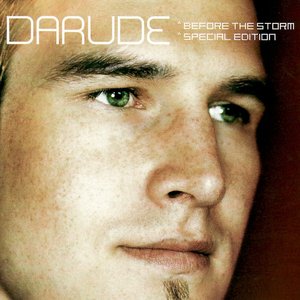 Before the Storm, Special Edition
Darude is known worldwide for his anthemic trance style. He is an electronic dance music producer, DJ and lives in Turku, Finland. He debuted in 1999 with the smash single Sandstorm (#1 hit in numerous charts around the world) and subsequent album Before the Storm.

Virtanen started his career as an amateur musician while in high school, making music using his PC's tracker software. As his interest in music production rapidly grew, he moved on to more serious production techniques.
Read Full Bio
Darude is known worldwide for his anthemic trance style. He is an electronic dance music producer, DJ and lives in Turku, Finland. He debuted in 1999 with the smash single Sandstorm (#1 hit in numerous charts around the world) and subsequent album Before the Storm.

Virtanen started his career as an amateur musician while in high school, making music using his PC's tracker software. As his interest in music production rapidly grew, he moved on to more serious production techniques.

While at a classmate's party, Virtanen played the song "Rude Boy" (written by Swedish artist Leila K) four times. This earned him the nickname "Rude Boy," which gradually morphed into "Da Rude", which in turn inspired the name "Darude."

Virtanen continued producing music while in technical school, occasionally releasing demos to radio stations beginning in 1997, and offering his music for download on MP3.com. In 1999, he gave a demo for "Sandstorm" to his producer, JS16 (Jaakko Salovaara). Virtanen signed on with JS16's 16 Inch Records label, and shortly thereafter, "Sandstorm" was released as a single.

"Sandstorm" was a smash hit in Finland, topping the Finnish Single Chart, selling platinum and holding the #1 spot on the Finnish Dance Chart for seventeen consecutive weeks. Word quickly spread about the track, which found global success. After becoming the #3 single in the United Kingdom[1] (becoming the first record by a Finnish artist to do so), "Sandstorm" eventually sold 2 million units worldwide, and was the world's biggest selling 12-inch record in 2000.

Shortly thereafter, Darude released his debut album, Before the Storm, selling 800,000 copies worldwide, topping the Finnish album charts, and earning him three Finnish Grammy awards. Before the Storm was produced by JS16, and features two of his remixes.

Darude's second single, "Feel the Beat," closely followed the success of "Sandstorm", reaching #5 on the UK Singles Chart.[1] Subsequent releases, "Out of Control," and "Out of Control (Back for More)" (a remix of the former, featuring vocals by Tammie Marie) failed to match the success of Darude's first two singles.

Darude began a successful world tour in 2001, releasing Before the Storm: Australian Tour Edition in the process. 2002 saw the release of Before the Storm: Special Edition, featuring a collection of remixes of Darude's work. Since the release of Rush, Darude has remained on the road, particularly the United States and Eastern Europe.

In 2003, Darude released his second album, Rush, along with singles "Music" and "Next to You". All three had modest success, with Rush reaching #4 in weekly Finnish album sales and "Next to You" being commonly featured in DJ mixes.

Darude posted his singles "Tell Me" and "My Game" from his new album Label This! on his official MySpace page. "Tell Me" was released in Finland on April 11, 2007 and "My Game" on September 19, 2007.

(2) Finnish DJ/Producer Darude (born Ville Virtanen) started experimenting with music and DJing while still attending school, adopting the nickname of "the Rude" (later Darude) after Swedish rap star Leila K.'s "Rude Boy."

Producer Jaakko Salovaara (aka JS 16), founder of the independent label 16 Inch, teamed up with him to release his first single, called "Sandstorm." British Neo-Record became involved in the newcomer project soon after. In June 2000, Darude achieved the status of chart-topping artist in the U.K. Around the same time, Ville Virtanen successfully performed on the BBC Top of the Pops show, bringing forth the release of his debut album titled Before the Storm. ~ Drago Bonacich, Rovi
Genre not found
Artist not found
Album not found
Search results not found
Song not found
Out of Control
Darude Lyrics
out of control
Lyrics © Universal Music Publishing Group
Written by: CATHERINE LYDIA OGDEN, JAAKKO SAKARI SALOVAARA, JULIE MORRISON, VILLE VIRTANEN

Lyrics Licensed & Provided by LyricFind
To comment on specific lyrics,
highlight them