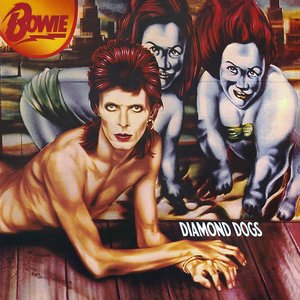 Diamond Dogs is the eighth album by David Bowie, originally released in 1974 on RCA Records. Thematically, it was a marriage of the novel Nineteen Eighty-Four by George Orwell and Bowie's own glam-tinged vision of a post-apocalyptic world. Bowie had wanted to make a theatrical production of Orwell's book and began writing material after completing sessions for his 1973 album Pin Ups, but the author's estate denied the rights. The songs ended up on the second half of Diamond Dogs instead where, as the titles indicated, the Nineteen Eighty-Four theme was prominent. Though the album was recorded and released after
Read Full Bio
Diamond Dogs is the eighth album by David Bowie, originally released in 1974 on RCA Records.

Thematically, it was a marriage of the novel Nineteen Eighty-Four by George Orwell and Bowie's own glam-tinged vision of a post-apocalyptic world. Bowie had wanted to make a theatrical production of Orwell's book and began writing material after completing sessions for his 1973 album Pin Ups, but the author's estate denied the rights. The songs ended up on the second half of Diamond Dogs instead where, as the titles indicated, the Nineteen Eighty-Four theme was prominent.

Though the album was recorded and released after the 'retirement' of Ziggy Stardust in mid-1973, and featured its own lead character in Halloween Jack ("a real cool cat" who lives in the decaying "Hunger City"), Ziggy was seen to be still very much alive in Diamond Dogs, as evident from Bowie's haircut on the cover and the glam-trash style of the first single "Rebel Rebel".

David Bowie - vocals, guitars, saxes, Moog synthesizer, Mellotron, producer, mixing engineer
Earl Slick - guitar on "Rock 'n' Roll with Me"
Mike Garson - keyboards
Herbie Flowers - bass guitar
Tony Newman - drums
Aynsley Dunbar - drums
Alan Parker - guitar on "1984"
Genre not found
Artist not found
Album not found
Search results not found
Song not found
And in the death,
As the last few corpses lay rotting on the slimy
Thoroughfare,
The shutters lifted in inches in Temperance Building,
High on Poacher's Hill.
And red, mutant, eyes gaze down on Hunger City.
No more big wheels.
Fleas the size of rats sucked on rats the size of cats,
And ten thousand peoploids split into small tribes,
Coveting the highest of the sterile skyscrapers,
Like packs of dogs assaulting the glass fronts of Love-Me Avenue.
Ripping and rewrapping mink and shiny silver fox, now leg-warmers.
Family badge of sapphire and cracked emerald.
Any day now,
The year of the Diamond Dogs.
"This ain't Rock'n'Roll,
This is Genocide."
Lyrics © BMG Rights Management, Universal Music Publishing Group, Sony/ATV Music Publishing LLC
Written by: DAVID BOWIE

Lyrics Licensed & Provided by LyricFind
To comment on specific lyrics,
highlight them