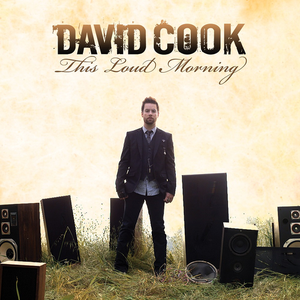 This Loud Morning (Deluxe Version)
Released June 28, 2011, This Loud Morning is the second major label release for David Cook. It debuted at #7 on Billboard. Written with band members and a few cowriters in the period after his extensive tour ended in December 2009, it represents a maturing of his songwriting craft and is a true album meant to be heard in its entirety. Cook's beloved older brother, Adam, died from a ten-year battle with brain cancer while David was on tour, and
Read Full Bio
Released June 28, 2011, This Loud Morning is the second major label release for David Cook. It debuted at #7 on Billboard. Written with band members and a few cowriters in the period after his extensive tour ended in December 2009, it represents a maturing of his songwriting craft and is a true album meant to be heard in its entirety. Cook's beloved older brother, Adam, died from a ten-year battle with brain cancer while David was on tour, and the feel of the album was influenced by this loss and the need to process the major life change that followed winning American Idol.

The album begins with Circadian, a track meant to evoke the idea of escaping the 'loudness' of the world in sleep. In spite of the sleep theme, it is a rocking track. The album then progresses through the arc of a relationship lived out in dreams, finally ending with Rapid Eye Movement, another rocking track that ends with the same dream-like instrumentals with which Circadian began. More than one track mixes an upbeat sound with loss-related lyrics.

The songs are arena-ready, anthemic, and alternative-rock leaning. They feature Cook's soaring vocals and unique instrumental choices. This is the deluxe version, which includes the bonus tracks This Is Not the Last Time and Let Me Fall for You and a Making Of DVD that delves in depth into the thought processes behind the album.
Genre not found
Artist not found
Album not found
Search results not found
Song not found
Who's to say you're never wrong
Who's to say that I'm not already gone
Who's to say the time inside your head
Keeps running on and on and on and on
Who's to say we'll make it through
Starting to believe that what we think is never true
And who's to say the rhymes beside your bed
Will keep you warm when everything is getting colder
And I'm just holding on until it's over
Mayday
Somebody save me now
I'm closing my eyes
'Cause once the sun rises
It's out of my hands
It's out of my hands
Who's to say this history
Isn't only just some winter's distant memory
You can't escape this drying ink
The fall of who we are is getting closer
And I'm just holding on until it's over
Mayday
Somebody save me now
I'm cutting all ties
From the world outside
'Cause it's over my head
It's all coming undone
And falling apart somehow
I'm closing my eyes
'Cause once the sun rises
It's out of my hands
Oh it's out of my hands
The light pulls me under
And I keep on caving in
Mayday
Somebody save me now
I'm cutting all ties
From the world outside
'Cause it's over my head
My head
My head
It's all coming undone
And falling apart somehow
And I'm closing my eyes
'Cause once the sun rises
It's out of my hands
Oh it's out of my hands
Lyrics © Sony/ATV Music Publishing LLC
Written by: DAVID COOK, DAVID HODGES, NEAL TIEMANN

Lyrics Licensed & Provided by LyricFind
To comment on specific lyrics,
highlight them