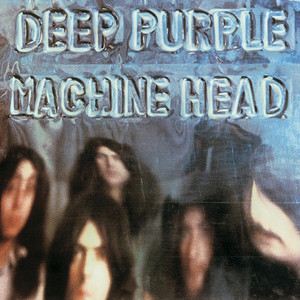 Machine Head is the sixth Deep Purple studio album. It was recorded at the Grand Hotel Montreux, Switzerland in December 1971 with the Rolling Stones Mobile Studio, and released in March 1972. The album is often cited as being very influential in the development of the heavy metal music genre. It is Deep Purple's most successful recording, topping the charts in several countries following its release. In 2001 Q magazine named it as one of the 50 Heaviest Albums of All Time. Machine Head is the subject of one of the Classic Albums series of documentaries about the making of
Read Full Bio
Machine Head is the sixth Deep Purple studio album. It was recorded at the Grand Hotel Montreux, Switzerland in December 1971 with the Rolling Stones Mobile Studio, and released in March 1972.

The album is often cited as being very influential in the development of the heavy metal music genre. It is Deep Purple's most successful recording, topping the charts in several countries following its release. In 2001 Q magazine named it as one of the 50 Heaviest Albums of All Time.

Machine Head is the subject of one of the Classic Albums series of documentaries about the making of famous albums. Machine Head was released on the multichannel formats Super Audio CD (2003) and DVD-Audio (2001).

The conditions in which the original recordings were made are quite outstanding. Hiring the Rolling Stones Mobile One equipment and studios, the band recorded the entirety of the tracks in a Montreaux hotel facility, with no overdubs. The "Smoke on the Water" lyrics' citation "Frank Zappa and the Mothers" refers to Zappa's show at a nearby casino. The casino burned down a few days before the start of scheduled Machine Head recording sessions.

A song entitled "When a Blind Man Cries" was recorded during these sessions, but not included on the album. Instead, it was used as a the B-side on the "Never Before" single. The song appears as a bonus track on the album's 25th anniversary edition.

The supporting tour for Machine Head included a trip to Japan that would later become the classic double-live Made in Japan album.
Genre not found
Artist not found
Album not found
Search results not found
Song not found
Nobody gonna take my car
I'm gonna race it to the ground
Nobody gonna beat my car
It's gonna break the speed of sound
Oooh it's a killing machine
It's got everything
Like a driving power big fat tires
And everything
I love it and I need it
I bleed it
Yeah it's a wild hurricane
Alright hold tight
I'm a highway star
Nobody gonna take my girl
I'm gonna keep her to the end
Nobody gonna have my girl
She stays close on every bend
Oooh she's a killing machine
She's got everything
Like a moving mouth body control
And everything
I love her I need her
I seed her
Yeah she turns me on
Alright hold on tight
I'm a highway star
Nobody gonna take my head
I got speed inside my brain
Nobody gonna steal my head
Now that I'm on the road again
Oooh I'm in heaven again
I've got everything
Like a moving ground an open road
And everything
I love it and I need it
I seed it
Eight cylinders all mine
Alright hold on tight
I'm a highway star
Nobody gonna take my car
I'm gonna race it to the ground
Nobody gonna beat my car
It's gonna break the speed of sound
Oooh it's a killing machine
It's got everything
Like a driving power big fat tires
And everything
I love it and I need it
I bleed it
Yeah it's a mad hurricane
Alright hold on tight
I'm a highway star
I'm a highway star
I'm a highway star
Lyrics © Sony/ATV Music Publishing LLC
Written by: Roger Glover, Jon Lord, Ian Gillan, Ritchie Blackmore, Ian Paice

Lyrics Licensed & Provided by LyricFind
To comment on specific lyrics,
highlight them