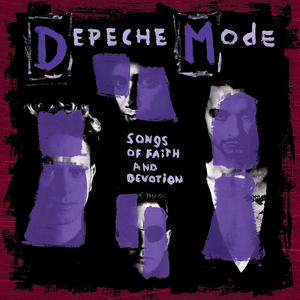 Songs of Faith and Devotion
"Songs of Faith and Devotion" is the eighth studio album by English electronic music band Depeche Mode, and the final album produced with Alan Wilder as a member prior to his departure from the group. The album was released in the United Kingdom on 22 March 1993 by Mute Records. Production incorporated more use of organic instrumentals (such as Uillean pipes in "Judas" and string quartet in "One Caress"), and featured outside singers for the first time (gospel choir in "Condemnation"). The album and its subsequent tour marked the darkest and most difficult period for the band members; Dave Gahan
Read Full Bio
"Songs of Faith and Devotion" is the eighth studio album by English electronic music band Depeche Mode, and the final album produced with Alan Wilder as a member prior to his departure from the group. The album was released in the United Kingdom on 22 March 1993 by Mute Records. Production incorporated more use of organic instrumentals (such as Uillean pipes in "Judas" and string quartet in "One Caress"), and featured outside singers for the first time (gospel choir in "Condemnation").

The album and its subsequent tour marked the darkest and most difficult period for the band members; Dave Gahan struggled with heroin addiction, Martin L. Gore drank excessively and experienced seizures, and Andrew Fletcher suffered from clinical depression to the point where he was unable to perform live on several shows. All of these issues combined had taken too hard a toll on Alan Wilder, who announced his departure from the band in 1995, highlighting a highly uneven workload distribution, lack of acknowledgement from his bandmates, creative differences within the band and overall lack of cohesion. This led many to speculate that the band was finished, but Depeche Mode would go on to release "Ultra" two years after Wilder's departure.

The album itself has a more aggressive, rock-oriented sound than previous albums, influenced by industrial and grunge genres which were gaining popularity in the early 90s. Themes explore sexuality and relationships through a distinctly religious and spiritual imagery.
Genre not found
Artist not found
Album not found
Search results not found
Song not found
I feel you
The sun it shines
I feel you
Within my mind
You take me there
You take me where the kingdom comes
You take me to and lead me through Babylon
This is the morning of our love
It's just the dawning of our love
I feel you
Your heart, it sings
I feel you
The joy it brings
Where heaven waits, there's golden gates and back again
You take me to and lead me through oblivion
This is the morning of our love
It's just the dawning of our love
I feel you, precious soul
And I am whole
I feel you, your rising sun
My kingdom comes
I feel you
Each move you make
I feel you
Each breath you take
Where angels sing, spread their wings
My love's on high
You take me home to glory's throne
By and by
This is the morning of our love
It's just the dawning of our love
This is the morning of our love
It's just the dawning of our love
Lyrics © Sony/ATV Music Publishing LLC
Written by: Martin Gore

Lyrics Licensed & Provided by LyricFind
To comment on specific lyrics,
highlight them