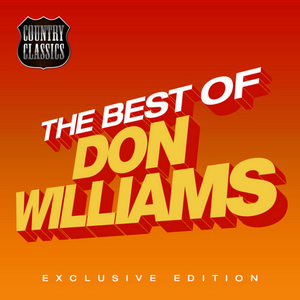 There are at least two artists by this name:

(1) A country singer and songwriter from Texas.
(2) An alias of techno producer Thomas Wendel.


(1) Don Williams (Born May 27, 1939, in Floydada, Texas - Died September 8, 2017) spent much of his childhood in Corpus Christi, Texas. His father was a mechanic whose job took him to other regions, his mother played guitar and he grew up listening to country music. He and Lofton Kline formed a semi-professional folk group called the Strangers Two
Read Full Bio
There are at least two artists by this name:

(1) A country singer and songwriter from Texas.
(2) An alias of techno producer Thomas Wendel.


(1) Don Williams (Born May 27, 1939, in Floydada, Texas - Died September 8, 2017) spent much of his childhood in Corpus Christi, Texas. His father was a mechanic whose job took him to other regions, his mother played guitar and he grew up listening to country music. He and Lofton Kline formed a semi-professional folk group called the Strangers Two, and then, with the addition of Susan Taylor, they became the Pozo-Seco Singers, the phrase being a geological term to denote a dry well. Handled by Bob Dylan's manager Albert Grossman, they had major pop hits in the U.S. with "Time," "I Can Make It With You" and "Look What You've Done." Following Kline's departure, they employed several replacements, resulting in a lack of musical direction. After Williams had failed to turn the trio towards country music, they disbanded in 1971.

He then worked for his father-in-law but also wrote for Susan Taylor's solo album via Jack Clement's music publishing company. Clement asked Williams to record albums of his company's best songs, mainly with a view to attracting other performers. In 1973, Don Williams, Volume 1 was released on the fledgling JMI label and included such memorable songs as Bob McDill's apologia for growing old, "Amanda," and Williams' own "The Shelter of Your Eye." Williams' work was reissued by Dot Records, and Don Williams, Volume 2 included "Atta Way to Go" and "We Should Be Together." Williams then had a country No. 1 with Wayland Holyfield's "You're My Best Friend," which has become a standard and is the perennial sing-along anthem at his concerts. By now, the Williams' style had developed: gently paced love songs with straightforward arrangements, lyrics and sentiments. Williams was mining the same vein as Jim Reeves, but he eschewed Reeves' smartness by dressing like a ranch-hand. Besides having a huge contingent of female fans, Williams counted Eric Clapton and Pete Townshend among his admirers. Clapton recorded his country hit "Tulsa Time," written by Danny Flowers, a member of Williams' band.

Williams played a band member himself in the Burt Reynolds film W.W. & the Dixie Dance Kings and also appeared in Smokey and the Bandit 2. Williams' other successes include "Till the Rivers All Run Dry," "Some Broken Hearts Never Mend," "Lay Down Beside Me" and his only U.S. solo pop hit, "I Believe in You." Unlike most established country artists, he has not sought duet partners, although he and Emmylou Harris found success in 1981 with their version of Townes Van Zandt's "If I Needed You." Among the highlights of Williams' recording career is his interpretation of "Good Ol' Boys Like Me," McDill's homage to his southern roots. Moving to Capitol Records in the mid-'80s, Williams released such singles as "Heartbeat in the Darkness" and "Senorita," but the material was not as impressive. He took a sabbatical in 1988, but subsequent RCA Records recordings showed that nothing had changed.

In 1998, Williams released I Turn the Page on Giant Records, but the label soon closed its country music division. Following a live album in 2001, Williams retuned in 2004 with My Heart to You.

Maintaining his stress-free style, Williams continues to be a major concert attraction, especially in the U.K. and South Africa.


Williams initially started out as a songwriter for Jack Music Inc., since he lacked belief about going solo but then signed with JMI as a solo artist. His 1974 song "We Should Be Together" reached number five and he was signed on with ABC/Dot. His first single with ABC/Dot, "I Wouldn't Want to Live If You Didn't Love Me," became a number one hit, and was the first of a string of top ten hits he had between 1974 and 1991. In fact, only four of his 46 singles didn't make it to the Top Ten. Recently (as of 2012), he released the album And So It Goes.

From His Own Website.
They came to call Don Williams "the Gentle Giant" in the decades he was a dominating country hit maker because of his unique blend of commanding presence and that laid-back, easy style that has appealed to adult men and women alike—cutting across national and genre boundaries. If those personal and musical qualities stood out strongly across the 1970s, '80s and '90s, they are all the more distinctive in 2012, when so many country and pop records seem to work as check off lists of somebody's idea of how to be a man, or hard-sell attempts to indicate affection for a woman. Don Williams has never sounded like he felt the need to sell somebody something, or to prove anything.

On And So It Goes, available from Sugar Hill on June 19th, that winning, self-assured ease is again front and center, and the musical style that has made Don a ballad vocal model for performers ranging from Eric Clapton (with whom he'd traded songs—"Tulsa Time," "Lay Down Sally") to Keith Urban (who guests on this release). One listen to the characteristically right-on-target vocals on this first Don Williams recording in eight years and his admirers will be wondering what he's done to maintain that strength over the hiatus.

"Well, there are things that I don't do," Don laughs. "I don't do a whole lot of sitting around chit-chatting, laughing, and carrying on—especially when I'm on the road, where that just makes you tired, anyway. Even at home on the farm there are literally days on end that I may not say anything but for an hour or two a day."

This man who so clearly loves the quiet home life can still fill an auditorium or stadium across the U.S., the U.K., Europe and Africa; his special role as an international ambassador for American country and pop music is ongoing and his musical appeal, he has long since been astonished to find, is about the same from the Central Time Zone to central Africa.

"The weird thing about that is—no; I don't change my show to go play England or Nairobi. I can pretty much choose anything from my repertoire and it works wherever I am, and that still amazes me, because you're talking about different cultures, sometimes different languages, and the whole nine yards."

The hundreds of memorable songs in that repertoire—over fifty of them major hits—whether contemplative ballads, affecting love songs or change-up rhythm numbers, have always been a core Don Williams strength and focus. Don and long-time producer Garth Fundis, who returns in that role on this new album, each credit the other with having contributed to their own song-picking and sequencing skills—skills well put to shared use again when Nashville's finest writers submitted hundreds of songs for consideration for Don's return to recording. They both knew what they were looking for in selections that would appear on And So It Goes:

"They're very well written, they're interesting, and the melody and the lyric are saying the same thing," Don says. "Even when we're starting looking for the songs, just experimenting, Garth and I are just in agreement; we just want to make good music that touches our hearts and, hopefully, touches others' in the process. For many years, though, Garth has fussed at me about one thing— that we need to be sure and do whatever song that I wrote, because I would just pass over it. I get more excited about a new song that I've just heard than I do my own material!" (There are, in fact, two Don Williams co-writes among the ten outstanding songs on this new release.)

Riding and crossing the line between country and pop, and all the more distinctive for doing it, Don brought a sound and sensibility to the country charts that proved a smash—a development that was initially a surprise even to him.

"When I was just a wee lad," he recalls, "I really appreciated people like Johnny Horton, Johnny Cash and Jim Reeves; all of those guys back then meant a lot to me, but at the same time, I really loved Brook Benton, and the Platters and all of those people. But even when I was 'in pop' myself, with everything that I wrote, the only people who really seemed to appreciate it were country fans. That has to tell you a little bit about where your heart's at, whether your head agrees with it or not!"

Born in Floydada, Florida in 1939 and growing up near Corpus Christi, Texas, Don was playing guitar by age twelve, taught by his mother, and performed in folk, country and rock bands as a teenager. He first gained musical attention as a member of the pop folk trio The Pozo Seco Singers, which had six pop chart hits in 1966-'67, then was signed as a songwriter by Nashville's Cowboy Jack Clement in 1971—the sort of songwriter whose demos demanded attention. Between 1974 and 1991, Don had at least one major hit every year, including such country standards to be as " Good Ole Boys Like Me," "Till the Rivers All Run Dry," "It Must Be Love," "I'm Just a Country Boy," "Amanda" and "I Believe in You." He also had a hit duet with Emmylou Harris on Townes Van Zandt's "If I Needed You." Don was the CMA Male Vocalist of the Year in 1978; his "Tulsa Time" was the ACM Record of the Year for 1979.

In 2010, Don received country music's highest honor, with his induction into the Country Music Hall of Fame.
Don Williams died on 8 september 2017 after a short illness. He was 78 years old.


(2) Founder and owner of Mojuba & A.R.T.less Records and one half of the Tokomak Records company. He is the creative force behind these imprints and Tokomak's main founding member. His musical influences ranges from Classic, Funk and Jazz via Drum & Bass and Trip Hop to his beloved Detroit Techno and US House, which can be still enjoyed throughout his DJ-Sets. After a few releases on the legendary Pure Plastic imprint, he delivers tracks of his own brand of funk on labels like Rewired, Styrax Leaves and 100% Pure.
Genre not found
Artist not found
Album not found
Search results not found
Song not found
You're My Best Friend
Don Williams Lyrics
You placed gold on my finger
You brought love like I've never known
You gave life to our children
And to me a reason to go on
You're my bread when I'm hungry
You're my shelter from troubled winds
You're my anchor in life's ocean
But most of all you're my best friend
When I need hope and inspiration
You're always strong when I'm tired and weak
I could search this whole world over
You'd still be everything that I need
You're my bread when I'm hungry
You're my shelter from troubled winds
You're my anchor in life's ocean
But most of all you're my best friend
You're my bread when I'm hungry
You're my shelter from troubled winds
You're my anchor in life's ocean
But most of all you're my best friend
Lyrics © Universal Music Publishing Group, Sony/ATV Music Publishing LLC
Written by: Wayland D. Holyfield

Lyrics Licensed & Provided by LyricFind
To comment on specific lyrics,
highlight them