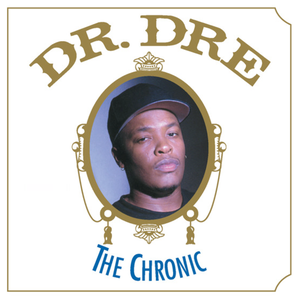 "The Chronic" is the solo debut album of American hip hop artist Dr. Dre, released December 15, 1992, on his own record label Death Row Records, and distributed by Priority Records. Recording sessions for the album took place in June 1992 at Death Row Studios in Los Angeles and at Bernie Grundman Mastering in Hollywood. The album is named after a slang term for high-grade marijuana, and its cover is an homage to Zig-Zag rolling papers. It was recorded by Dr. Dre following his departure from hip hop group N.W.A and its label Ruthless Records over a financial dispute, and
Read Full Bio
"The Chronic" is the solo debut album of American hip hop artist Dr. Dre, released December 15, 1992, on his own record label Death Row Records, and distributed by Priority Records. Recording sessions for the album took place in June 1992 at Death Row Studios in Los Angeles and at Bernie Grundman Mastering in Hollywood. The album is named after a slang term for high-grade marijuana, and its cover is an homage to Zig-Zag rolling papers. It was recorded by Dr. Dre following his departure from hip hop group N.W.A and its label Ruthless Records over a financial dispute, and consequently features both subtle and direct insults at Ruthless and its owner, former N.W.A-member Eazy-E. Although a solo album, it features many appearances by Snoop Dogg, who used the album as a launch pad for his own solo career.

Upon its release, "The Chronic" received positive reviews from most music critics and earned considerable sales success. The album peaked at number three on the Billboard 200 and has sold over three million copies, which led to Dr. Dre becoming one of the top ten best-selling American performing artists of 1993. Dr. Dre's production has been noted for founding and popularizing the G-funk sub-genre within gangsta rap. "The Chronic" has been widely regarded as one of the most important and influential albums of the 1990s and regarded by many fans and peers to be one of the most well-produced hip hop albums of all time. In 2003, the album was ranked number 138 on Rolling Stone magazine's list of the 500 greatest albums of all time.
Genre not found
Artist not found
Album not found
Search results not found
Song not found
The Chronic
Dr. Dre Lyrics
This is dedicated to the niggas that was down from day one
Welcome to Death Row
Like we always do about this time
Hahaha, yeah, nine-deuce
Death Row Records
Creepin' while you're sleepin'
Niggas with attitudes? Naw, loc
Niggas on a motherfuckin' mission
What up niggas and niggaettes?
That crazy-ass nigga's back in the motherfuckin' hizzouse
The notorious Compton G
D.R.E., on the solo tip, fuck them other fools
What up, Ren? Yeah
Droppin' chronic flakes on your ass, biatch
West Coast flavor
Niggas who talk shit get dealt with real quick
So if you wanna take a trip to the Row
Let a nigga like Snoop Doggy Dogg know
Protected by niggas with big dicks, AK's, and 187 skills
So if it's a must you test us
We can handle it in the streets, nigga
Fuck makin' records, yeah
G's up, hoes down
If that bitch can't swim then she bound the drizzown
Peace to my nigga Drizzae
Another platinum hit, nigga
Peace to the D.O.C., still makin' it funky enough
And Death Row Records is in full motherfuckin' effizzect
Oh yeah, PS, fuck Mr. Roarke and Tattoo
AKA Jerry and Eazy
Sincerely yours, these motherfuckin' nuts
I don't love Eazy, I don't love Jerry
I don't love Ruthless Records
Frankly, I don't love nothin' they got to do with
But, but, but you know what I want you the do for me?
Jerry, Eazy, check this shit out here
I want y'all to put these bizzalls, in your jizzaws
And work 'em like a strizzaw
And tell me what you sizzaw
Yeah, you know what? You know what?
Fuck all y'all, fuck y'all
Really though, it's Death Row, nigga
You better ask somebody
You really better ask somebody
(Get out, get out, I don't love you no more)
Yeah, nigga, you's a penguin-lookin' motherfucker
Lyrics © Kobalt Music Publishing Ltd.
Written by: Colin Fitzroy Wolfe, Andre Romell Young, Cordozar Calvin Broadus

Lyrics Licensed & Provided by LyricFind
To comment on specific lyrics,
highlight them