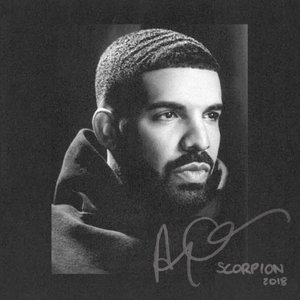 "Scorpion" is the fifth studio album by Canadian rapper Drake. It was released on June 29, 2018 by Young Money Entertainment, Cash Money Records and Republic Records. "Scorpion" is a double album consisting of 25 tracks. Its "A-side" is primarily a hip-hop album, whilst its "B-side" has been described as R&B and pop. The album features guest appearances from Jay-Z and Ty Dolla Sign as well as posthumous appearances from Michael Jackson and Static Major, and additional vocals by a variety of artists, including James Fauntleroy, PartyNextDoor, Nicki Minaj, Future and Nai Palm. The album is executively produced by Drake
Read Full Bio
"Scorpion" is the fifth studio album by Canadian rapper Drake. It was released on June 29, 2018 by Young Money Entertainment, Cash Money Records and Republic Records. "Scorpion" is a double album consisting of 25 tracks. Its "A-side" is primarily a hip-hop album, whilst its "B-side" has been described as R&B and pop.

The album features guest appearances from Jay-Z and Ty Dolla Sign as well as posthumous appearances from Michael Jackson and Static Major, and additional vocals by a variety of artists, including James Fauntleroy, PartyNextDoor, Nicki Minaj, Future and Nai Palm. The album is executively produced by Drake himself, alongside frequent collaborator Noah "40" Shebib and manager Oliver El-Khatib, and features production from 40, alongside a variety of producers, including No I.D., Boi-1da, DJ Premier, DJ Paul, T-Minus, Murda Beatz, Cardo and Noel Cadastre, among others.

It was supported by the singles "God's Plan", "Nice for What", "I'm Upset", "Don't Matter to Me" and "In My Feelings". The former two singles reached number one on the US Billboard Hot 100 prior to the album's release, and the fifth single reached the top spot of the chart after the album's release.
Genre not found
Artist not found
Album not found
Search results not found
Song not found
Survival
Drake Lyrics
I been waitin' on this
Yeah
All of this disorder, no addressin'
The crown is broken in pieces, but there's more in my possession
There's a whole lot in my possession
Who do you really love? Well, that's sure to be in question
My Mount Rushmore is me with four different expressions
Who's givin' out this much return on investment?
After my run, man, how is that even a question?
After this summer, man, how is that even a
I've had real Philly niggas try to write my endin'
Takin' shots with the G.O.A.T. and talked about shots that we sendin'
I've had scuffles with bad boys that wasn't pretendin'
I've had too many nights to mention, that's just the beginnin'
I'm pretty sure we got a label, I'm still independent
I fell back a hundred times when I don't get the credit
Seen this movie a hundred times, I know where it's headed
Realize someone gotta die when no one'll dead it
Niggas gamblin' with they life for some content
That's the type of lottery that could get your top picked
I am a cream-of-the-crop nigga
You niggas pop mollies, my Mali's pop niggas
House on both coasts, but I live on the charts
I have tea with the stars and I swim with the sharks
And I see in the dark, wasn't this cold at the start
Think my soul has been marked, there's a hole in my heart
Yeah, I was about to, man, I thought about it
It's unsettlin' to talk about it
Free all of my niggas that they caught with it
R.I.P. my niggas that they caught without it
This just the intro, let me not get ahead of myself
This is God's plan, young man, you said it yourself
Always got a ace up my sleeve for whatever was dealt
Daddy got suits like Bernie Mac, he dresses himself
I stopped askin' myself and I started feelin' myself
Now I gotta deal with all this drama and deal with myself
I ain't even have to cut the tie, it severed itself
This just the intro, let me not get ahead of myself
Lyrics © BMG Rights Management, Universal Music Publishing Group, Kobalt Music Publishing Ltd.
Written by: Aubrey Drake Graham, Ernest Dion Wilson, Klaus Netzle, Manuel Landy, Noah James Shebib

Lyrics Licensed & Provided by LyricFind
To comment on specific lyrics,
highlight them