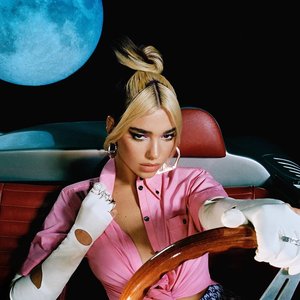 Future Nostalgia is the second studio album by English singer-songwriter, Dua Lipa. It was released on March 27th, 2020 by Warner Records. Lipa began working on the album in early 2018, enlisting writers and producers such as Jeff Bhasker, Ian Kirkpatrick, Stuart Price, The Monsters and the Strangerz and others in order to create a pop record with a "nostalgic" and electronic feel. Three singles and one promotional single were released from the album. "Don't Start Now" was released as the album's lead single on November 1st, 2019. The song attained both critical and commercial success, becoming her seventh top
Read Full Bio
Future Nostalgia is the second studio album by English singer-songwriter, Dua Lipa. It was released on March 27th, 2020 by Warner Records. Lipa began working on the album in early 2018, enlisting writers and producers such as Jeff Bhasker, Ian Kirkpatrick, Stuart Price, The Monsters and the Strangerz and others in order to create a pop record with a "nostalgic" and electronic feel.

Three singles and one promotional single were released from the album. "Don't Start Now" was released as the album's lead single on November 1st, 2019. The song attained both critical and commercial success, becoming her seventh top 10 entry on the UK Singles Chart and second top 10 entry on the US Billboard Hot 100, reaching number 2 on the latter. The album's title track was released as a promotional single on December 13th, 2019. "Physical" was released as the second single from the album on January 31st, 2020 and became her eighth top 10 single in the UK. "Break My Heart" was released as the third single on March 25th, 2020 and it samples the melody from "Need You Tonight" by INXS. In order to promote the album, Lipa announced the Future Nostalgia Tour, consisting of 24 shows in Europe and commencing in January 2021.

Musically, Future Nostalgia has been described by Lipa as a "dancercise class". She stated that its songs will incorporate genres of disco and pop, inspired by artists such as Gwen Stefani, Madonna, Moloko, Blondie, and Outkast.

Future Nostalgia was originally scheduled to be released April 3rd, 2020 and the tour to commence later in April. However, due to the spread of coronavirus, the European tour was postponed to January 2021, and the album was brought forward a week as Lipa wanted to spread happiness in such a dark time. Following her debut's complete edition, Lipa teased a future re-release of Future Nostalgia near the end of 2020, which will feature tracks that didn't originally make the record.

Future Nostalgia has recieved a nomination for Album Of The Year, as well as Best Pop Vocal Album at the 2021 Grammys.
Genre not found
Artist not found
Album not found
Search results not found
Song not found
Future Nostalgia
Dua Lipa Lyrics
(Future)
(Future nostalgia)
(Future nostalgia)
(Future nostalgia)
You want a timeless song, I wanna change the game
Like modern architecture, John Lautner coming your way
I know you like this beat 'cause Jeff been doing the damn thing
You wanna turn it up loud, future nostalgia is the name
(Future nostalgia)
I know you're dying trying to figure me out
My name's on the tip of your tongue, keep running your mouth
You want the recipe but can't handle my sound
My sound, my sound (future)
(Future nostalgia)
No matter what you do, I'm gonna get it without ya (hey, hey)
(Future nostalgia)
I know you ain't used to a female alpha (no way, no way)
(Future nostalgia)
No matter what you do, I'm gonna get it without ya (hey, hey)
(Future nostalgia)
I know you ain't used to a female alpha (no way, no way)
(Future nostalgia)
Can't be a Rolling Stone if you live in a glass house (future nostalgia)
You keep on talking that talk, one day you're gonna blast out
You can't be bitter if I'm out here showing my face (future nostalgia)
You want what now looks like, let me give you a taste
I know you're dying trying to figure me out
My name's on the tip of your tongue, keep running your mouth
You want the recipe but can't handle my sound
My sound, my sound (future)
(Future nostalgia)
No matter what you do, I'm gonna get it without ya (hey, hey)
(Future nostalgia)
I know you ain't used to a female alpha (no way, no way)
(Future nostalgia)
No matter what you do, I'm gonna get it without ya (hey, hey)
(Future nostalgia)
I know you ain't used to a female alpha (no way, no way)
(Future nostalgia)
You can't get with this, if you ain't built for this
You can't get with this, if you ain't built for this
I can't build you up, if you ain't tough enough
I can't teach a man how to wear his pants, haha
I know you're dying trying to figure me out
My name's on the tip of your tongue, keep running your mouth
You want the recipe but can't handle my sound (future nostalgia)
My sound, my sound (future)
I know you're dying trying to figure me out
My name's on the tip of your tongue, keep running your mouth
You want the recipe but can't handle my sound
My sound, my sound (future)
(Future nostalgia)
(Future nostalgia)
(Future nostalgia)
My sound, my sound, my sound (future)
(Future nostalgia)
Lyrics © Universal Music Publishing Group, Kobalt Music Publishing Ltd.
Written by: Clarence Bernard Coffee, Dua Lipa, Jeffrey Nath Bhasker

Lyrics Licensed & Provided by LyricFind
To comment on specific lyrics,
highlight them