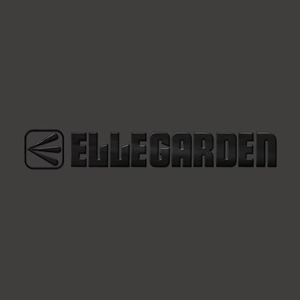 ELLEGARDEN BEST (1999-2008)
ELLEGARDEN is a punk rock group that formed in December of 1998 in Chiba, Japan. It includes drummer Hirotaka Takahashi, vocalist Takeshi Hosomi, guitarist Shinichi Ubakata, and bassist Yuichi Takada. As of May 2, 2008, Ellegarden's leader Ubukata Shinichi announced an indefinite hiatus of the band. All previously decided shows (including shows not yet announced) up until early September 2008 will still be performed. Though they are on hiatus, the vocalist, Hosomi, has repeatedly stated that they will not be breaking up anytime soon, and will be back on the stage performing again in the future. Soon after the hiatus
Read Full Bio
ELLEGARDEN is a punk rock group that formed in December of 1998 in Chiba, Japan. It includes drummer Hirotaka Takahashi, vocalist Takeshi Hosomi, guitarist Shinichi Ubakata, and bassist Yuichi Takada. As of May 2, 2008, Ellegarden's leader Ubukata Shinichi announced an indefinite hiatus of the band. All previously decided shows (including shows not yet announced) up until early September 2008 will still be performed. Though they are on hiatus, the vocalist, Hosomi, has repeatedly stated that they will not be breaking up anytime soon, and will be back on the stage performing again in the future.

Soon after the hiatus began, an official announcement was made on the website declaring that all activities of the band had been indefinitely suspended

They are also referred to as ELLE.

ELLEGARDEN has a sound strikingly similar to some American Pop Punk bands, and sings in both Japanese and English. Their English lyrics (mostly written by Hosomi) are usually grammatically correct and generally very well pronounced. In the Summer 2006 issue of American J-rock magazine purple SKY (p.24), Takeshi was quoted as saying his English skills were improved by the time he spent working as a computer engineer in first Oakland, California, and later in Japan where he had English speaking co-workers.

ELLEGARDEN has been compared to famous artists of similar style, most notably Sum 41 (ELLEGARDEN was the band's opening act on February 2005 during the Sum 41 Japan Tour 2005), Blink 182 and Good Charlotte. Their popularity comes from the sounds that they bring and the strong emotions they express. Despite these similarities however, they have a wide range of sounds that don't quite fit into a single style, but encompass a decent range of rock sounds.

In 2006 ELLEGARDEN performed in numerous Japanese Summer Music Festivals, such as FUJI ROCK, SUMMER SONIC, NANO MUGEN FES and RISING SUN ROCK FESTIVAL.

Their final tour of 2006 features the American band Allister - the bands became friends during SXSW 2006.

It is difficult to get their tour and live tickets because they become sold out in a very short amount of time.

With the international release of their newest album "Eleven Fire Crackers", Ellegarden is quickly growing in popularity - no doubt aided by their recent U.S. gigs.

In 2018, Ellegarden announced their first tour in 10 years, ending their hiatus. The tour, titled "THE BOYS ARE BACK IN TOWN", is to begin in August at Shinkiba Studio Coast, the same venue as their send-off concert.
Genre not found
Artist not found
Album not found
Search results not found
Song not found
My Favorite Song
ELLEGARDEN Lyrics
A sunny day
I wake up and I see I have overslept
I'm already late
No need to rush anymore
That feels so good I've got a new stereo That means
I've got a
New toy
I turned it on
I love the moment of picking a CD
Things are pretty simple around me
Days are quick to pass me by
All I wanna do is to be with my favorite things
My favorite songs My favorite TV shows are never ending
My favorite books My favorite radio shows will never
Die
They echo inside me
No need to understand me
I light a cigarette
I'm still home
It's almost perfect to me
No one coplains no matter how loud my music is playing
Cause they are all at work
It's daytime
I wont do things I can do tomorrow
All I wanna do is to be with my favorite things
My favorite songs My favorite TV shows are never ending
My favorite books My favorite radio shows will never
Die
My favorite songs My favorite TV shows are never ending
My favorite books My favorite radio shows will never
Die
Don't force me to be the way you are
Don't tell me if I am good or bad
I wonder why people do not live their lives the way
They really
Want to
Things are pretty easy around me
It may appear I'm wasting my time
But all I wanna do is to be with my favorite things
My favorite songs My favorite TV shows are never ending
My favorite books My favorite radio shows will never
Die
My favorite songs My favorite TV shows are never ending
My favorite books My favorite radio shows will never
Die
They echo inside me
Lyrics © Sony/ATV Music Publishing LLC
Written by: TAKESHI HOSOMI

Lyrics Licensed & Provided by LyricFind
To comment on specific lyrics,
highlight them