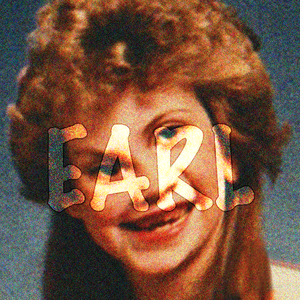 Earl Sweatshirt Releases His First Fucking Album. Lyrics About Rape, Coke, And Couches Will Be Blaring In Your Ears With The Dopest Fucking Beats To Date. Featuring Production By Tyler The Creator, Left Brain And Others.

Lyrically, the album is often obscene, typical of the works created by OFWGKTA and its members, which is particularly notable because Earl Sweatshirt himself was 16 years old at the time of this release.

Track listing:

1. "ThisNiggaUgly" (feat. Tyler, the Creator)
Read Full Bio
Earl Sweatshirt Releases His First Fucking Album. Lyrics About Rape, Coke, And Couches Will Be Blaring In Your Ears With The Dopest Fucking Beats To Date. Featuring Production By Tyler The Creator, Left Brain And Others.

Lyrically, the album is often obscene, typical of the works created by OFWGKTA and its members, which is particularly notable because Earl Sweatshirt himself was 16 years old at the time of this release.

Track listing:

1. "ThisNiggaUgly" (feat. Tyler, the Creator)
2. "Earl"
3. "Couch" (feat. Tyler, the Creator)
4. "Kill"
5. "WakeUpFaggot"
6. "Luper"
7. "epaR" (feat. Vince Staples)
8. "Moonlight" (feat. Hodgy Beats)
9. "Pigions" (feat. Tyler, the Creator)
10. "Stapleton"
Genre not found
Artist not found
Album not found
Search results not found
Song not found
This my little brother on my mother's side, our father died
He was living with my grandmother on the North side of Sacramento
But this fag ain't just visiting, he's settling in
He can't wait to start meddling and doing the evil shit we do
Does he skate, yeah he skate too
Man, this nigga ugly and he raps, ooh
This the newest Wolf Gang member
And he, what's his name, Earl
Nigga, this nigga's forehead is so fuckin' big
This nigga, look at this fuckin' nigga lips, dog
This nigga's lips look like a split sundae
Yo this nigga's line is bended, that's fucked up
Yo this nigga, this nigga look like a African poet
Earl, say somethin'
Yo this nigga's forehead looks like a fuckin' big-ass moose
Nigga, don't be nervous nigga, say somethin' trust me guys, he can rap
He a bitch, just say somethin'
Nigga, don't be a bitch nigga, say somethin'
Nigga, rap, you fuckin' suck probably
Trust me guys, he can rap, just say somethin'
Lyrics © Sony/ATV Music Publishing LLC
Written by: Thebe Kgositsile, Tyler Okonma

Lyrics Licensed & Provided by LyricFind
To comment on specific lyrics,
highlight them