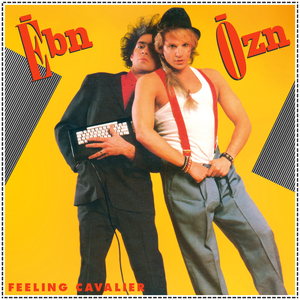 Ebn-Ozn (often spelled Ēbn-Ōzn) was the New Wave duo of Ned "EBN" Liben (synthesizer) and Robert "OZN" Rosen (organ, vocals) that made a small splash in the music scene with the single, AEIOU Sometimes Y, in 1983.

The duo came together in the early '80s in New York when Rosen met Liben through a friend of his girlfriend. Soon after meeting they started spending time together in clubs listening to different types of dance music. In 1983 they released two singles on Elektra Records
Read Full Bio
Ebn-Ozn (often spelled Ēbn-Ōzn) was the New Wave duo of Ned "EBN" Liben (synthesizer) and Robert "OZN" Rosen (organ, vocals) that made a small splash in the music scene with the single, AEIOU Sometimes Y, in 1983.

The duo came together in the early '80s in New York when Rosen met Liben through a friend of his girlfriend. Soon after meeting they started spending time together in clubs listening to different types of dance music. In 1983 they released two singles on Elektra Records, AEIOU Sometimes Y and Bag Lady (I Wonder), with the former becoming a modern rock radio staple for a short while, and the latter a minor radio hit. Both had videos that received significant airplay on MTV. The video for "Bag Lady" features actress Imogene Coca in the title role. Their only LP, Feeling Cavalier, included both singles and was released in January 1984. The duo then went their separate ways.

Liben went on to work with comedian Judy Tenuta (as her music director) and Scritti Politti, while Rosen formed a studio group, before leaving music to become a screenwriter. Liben passed away in 1998 of a heart attack.
Genre not found
Artist not found
Album not found
Search results not found
Song not found
Bag Lady
Ebn-Ozn Lyrics
Through the New York winter
With rags around her feet
Clutching ancient shopping bags
Destitutions beat
Burned out like a frozen matchstick
Screaming at the wall
A helpless hungry lady
With no friends to call
Chorus:
I wonder
Where she goes when the night falls
What thunder
Has made us deaf to her calls?
Bag lady...
Oh gloveless, shattered frailty
The damp wind bites her hands
She shuffles by a restaurant
Towards their garbage cans
She eats the rotten refuse
Like vermin on the dead
Screaming at the passersby
"Get it through your heads!"
Repeat chorus
Sometimes on my way to work
I give her my spare change
The Shopping Bag Lady
Looks at me like I'm strange
She never once says thank you
But I don't mind a bit
All these homeless people
Can't make no sense of it
Repeat chorus
Lyrics © OBO APRA/AMCOS

Lyrics Licensed & Provided by LyricFind
To comment on specific lyrics,
highlight them