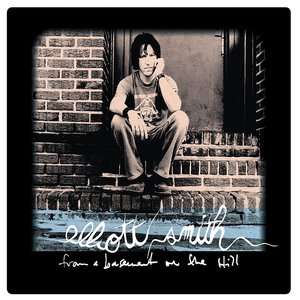 From a Basement on the Hill
From a Basement on the Hill is the sixth and final studio album by the late singer-songwriter Elliott Smith. Released posthumously on October 19, 2004 by ANTI- Records in CD, double LP, and digital download, it peaked at #19 in the US and #41 in the UK. The album was incomplete at the time of Smith's death. Smith's family hired his former producer Rob Schnapf and ex-girlfriend Joanna Bolme to sort through and put the finishing touches on the batch of over 30 songs that were recorded for the album. Many of the songs Smith intended for the album remained
Read Full Bio
From a Basement on the Hill is the sixth and final studio album by the late singer-songwriter Elliott Smith. Released posthumously on October 19, 2004 by ANTI- Records in CD, double LP, and digital download, it peaked at #19 in the US and #41 in the UK.

The album was incomplete at the time of Smith's death. Smith's family hired his former producer Rob Schnapf and ex-girlfriend Joanna Bolme to sort through and put the finishing touches on the batch of over 30 songs that were recorded for the album. Many of the songs Smith intended for the album remained unfinished, in some cases only lacking vocals.
Genre not found
Artist not found
Album not found
Search results not found
Song not found
Last stop for a resolution
End of the line, is it confusion?
So go. Go see what's there for you
Nothing new, nothing new for you to use
I've got no new act to amuse you
I've got no desire to use you, you know
But anything that I could do, would never be good enough for you
If you can't help it then just leave it alone
Leave it alone, yeah, just forget it
It's really easy
I believe I'll forget it too
Still you're keepin' me around
Til I finally drag us both down
Streaming feathers out your hat
Yes I believe that's where it's at
You belong tagging along
And I belong in your zoo
So I wait for confirmation
That you're never gonna use your starting gun
Unless its me it sounds like being here just wasn't that much fun
Anything that I could do
Would never be good enough for you
If you can't help it then just leave it alone
Leave me alone, yeah, just forget it
It's really easy
I'll just forget it too
Coast to coast, coast to coast
I'll do what I can so you can be what you do
Coast to coast, coast to coast
I'll do everything I can so you can be what you do
Coast to coast, coast to coast
Circuit rider comes every fifth Sunday
Oh my Lord, I fell asleep one day
Anything that I could do
Is there anything that I could do
That someone doesn't do for you
That someone didn't do for you
That I haven't already done for you
Lyrics © Universal Music Publishing Group
Written by: STEVEN P. SMITH, STEVEN PAUL SMITH

Lyrics Licensed & Provided by LyricFind
To comment on specific lyrics,
highlight them