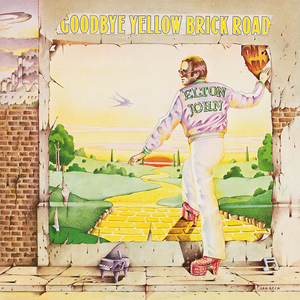 Goodbye Yellow Brick Road
Goodbye Yellow Brick Road is the seventh studio album by British singer-songwriter Elton John, released in 1973. It is regarded by many as his magnum opus. With worldwide sales of at least 31 million copies it is his best selling studio album. In 2000 Q magazine placed it at number 84 in its list of the 100 Greatest British Albums Ever. In 2003, the album was ranked number 91 on Rolling Stone magazine's list of the 500 greatest albums of all time. History Goodbye Yellow Brick Road was recorded at the Château d'Hérouville, where John had previously recorded Honky Château
Read Full Bio
Goodbye Yellow Brick Road is the seventh studio album by British singer-songwriter Elton John, released in 1973. It is regarded by many as his magnum opus. With worldwide sales of at least 31 million copies it is his best selling studio album. In 2000 Q magazine placed it at number 84 in its list of the 100 Greatest British Albums Ever. In 2003, the album was ranked number 91 on Rolling Stone magazine's list of the 500 greatest albums of all time.


History
Goodbye Yellow Brick Road was recorded at the Château d'Hérouville, where John had previously recorded Honky Château and Don't Shoot Me I'm Only the Piano Player. The amount of material was such that Goodbye Yellow Brick Road was released as a double album, his first. This album had originally been planned to be recorded in Jamaica, since The Rolling Stones had recorded Goats Head Soup there. Technical difficulties, coupled with political unrest in the country at the time, forced the band to make an early departure without any productive work done.

In addition to the three successful singles released from this album (see below), many other cuts received substantial airplay at AOR stations when the album was released, including "Harmony"; the 11-minute epic, "Funeral for a Friend/Love Lies Bleeding"; and his Marilyn Monroe tribute, "Candle in the Wind".


Track listing
All songs written by Elton John and Bernie Taupin


Side one
"Funeral for a Friend/Love Lies Bleeding" – 11:09
"Candle in the Wind" – 3:49
"Bennie and the Jets" – 5:23

Side two
"Goodbye Yellow Brick Road" – 3:13
"This Song Has No Title" – 2:23
"Grey Seal" – 4:00
"Jamaica Jerk-Off" – 3:38
"I've Seen That Movie Too" – 5:58

Side three
"Sweet Painted Lady" – 3:54
"The Ballad of Danny Bailey (1909-34)" – 4:23
"Dirty Little Girl" – 5:01
"All the Girls Love Alice" – 5:09

Side four
"Your Sister Can't Twist (But She Can Rock 'n Roll)" – 2:42
"Saturday Night's Alright for Fighting" – 4:53
"Roy Rogers" – 4:08
"Social Disease" – 3:43
"Harmony" – 2:46

Bonus tracks (2003 30th Anniversary Deluxe Edition)
"Whenever You're Ready (We'll Go Steady Again)" – 2:51
"Jack Rabbit" – 1:49
"Screw You (Young Man's Blues)" – 4:43
"Candle in the Wind" – 3:51
The original LP and CD issues were on two discs, while the 1995 CD remaster put the album on one disc as it was slightly less than 80 minutes. The 30th anniversary edition followed the original format, splitting the album across two discs to allow the inclusion of the bonus tracks, while a DVD on the making of the album was also included. The album has also been released by Mobile Fidelity as a single disc 24 karat gold CD.

The album was also released (2004) on a DVD-Audio in higher resolution.


B-sides
Song Format
"Jack Rabbit" Saturday Night's Alright For Fighting 7" (US/UK)
"Whenever You're Ready (We'll Go Steady Again)" Saturday Night's Alright for Fighting 7" (US/UK)
"Screw You (Young Man's Blues)" Goodbye Yellow Brick Road 7" (US/UK)


Personnel
"Funeral for a Friend"
Elton John – piano
Dee Murray – bass
Davey Johnstone – electric guitar
Nigel Olsson – drums
David Hentschel – A.R.P. synthesizer
"Love Lies Bleeding"
Elton John – vocals, piano
Dee Murray – bass, backing vocals
Davey Johnstone – electric guitar, backing vocals
Nigel Olsson – drums, backing vocals
David Hentschel – A.R.P. synthesizer
"Candle in the Wind"
Elton John – vocals, piano
Dee Murray – bass, backing vocals
Davey Johnstone – acoustic guitar, backing vocals
Nigel Olsson – drums, backing vocals
"Bennie and the Jets"
Elton John – vocals, piano, organ
Dee Murray – bass
Davey Johnstone – acoustic, electric guitars
Nigel Olsson – drums
"Goodbye Yellow Brick Road"
Elton John – vocals, piano
Dee Murray – bass, backing vocals
Davey Johnstone – Leslie guitar, backing vocals
Nigel Olsson – drums, backing vocals
Del Newman – orchestral arrangement
"This Song Has No Title"
Elton John – vocals, Farfisa organ, electric piano, mellotron, piano
"Grey Seal"
Elton John – vocals, piano, mellotron, electric piano
Dee Murray – bass
Davey Johnstone – electric guitar
Nigel Olsson – drums, congas
"Jamaica Jerk-Off"
Elton John – vocals, organs
Dee Murray – bass
Davey Johnstone – electric guitars
Nigel Olsson – drums
Prince Rhino – vocal Interjections
Reggae Dwight (Elton John) and Toots Taupin (Bernie Taupin) - composers
"I've Seen That Movie Too"
Elton John – vocals, piano
Dee Murray – bass
Davey Johnstone – acoustic, electric guitars
Nigel Olsson – drums
Del Newman – orchestral arrangement
"Sweet Painted Lady"
Elton John – vocals, piano
Dee Murray – bass
Davey Johnstone – acoustic guitar
Nigel Olsson – drums, tambourine
Del Newman – orchestral arrangement
"The Ballad of Danny Bailey (1909-34)"
Elton John – vocals, piano
Dee Murray – bass, backing vocals
Davey Johnstone – electric guitar, backing vocals
Nigel Olsson – drums, backing vocals
Del Newman – orchestral arrangement
"Dirty Little Girl"
Elton John – vocals, Leslie piano, mellotron
Dee Murray – bass
Davey Johnstone – electric guitar
Nigel Olsson – drums
"All the Girls Love Alice"
Elton John – vocals, piano
Dee Murray – bass
Davey Johnstone – electric guitar
Nigel Olsson – drums
David Hentschel – A.R.P. synthesizer
Ray Cooper – tambourine
Kiki Dee – background vocals
"Your Sister Can't Twist (But She Can Rock 'n Roll)"
Elton John – vocals, piano, Farfisa organ
Dee Murray – bass, backing vocals
Davey Johnstone – electric, slide guitars, backing vocals
Nigel Olsson – drums, backing vocals
"Saturday Night's Alright for Fighting"
Elton John – vocals, piano
Dee Murray – bass
Davey Johnstone – electric guitar
Nigel Olsson – drums
"Roy Rogers"
Elton John – vocals, piano
Dee Murray – bass
Davey Johnstone – acoustic, steel guitars
Nigel Olsson – drums
Del Newman – orchestral arrangement
"Social Disease"
Elton John – vocals, piano
Dee Murray – bass
Davey Johnstone – electric guitar, Banjo
Nigel Olsson – drums
Leroy Gomez – saxophone
"Harmony"
Elton John – vocals, piano
Dee Murray – bass, backing vocals
Davey Johnstone – acoustic guitar, backing vocals
Nigel Olsson – drums, backing vocals
Del Newman – orchestral arrangement
Production
Producer: Gus Dudgeon
Engineer: David Hentschel
Assistant engineers: Peter Kelsey, Andy Scott
Tape operator: Barry Sage
Orchestra contractor: David Katz
Arranger: Del Newman
Art direction: David Larkham, Michael Ross
Artwork: David Larkham, Michael Ross, Ian Beck
Liner notes: Gus Dudgeon, John Tobler

Charts

Album
Year Chart Position
1973 UK Album Chart 1
1973 Billboard Pop Albums 1
1974 Australian Kent Music Report Albums Chart 1
1987 The Billboard 200 114


Singles
Year Single Chart Position
1973 "Goodbye Yellow Brick Road" UK Singles Chart 6
1973 "Goodbye Yellow Brick Road" Billboard Adult Contemporary 7
1973 "Goodbye Yellow Brick Road" Pop singles 2
1973 "Saturday Night's Alright For Fighting" UK Singles Chart 7
1974 "Saturday Night's Alright For Fighting" Pop singles 12
1974 "Bennie and The Jets" Billboard Hot 100 1
1974 "Candle In The Wind" UK Singles Chart 11
1987 "Candle In The Wind" Billboard Hot 100 6


Certifications
Organization Level Date
BPI – UK Gold October 1, 1973
RIAA – USA Gold October 12, 1973
BPI – UK Platinum February 1, 1975
RIAA – USA Platinum March 23, 1993
RIAA – USA Double Platinum March 23, 1993
RIAA – USA Triple Platinum March 23, 1993
RIAA – USA 4x Platinum March 23, 1993
RIAA – USA 5x Platinum March 23, 1993
RIAA – USA 6x Platinum September 11, 1995
RIAA – USA 7x Platinum August 26, 1998
Genre not found
Artist not found
Album not found
Search results not found
Song not found
Goodbye Yellow Brick Road
Elton John Lyrics
When are you gonna come down?
When are you going to land?
I should have stayed on the farm
I should have listened to my old man
You know you can't hold me forever
I didn't sign up with you
I'm not a present for your friends to open
This boy's too young to be singing
The blues, ah, ah
So goodbye yellow brick road
Where the dogs of society howl
You can't plant me in your penthouse
I'm going back to my plough
Back to the howling old owl in the woods
Hunting the horny back toad
Oh, I've finally decided my future lies
Beyond the yellow brick road
Ah, ah
What do you think you'll do then?
I bet they'll shoot down the plane
It'll take you a couple of vodka and tonics
To set you on your feet again
Maybe you'll get a replacement
There's plenty like me to be found
Mongrels who ain't got a penny
Sniffing for tidbits like you
On the ground, ah, ah
So goodbye yellow brick road
Where the dogs of society howl
You can't plant me in your penthouse
I'm going back to my plough
Back to the howling old owl in the woods
Hunting the horny back toad
Oh, I've finally decided my future lies
Beyond the yellow brick road
Ah, ah
Lyrics © Universal Music Publishing Group, Tratore
Written by: Bernie Taupin, Elton John

Lyrics Licensed & Provided by LyricFind
To comment on specific lyrics,
highlight them