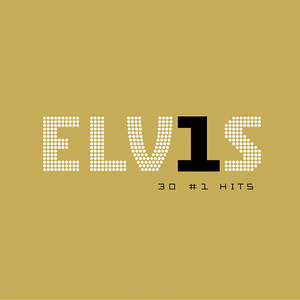 ELV1S: 30 #1 Hits is a greatest hits collection of songs by American rock and roll singer Elvis Presley. It was released by RCA Records on September 24, 2002. It is the first Elvis Presley album to feature the remix of "A Little Less Conversation" by JXL that was released earlier in the year and reached No. 1 in the UK and Australia. When released, ELV1S: 30 #1 Hits was an instant success, going straight to the top of the albums charts in several countries and shipping mass quantities around the world. A companion album, 2nd to None, was released
Read Full Bio
ELV1S: 30 #1 Hits is a greatest hits collection of songs by American rock and roll singer Elvis Presley. It was released by RCA Records on September 24, 2002. It is the first Elvis Presley album to feature the remix of "A Little Less Conversation" by JXL that was released earlier in the year and reached No. 1 in the UK and Australia.

When released, ELV1S: 30 #1 Hits was an instant success, going straight to the top of the albums charts in several countries and shipping mass quantities around the world. A companion album, 2nd to None, was released the next year. By 2003, the album had received certifications in more than 15 regions and had sold millions of copies worldwide. Its most recent certification, a 6× Platinum award, for US sales in excess of six million copies, was announced by the RIAA on March 8, 2018.

ELV1S: 30 #1 Hits was compiled by Ernst Mikael Jorgensen and Roger Semon using chart data from the pop singles charts in Billboard, Cashbox, New Musical Express, and Record Retailer. Not all of Elvis' number ones are included as it is only a one-disc set. It was part of a massive campaign by RCA and BMG to celebrate Elvis in the 25th anniversary of his death.

The compilation was produced and mixed in stereo and 5.1 by David Bendeth with remastering by Ted Jensen on the first thirteen songs and George Marino on the last sixteen songs. The songs were engineered by Ray Bardani, and were transferred from master tapes by Brent Spear. The 18 recordings recorded in stereo (1960 and later) were digitally remixed from the original multitrack recordings.

In 2003, it became the first, and so far, only Elvis album to be issued in the newly created DVD audio-only disc format. The stereo tracks (1960 and later) were remixed into 5.1 surround sound for the first time and the 13 tracks recorded in mono (before 1960) were remastered and presented in a simulated 5.1 format. The songs were presented in reverse order, with "A Little Less Conversation" as track 1, and "Heartbreak Hotel" as track 31. There are also bonus tracks which are sections of three songs ("It's Now or Never", "Crying in the Chapel", and "Burning Love"), giving an A:B comparison of the original master and the remaster. A 2003 reissue of the album featured a bonus disc with outtakes and rehearsals of several songs. A Wal-Mart release had a bonus disc with Elvis' post-army interview, while a Japanese release had a bonus disc with three versions of "A Little Less Conversation".
Genre not found
Artist not found
Album not found
Search results not found
Song not found