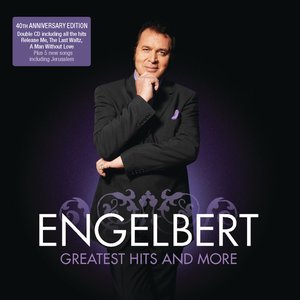 Engelbert Humperdink - The Greatest Hits And More
There are multiple artists with this name:
1. A German composer
2. A British pop singer

1. Engelbert Humperdinck (German pronunciation: [ˈɛŋl̩bɛʁt ˈhʊmpɐdɪŋk]) (1 September 1854 – 27 September 1921) was a German composer, best known for his opera, Hänsel und Gretel. Humperdinck was born at Siegburg in the Rhine Province; at the age of 67 he died in Neustrelitz, Mecklenburg-Western Pomerania.

2. Engelbert Humperdinck (born Arnold George Dorsey; 2 May 1936) is a British pop singer
Read Full Bio
There are multiple artists with this name:
1. A German composer
2. A British pop singer

1. Engelbert Humperdinck (German pronunciation: [ˈɛŋl̩bɛʁt ˈhʊmpɐdɪŋk]) (1 September 1854 – 27 September 1921) was a German composer, best known for his opera, Hänsel und Gretel. Humperdinck was born at Siegburg in the Rhine Province; at the age of 67 he died in Neustrelitz, Mecklenburg-Western Pomerania.

2. Engelbert Humperdinck (born Arnold George Dorsey; 2 May 1936) is a British pop singer, best known for his hits including "Release Me (And Let Me Love Again)" and "After the Lovin'" as well as "The Last Waltz" ("The Last Waltz with You").
Humperdinck will represent the United Kingdom in the Eurovision Song Contest 2012.
Genre not found
Artist not found
Album not found
Search results not found
Song not found
Please release me, let me go,
For I don't love you anymore.
To live a lie would be a sin.
Release me and let me love again.
I have found a new love, dear.
And I will always want her near.
Her lips are warm where yours are cold.
Release me, darling, let me go.
Lyrics © Kobalt Music Publishing Ltd., Warner Chappell Music, Inc.
Written by: CARLA MARIA WILLIAMS, JONATHAN COFFER

Lyrics Licensed & Provided by LyricFind
To comment on specific lyrics,
highlight them