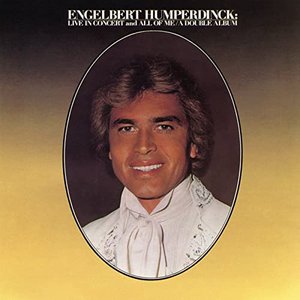 Live In Concert / All of Me
There are multiple artists with this name:
1. A German composer
2. A Briti…
Read Full Bio ↴
There are multiple artists with this name:
1. A German composer
2. A British pop singer

1. Engelbert Humperdinck (German pronunciation: [ˈɛŋl̩bɛʁt ˈhʊmpɐdɪŋk]) (1 September 1854 – 27 September 1921) was a German composer, best known for his opera, Hänsel und Gretel. Humperdinck was born at Siegburg in the Rhine Province; at the age of 67 he died in Neustrelitz, Mecklenburg-Western Pomerania.

2. Engelbert Humperdinck (born Arnold George Dorsey; 2 May 1936) is a British pop singer, best known for his hits including "Release Me (And Let Me Love Again)" and "After the Lovin'" as well as "The Last Waltz" ("The Last Waltz with You").
Humperdinck represented the United Kingdom in the Eurovision Song Contest 2012.
Genre not found
Artist not found
Album not found
Search results not found
Song not found