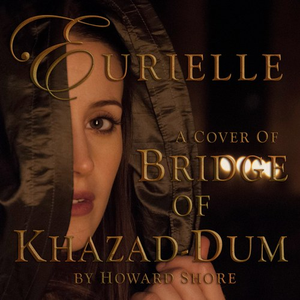 The Bridge Of Khazad-Dum (from "The Lord Of The Rings")
Eurielle, artistic name of Lauren Nicole Walker, born 25th July 1987, is an English singer, songwriter, recording artist, performing artist and record producer.

Sumary:

She was classically trained as a soprano / mezzo-soprano at the Royal Academy of Music in London on the Bachelor of Music course between 2007-2011, but started to co-write and record her debut album "Arcadia" in 2010 before she graduated. This album was later released independently in 2015, followed by several singles, and her second album was release on December 2019.
Read Full Bio
Eurielle, artistic name of Lauren Nicole Walker, born 25th July 1987, is an English singer, songwriter, recording artist, performing artist and record producer.

Sumary:

She was classically trained as a soprano / mezzo-soprano at the Royal Academy of Music in London on the Bachelor of Music course between 2007-2011, but started to co-write and record her debut album "Arcadia" in 2010 before she graduated. This album was later released independently in 2015, followed by several singles, and her second album was release on December 2019.

Eurielle is known for her soundtrack work in addition to her own original music, and her credits include recording songs and vocals for Downton Abbey (Carnival Films), Born in China (Disneynature), Shazam! (New Line Cinema/Warner Bros.), and Class (2016 TV series) (BBC Worldwide).

Her songs have also been sampled by internationally famous artists with "Carry Me" from her debut album being incorporated by hip-hop trio Migos into their track, "Too Hotty", and "Rescue Me" being used by Headhunterz and SoundRush in a track by the same title, among other usages.

Early Life:

The only girl, and youngest of four children, Eurielle grew up in North Yorkshire (UK). Recognising from an early age that she had a talent for singing, her parents enrolled her at a local performing arts school, Kirkham Henry Performing Arts Centre, where she took regular dancing lessons in multiple disciplines as well as singing lessons from the age of 6. This led to her competing at many festivals where she enjoyed a high level of success, once winning the award for the most outstanding performance overall at Blackpool & Fylde Festival Of Music & Dance with her song and dance routine as "Cosette", performing "Castle On A Cloud" from the musical "Les Miserables".

Eurielle also took piano lessons from the age of 7 culminating in achieving a distinction at grade 8, as well as competing very seriously in the "Working Hunter Pony" division of the equine showing world between the age of 8 to 17. In this she was also very successful, twice winning at "The Horse Of The Year Show" on two separate ponies, and representing England for three years with one of them. But after turning 17 she decided to focus on her vocal training, and preparing to audition at the three major music conservatoires in London.

Training:

Following on from her earlier vocal training at Kirkham Henry Performing Arts Centre and later at her secondary school where she studied under a vocal scholarship, Eurielle gained a place in The National Youth Choirs of Great Britain where she remained a member until being awarded one of just 6 places available to study at The Royal Academy of Music in London on the Bachelor of Music course with a scholarship, starting in 2007. At The Royal Academy, Eurielle received lessons in vocal technique and performance from Beatrice Unsworth FRWCMD, HonARAM, Iain Ledingham MA, FRAM, FRCO, and the late Noelle Barker OBE, before successfully completing her course in 2011.

Arcadia (Debut Album):

Having been introduced in 2010 to multi-platinum producer, Ryan Laubscher (p.k.a. Ryan Louder), who has worked with Dido, Katherine Jenkins, Pixie Lott and Russell Watson, Eurielle began to co-write and record her debut album with him that year; a process which took four years to complete and resulted in the production of fourteen songs. Eurielle released "Arcadia" independently in December 2015. It has gone on to accumulate millions of streams across multiple platforms as well as being sampled by several internationally famous artists.
Her natural ability to connect with her voice, coupled with a pure simplicity of tone has subsequently resulted in strong demand for her vocals for high profile film, TV and video game soundtracks from pre-eminent composers including Emmy Award winning John Lunn, Harry Potter composer Nicholas Hooper, and two time Ivor Novello Award winning Benjamin Wallfisch, seeing Eurielle record for the likes of Downton Abbey, Disney, the BBC, the Rio Paralympics 2016, Kaleidoscope Pictures, and 20th Century Fox throughout the course of this year alone.

Goodbye Butterfly (Second Album):

In 2018, Eurielle was introduced to songwriter and leading film & TV soundtrack composer, Charlie Mole whose credits include writing songs for Kylie Minogue and Chaka Khan, and soundtracks for Mr Selfridge, The Importance of Being Earnest (2002 film), Othello (1995 film), Dorian Gray (2009 film), and The Sopranos. Shortly afterwards in August of that year they began to co-write and record her second album together, culminating in nine new original songs and a cover version of "Song To The Siren" (originally recorded by Tim Buckley), plus an alternative version of one of the original songs. The album was recorded in world renowned Lyndhurst Hall in AIR Studios (London) with 36 musicians from The Chamber Orchestra Of London and 16 singers from RSVP Voices under the baton of conductor Alastair King (Harry Potter (film series), Pirates of the Caribbean: Dead Man's Chest, Downton Abbey), and was mixed and mastered by engineer Paul Golding (Downton Abbey, The Lord of the Rings (film series), Inspector Morse (TV series)). The album was released on 13th December 2019.

Critical Reception:

"A throwing together of Vangelis and Enya; I absolutely love this!"
Ollie Winiberg (BBC Introducing – Essex)

"A modern masterpiece… would slot into the background of an epic fantasy film without a second thought."
Kat Bagshawe (Love Music Magazine)

"An attractive mixture of classically influenced writing infused with a modern production, reminiscent of that of Enya, but more contemporary and cinematic."
Michael Waggett (Former Chairman of The City Of London Sinfonia)
Genre not found
Artist not found
Album not found
Search results not found
Song not found