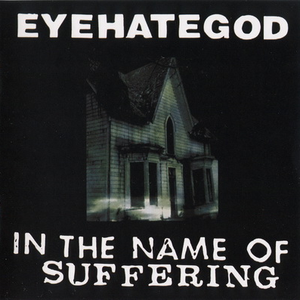 In the Name of Suffering (Remastered 2001)
Eyehategod (also abbreviated and often referred to as EHG) is an American sludge band from New Orleans, Louisiana, which formed in 1988. The band is known for their dark, sludgy riffs combined with equally dark lyrics. Along with Melvins and Crowbar they are often considered one of the pioneers of the sludge metal genre.

Eyehategod have noted Melvins, Black Sabbath, Black Flag, Saint Vitus, Carnivore, Swans and Flipper as key influences to their sound.
Read Full Bio
Eyehategod (also abbreviated and often referred to as EHG) is an American sludge band from New Orleans, Louisiana, which formed in 1988. The band is known for their dark, sludgy riffs combined with equally dark lyrics. Along with Melvins and Crowbar they are often considered one of the pioneers of the sludge metal genre.

Eyehategod have noted Melvins, Black Sabbath, Black Flag, Saint Vitus, Carnivore, Swans and Flipper as key influences to their sound. These influences combined with heavy, down-tuned, bluesy riffs, walls of feedback and torturous vocals create a truly filthy, misanthropic atmosphere.

While Jimmy Bower was busy playing drums for Down, the remaining 4 members of Eyehategod formed a side-project called Outlaw Order (abbreviated to OO%). The band released a limited edition 7" EP in 2003 called Legalize Crime, which has since been re-released on CD with a bonus live track. 2008 saw the release of Outlaw Order's debut full-length, titled Dragging Down the Enforcer.

http://www.eyehategod.ee
http://www.facebook.com/OfficialEyeHateGod
https://twitter.com/EyehategodNola
Genre not found
Artist not found
Album not found
Search results not found
Song not found