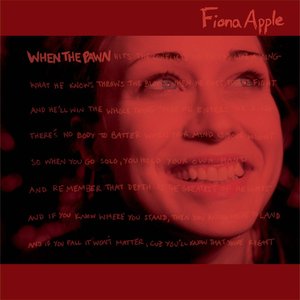 When the Pawn Hits the Conflicts He Thinks Like a King What He Knows Throws the Blows When He Goes to the Fight and He'll Win the Whole Thing 'fore He Enters the Ring There's No Body to Batter When Your Mind Is Your Might so When You Go Solo, You Hold Your Own Hand and Remember That Depth Is the Greatest of Heights and If You Know Where You Stand, Then You Know Where to Land and If You Fall It Won't Matter, Cuz You'll Know That You're Right, frequently abridged as When the Pawn..., is the second studio
Read Full Bio
When the Pawn Hits the Conflicts He Thinks Like a King What He Knows Throws the Blows When He Goes to the Fight and He'll Win the Whole Thing 'fore He Enters the Ring There's No Body to Batter When Your Mind Is Your Might so When You Go Solo, You Hold Your Own Hand and Remember That Depth Is the Greatest of Heights and If You Know Where You Stand, Then You Know Where to Land and If You Fall It Won't Matter, Cuz You'll Know That You're Right, frequently abridged as When the Pawn..., is the second studio album by American singer-songwriter Fiona Apple.

Released by Epic Records in the United States on November 9, 1999, When the Pawn... was wholly written by Apple, with production by Jon Brion. In 2010, Spin magazine named the album the 106th greatest of the last 25 years, and Slant Magazine named it the 79th best album of the 1990s. When the Pawn... received a Grammy Award nomination for Best Alternative Album.
Genre not found
Artist not found
Album not found
Search results not found
Song not found
All my life is on me now
Hail the pages turning
And the future's on the bound
Hell don't know my fury
You're all I need, you're all I need
You're all I need, you're all I need
You're all I need, you're all I need
You're all I need and maybe some faith would do me good
I don't know what I'm doing, don't know, should I change my mind?
I can't decide, there's too many variations to consider
No thing I do don't do no thing but bring me more to do
It's true, I do imbue my blue unto myself, I make it bitter
Baby, lay your head on my lap one more time
Tell me you belong to me
Baby, say that it's all gonna be alright
I believe that it isn't
You're all I need, you're all I need
You're all I need, you're all I need
You're all I need, you're all I need
You're all I need and maybe some faith would do me good
And maybe some faith would do me good
Lyrics © BMG Rights Management
Written by: Fiona Apple Maggart

Lyrics Licensed & Provided by LyricFind
To comment on specific lyrics,
highlight them