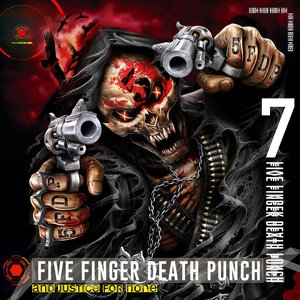 And Justice for None (Deluxe)
Five Finger Death Punch is a heavy metal band from Las Vegas, Nevada, formed in …
Read Full Bio ↴
Five Finger Death Punch is a heavy metal band from Las Vegas, Nevada, formed in 2005. The band's debut album The Way of the Fist was released in 2007, which began achieving rapid success and selling over 500,000 copies in the United States. The 2009 follow-up album War Is the Answer further increased their popularity, selling over 1,000,000 copies and got certified Platinum by the RIAA, the band's third album, American Capitalist, was released on October 11, 2011, and achieved Platinum status. The following four albums—The Wrong Side of Heaven and the Righteous Side of Hell, Volume 1 (2013), The Wrong Side of Heaven and the Righteous Side of Hell, Volume 2 (2013), Got Your Six (2015), and And Justice for None (2018)—have all been certified Platinum and Gold, making Five Finger Death Punch one of the most successful heavy metal bands of the decade. The band has played international music festivals including Mayhem Festival in 2008, 2010, and 2013, and Download Festival in 2009, 2010, 2013, 2015, and 2017. The band released their eighth studio album, F8, in 2020.

The band originally consisted of vocalist and keyboardist Ivan Moody, rhythm guitarist Zoltan Bathory, lead guitarist Caleb Andrew Bingham, bassist Matt Snell, and drummer Jeremy Spencer. Bingham was replaced by guitarist Darrell Roberts in 2006, who was then replaced by Jason Hook in 2009. Bassist Matt Snell departed from the band in 2010, and was replaced by Chris Kael in 2011. Spencer then departed the band in 2018 due to recurring back issues, and was replaced by Charlie Engen, making rhythm guitarist Bathory the only remaining founding member of the band. In October 2020, British guitarist Andy James became the band's lead guitarist, replacing Jason Hook.

Five Finger Death Punch are the recipients of the RadioContraband Rock Radio Awards for "Indie Artist of the Year" in 2011, 2012, 2013, and 2014. They were also honored with the Radio Contraband Rock Radio Award for Album (American Capitalist) and Song of the Year ("Coming Down") in 2012 and "Video of the Year" for "Wrong Side of Heaven" in 2014.

To date, Five Finger Death Punch has released nine studio albums, one live album, two compilation albums, one extended play (EP), and 33 singles.
Genre not found
Artist not found
Album not found
Search results not found
Song not found
Bad Seed
I didn't give up the fight I gave up on what's…
Bloody
I'm staring at the photographs That used to make me smile No…
Blue On Black
Night falls and I'm alone Skin, yeah, chilled me to the…
Fake
This is the end, I can't take anymore This is where…
Fire in the Hole
I have a knife in my heart I could never…
Gone Away
Maybe in another life I could find you there Pulled away bef…
I Refuse
I don't wanna die alone I don't wanna live forsaken I refuse…
It Doesn't Matter
I've wasted a lot of time and effort on motherfuckers…
Rock Bottom
I ain't your bitch, I ain't your boy I ain't no…
Save Your Breath
Children of all ages, welcome to the game Time to face…
Sham Pain
I never cared about the money never really needed fame You…
Stuck in My Ways
All the shades of gray that loom inside me No one's…
Top of the World
I'm tired of bleeding for the ones I love Look to…
Trouble
I don't look for trouble Trouble looks for me That's how it…
When the Seasons Change
There's a light in you That tears me down to nothing There's…
Will the Sun Ever Rise
I take one step forward, and two steps back It's always…