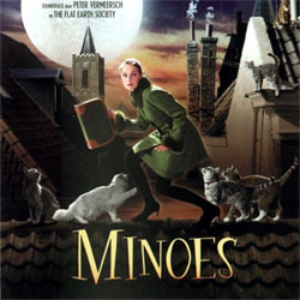 There is more than one artist with this name.

1) Flat Earth Society was founded in 1998, when no-nonsense artist, former architect, clarinettist, saxophonist, keyboard player, composer and producer Peter Vermeersch, wanted to explore new horizons after having convinced music lovers all over the word with Maximalist! and the cult legend band X-legged Sally. Vermeersch, who worked with international artists like Josse De Pauw, Wim Vandekeybus, Vincent Bal
Read Full Bio
There is more than one artist with this name.

1) Flat Earth Society was founded in 1998, when no-nonsense artist, former architect, clarinettist, saxophonist, keyboard player, composer and producer Peter Vermeersch, wanted to explore new horizons after having convinced music lovers all over the word with Maximalist! and the cult legend band X-legged Sally. Vermeersch, who worked with international artists like Josse De Pauw, Wim Vandekeybus, Vincent Bal, Anne Teresa De Keersmaeker, Fred Frith, The Simpletones and Jazzwork from Berlin and wrote music for the Arditti Quartet, PrimaLa Musica and theSmithQuartet, assembled a pack of inspired and inimitable musicians, forming a big band which has nowadays become much more than just a big band. Peter Vermeersch included, the band now consists of a permanent group of 15 musicians: Stefaan Blancke (trombone), Benjamin Boutreur (saxes), Berlinde Deman (bass tuba), Bart Maris (trumpet), Michel Mast (saxes), Marc Meeuwissen (trombone), Kristof Roseeuw (double bass), Luc Van Lieshout (trumpet), Bruno Vansina (saxes), Peter Vandenberghe (keyboards & compositions), Teun Verbruggen (percussion), Pierre Vervloesem (guitar), Wim Willaert (accordion), Tom Wouters (clarinet, percussion).

The music of Flat Earth Society, varying from strictly written sheet music to liberating improvisation, is 95% homemade. Streaks of music of other composers are used as inspiration, frequently arranged, adapted and integrated into Flat Earth Society compositions, adding a wide range of atmospheres and styles to the eclectic Flat Earth Society universe. Flat Earth Society, who dare to flirt with other disciplines such as theatre and film and have the ability to seduce a number of different audiences, from more select jazz listeners to a wild young rock public, is at its best live on stage.

Mike Patton discovered the music of Flat Earth Society. He immediately proposed the band to release their next album and in attendance of that album he wanted to bring out a compilation album in the US. Isms was compiled by Mike Patton himself. Flat Earth Society joined Patton's band Fantômas on their European tour in Italy, Belgium, Holland, France, Switzerland and England.

2) Flat Earth Society is a 60s psych pop/rock band from Lynn, just North of Boston. Flat Earth Society were notable for their crispy, clear vocal sound. In early 1968 they were approached by the Boston advertising firm Quinn and Johnson to make an album and a jingle for the manufacturer of the 'Waleeco' candy bar - the F. B. Washburn Candy Company. That year every 'Waleeco' bar carried a coupon advertising the Flat Earth's Society's album Waleeco for $1.50 and six 'Waleeco' bar wrappers.
Recorded at Fleetwood Recording Studio in Revere, most of the material was written by Kerivan, the only non-original being a slow melodic version of Midnight Hour. The album covers quite a wide rock spectrum with goodtime (I'm So Happy), folk (When You're There and The Prelude For Town Monk), hard rock (Four & Twenty Miles and Shadows), as well as psychedelia, but each track has the band's own style about it. Aside from Feelin' Much Better, the best tracks are arguably on the second side of the album. Dark Street Downtown has some haunting vocals superimposed upon swirling piano. Portrait In Grey is a haunting piano-oriented instrumental and Satori, a very strange psychedelic instrumental.
The band made a few appearances after making the album but broke up soon after.
Genre not found
Artist not found
Album not found
Search results not found
Song not found