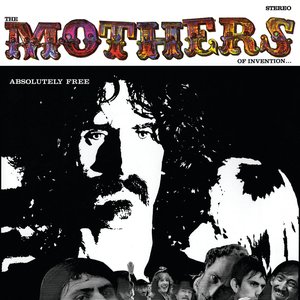 FZ (guitar, vocals) Ray Collins (vocals, tambourine, "prune") Jim Fielder (guitar, piano) Don Preston (keyboards) Bunk Gardner (woodwinds) Roy Estrada (bass, vocals) Jimmy Carl Black (drums, vocals) Billy Mundi (drums, percussion) Recorded Sunset-Highland Studios of TTG, November 15-18, 1966. Produced by: Tom Wilson. Director of engineering: Val Valentin. Recording Engineer: Ami Hadani. Remix Engineer: David Greene. Cover art, layout, notes, design, etc.: Zappa Front cover photo: Alice Ochs. Zappa about the album: (The Real Frank Zappa Book) "When it came time for us to do our second album, Absolutely Free, MGM proclaimed that we couldn't spend more than eleven thousand
Read Full Bio
FZ (guitar, vocals)
Ray Collins (vocals, tambourine, "prune")
Jim Fielder (guitar, piano)
Don Preston (keyboards)
Bunk Gardner (woodwinds)
Roy Estrada (bass, vocals)
Jimmy Carl Black (drums, vocals)
Billy Mundi (drums, percussion)

Recorded Sunset-Highland Studios of TTG, November 15-18, 1966.
Produced by: Tom Wilson.
Director of engineering: Val Valentin.
Recording Engineer: Ami Hadani.
Remix Engineer: David Greene.
Cover art, layout, notes, design, etc.: Zappa
Front cover photo: Alice Ochs.

Zappa about the album:
(The Real Frank Zappa Book)
"When it came time for us to do our second album, Absolutely Free, MGM proclaimed that we couldn't spend more than eleven thousand dollars on it. The recording schedules were ridiculous, making it impossible to perfect anything on the album. It was typical of the kind of bullshit we had to put up with until I got my own studio.
Gail and I moved to New York in 1967 to play in the Garrick Theater on Bleecker Street. The first place we stayed, before we could find an apartment, was the Hotel Van Rensselaer on Eleventh Street. We were living on a small room on one of the upper floors. I was working on the album cover illustration for Absolutely Free at a desk by the window. I remember the place being so dirty I couldn't keep the soot off the artwork."
Genre not found
Artist not found
Album not found
Search results not found
Song not found
Ladies and Gentlemen...
The President of the United States!
"Fella Americans...Doot, Doot, Doot..."
He's been sick!--Doot! Doot!
And I think his wife is gonna bring him
Some chicken soap
Plastic people!
Oh, baby, now you're such a drag
I know it's hard to defend an unpopular policy
Every once in a while--
Plastic people!
Oh, baby, now you're such a drag
And there's this guy from the CIA he's creepin'
Around Laurel Canyon
A fine little girl She waits for me
She's as plastic as she can be
She paints her face With plastic goo
And wrecks her hair With some shampoo
Plastic people
Oh, baby, now you're such a drag
"I dunno...sometimes I just get tired
Of ya honey--it's...ah..your
Hair spray...or something..."
Plastic people
Oh, baby, now you're such a drag
"I hear the sound of marching feet...
down Sunset Boulevard to Crescent Heights
...and there...at Pandora's box...
We are confronted with...a vast
Quantity of...Plastic people..."
Take a day and walk around
Watch the Nazi's Run your town
Then go home and check yourself
You think we're singing
'Bout someone else
But you're Plastic people
Oh, Baby, now
You're such a drag
Me see a neon Moon above
I searched for years I found no love
I'm sure that love Will never be
A product of Plasticity
A product of Plasticity
PLASTIC, PLASTIC PEOPLE--PLA-HA-HA-HA
HA-PLASTIC--You are--your foot--your hair
--your nose--your arms--you suck--you love
--you are--your being is--you're plastic--blah
--blah--blah--blah plastic Peoples
-A prune is not a vegetable
--cabbage is a vegetable; makes it O.K.
--plastic people--plastic People
--you dream about...you think about...you eat
...you are...Ooo-Hoo-Hoo...
purple prancing--plastic People-
Pee-Pee-Pee-Pee-Pee-Peep!
Lyrics © O/B/O APRA AMCOS

Lyrics Licensed & Provided by LyricFind
To comment on specific lyrics,
highlight them