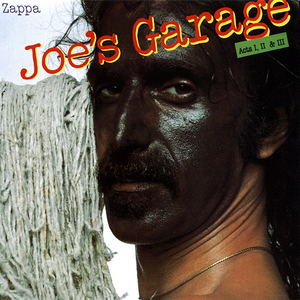 Joe's Garage Acts I, II & III
Joe's Garage is a three-part rock opera recorded by American musician Frank Zappa in September and November 1979. Originally released as two separate studio albums (a single album and a double album) on Zappa Records, the project was later remastered and reissued as a triple album box set, Joe's Garage, Acts I, II & III, in 1987. The LPs initially received mixed to positive reviews, with critics praising its innovative and original music, but criticizing the scatological, sexual and profane nature of the lyrics.
Read Full Bio
Joe's Garage is a three-part rock opera recorded by American musician Frank Zappa in September and November 1979. Originally released as two separate studio albums (a single album and a double album) on Zappa Records, the project was later remastered and reissued as a triple album box set, Joe's Garage, Acts I, II & III, in 1987. The LPs initially received mixed to positive reviews, with critics praising its innovative and original music, but criticizing the scatological, sexual and profane nature of the lyrics. Since its original release, Joe's Garage has been reappraised in a better light by some critics.
Overview
Zappa described the album as a "stupid little story about how the government is going to do away with music."[1] The story is told by a character identified as the "Central Scrutinizer" narrating the story of Joe, an average adolescent male who forms a garage rock band, has unsatisfying relationships with women, gives all of his money to a government-assisted and insincere religion, explores sexual activities with appliances, and is imprisoned. After being released from prison into a dystopian society in which music itself has been criminalized, he lapses into insanity.

The album encompasses a large spectrum of musical styles, while its lyrics often feature satirical or humorous commentary on American society and politics. It addresses themes of individualism, free will, censorship, the music industry and human sexuality, while criticizing government and religion, and satirizing Catholicism and Scientology. Joe's Garage is noted for its use of xenochrony, a recording technique that takes guitar solos from older live recordings and overdubs them onto new studio recordings. All of the guitar solos on the album are xenochronous except for "Crew Slut" and "Watermelon in Easter Hay", a signature song that Zappa has described as the best song on the album, and according to his son Dweezil, the best guitar solo his father ever played.
Background
After being released from his contractual obligations with Warner Bros. Records, Frank Zappa formed Zappa Records, a label distributed at that time by Phonogram Inc.. He released the successful double album Sheik Yerbouti (1979, recorded 8/1977-2/1978), and began working on a series of songs for a follow-up album.[2][3]:370 The songs "Joe's Garage" and "Catholic Girls" were recorded with the intention that Zappa would release them as a single.[2][4] Throughout the development of Joe's Garage, Zappa's band recorded lengthy jams which Zappa later formed into the album.[5]:331 The album also continued the development of xenochrony, a technique Zappa also featured on One Size Fits All (1975), in which aspects of older live recordings were utilized to create new compositions by overdubbing them onto studio recordings,[6][7] or alternatively, selecting a previously recorded solo and allowing drummer Vinnie Colaiuta to improvise a new drum performance, interacting with the previously recorded piece.[7]
Lyrical and story themes

Midway through recording the new album, Zappa decided that the songs connected coherently and wrote a story, changing the new album into a rock opera.[2]:149 Joe's Garage was the final album Zappa recorded at a commercial studio.[7] Zappa's own studio, the Utility Muffin Research Kitchen, built as an addition to Zappa's home, and completed in late 1979, was used to record and mix all of his subsequent releases.

The lyrical themes of Joe's Garage involve individualism, sexuality, and the danger of large government. The album is narrated by a government employee identifying himself as The Central Scrutinizer, who delivers a cautionary tale about Joe, a typical adolescent male who forms a band as the government prepares to criminalize music.[2]:150 The Central Scrutinizer explains that music leads to a "slippery slope" of drug use, disease, unusual sexual practices, prison, and eventually, insanity.[2]:150 According to Scott Schinder and Andy Schwartz, Zappa's narrative of censorship reflected the censorship of music during the Iranian Revolution of 1979, where rock music was made illegal.[3]:370
The title track is noted as having an autobiographical aspect, as the character of Larry (as performed by Zappa himself) sings that the band plays the same song repeatedly because "it sounded good to me".[2]:150 In real life, Zappa said he wrote and played music for himself, his sole intended audience.[2]:150 The song also takes lyrical inspiration from bands playing in bars like The Mothers of Invention once had, and shady record deals Zappa had experienced in the past.[2]:150 In "Joe's Garage", Joe finds that the music industry is "not everything it is cracked up to be".[2]:151 The song refers to a number of music fads, including new wave, heavy metal, disco and glitter rock, and is critical of the music industry of the late 1970s.[2]:151

"Catholic Girls" is critical of the Catholic Church, and satirizes "the hypocrisy of the myth of the good Catholic girl."[2]:151 While Zappa was in favor of the sexual revolution, he regarded himself as a pioneer in publicly discussing honesty about sexual intercourse, stating

"American sexual attitudes are controlled as a necessary tool of business and government in order to perpetuate themselves. Unless people begin to see through that, to see past it to, what sex is really all about, they're always going to have the same neurotic attitudes. It's very neatly packaged. It all works hand-in-hand with the churches and political leaders at the point, where elections are coming up."[8]

This view inspired the lyrical content of "Crew Slut", in which Mary, Joe's girlfriend, falls into the groupie lifestyle, going on to participate in a wet T-shirt contest in the following track, "Fembot in a Wet T-Shirt"[8][9]

"Why Does It Hurt When I Pee?" was written in the summer of 1978.[10] Zappa's road manager, Phil Kaufman, alleged, that the song was written after Kaufman had asked that very question; within the context of the album's storyline, it is sung by Joe after he receives a sexually transmitted disease from Lucille, "a girl, who works at the Jack in the Box".[10] The Central Scrutinizer continues to express the hypothesis that "girls, music, disease, heartbreak [...] all go together."[2]:155 Halfway through the album's libretto, Zappa expressed the belief, that governments believe, that people are inherently criminals, and continue to invent laws, which gives states the legal grounds to arrest people, leading to the fictional criminalization of music, which occurs towards the end of the album's storyline.[2]:155

"A Token of My Extreme" satirizes Scientology and L. Ron Hubbard, as well as new age beliefs and the sexual revolution.[2]:155[11]:114 It describes an insincere religion, which co-operates with a "malevolent totalitarian regime."[12] "Stick It Out" contains lyrical references to Zappa's songs "What Kind Of Girl", "Bwana Dik", "Sofa No. 2", and "Dancin' Fool".[13] "Dong Work For Yuda" was written as a tribute to Zappa's bodyguard, John Smothers, and features Terry Bozzio imitating Smothers' dialect and speech.[14] "Keep It Greasy" is a lyrical tribute to anal sex.[2]:157 Following Joe's imprisonment and release, the libretto describes a dystopian future, accompanied musically by long guitar solos, which Joe imagines in his head.[2]:159 The penultimate song, "Packard Goose", criticizes rock journalism, and features a philosophical monologue delivered by the character Mary, who had been absent since the first act.[2]:158–159 In the epilogue song "A Little Green Rosetta," Joe gives up music, returns to sanity, hocks his imaginary guitar and gets "a good job" at the Utility Muffin Research Kitchen Facility (a self-reference to Zappa's own personal studio). The Central Scrutinizer sings the last song on the album in his "regular voice", and joins in a long musical number with most of the other people that worked with Zappa around 1979.

Music and performance
The music of Joe's Garage encompassed a variety of styles, including blues, jazz, doo wop, lounge, orchestral, rock, pop and reggae.[2] "Catholic Girls" makes musical reference to Zappa's controversial song "Jewish Princess", as a sitar plays the melody of the earlier song during the fadeout of "Catholic Girls".[2] "Crew Slut" is performed as a slow blues song, with slide guitar riffs and a harmonica solo.[2]:152–153[5]:333 According to Kelly Fisher Lowe, the song is "more Rolling Stones or Aerosmith than it is Gatemouth Brown or Guitar Watson".[2]:152–153 The extended three and a half minute, two-part guitar solo in "Toad-O-Line" is taken from Zappa's earlier song, "Inca Roads."[15]

"A Token Of My Extreme" originated as an instrumental song played during improvised conversations by saxophonist Napoleon Murphy Brock and George Duke on keyboards. It typically opened Zappa's concerts in 1974; a recording of this version of the piece was released under the title "Tush Tush Tush (A Token of My Extreme)" on You Can't Do That on Stage Anymore, Vol. 2.[2]:155

"Lucille Has Messed My Mind Up" first appeared on Jeff Simmons' album of the same name, on which its writing is credited to "La Marr Bruister", one of Zappa's pseudonyms.[16] The Joe's Garage arrangement is radically different, and is played in a reggae style.[16] "Stick It Out" originated as part of the Mothers of Invention's "Sofa" routine in the early 1970s.[2]:120 The Joe's Garage version is musically influenced by funk and disco, with its lyrics performed first in German, and then in English.[2]:156[17]:270 "Sy Borg" derives from funk, reggae and R&B.[2]:154, 156

"Keep It Greasy" had been performed by Zappa since 1975; the Joe's Garage album version features a guitar solo from a March 1979 live performance of the song "City of Tiny Lights".[2] Another March 1979 guitar solo from "City of Tiny Lights" is incorporated into the song "Outside Now" using the same recording technique.[2] "Packard Goose" also uses xenochrony, with its guitar solo taken from a March 1979 performance of "Easy Meat".[2]

The album concludes with a long guitar instrumental, "Watermelon in Easter Hay", the only guitar solo recorded for the album, in 9/4 time; every other guitar solo on the album was xenochronous—overdubbed from older live recordings.[2]:154[9]:381 In their review of the album, Down Beat magazine criticized the song,[9]:376 but subsequent reviewers have championed the song as Zappa's masterpiece. Lowe called it the "crowning achievement of the album" and "one of the most gorgeous pieces of music ever produced".[2]:159 Zappa told Neil Slaven that he thought it was "the best song on the album".[9]:376 The songs' title is thought to have come from a saying used by Zappa while recording the album: "Playing a guitar solo with this band is like trying to grow watermelon in Easter hay".[18] After Zappa died, "Watermelon in Easter Hay" became known as one of his signature songs, and his son, Dweezil Zappa, later referred to it as "the best solo Zappa ever played".[19]:90–91

The song is followed by "A Little Green Rosetta", a song that was originally intended to appear on Zappa's shelved Läther album, but rerecorded with different lyrics for Joe's Garage.[2]:159[20]
Joe's Garage was initially released in separate units, beginning with the single LP Act I in September 1979. For the album artwork, Zappa was photographed in makeup, holding a mop for the car grease garage theme.[9]:381 The gatefold sleeve of Act I was designed by John Williams, and featured a collage, which included a naked Maya, vague technical drawings, pyramids and fingers on the fret of a guitar.[9]:381 The lyric insert featured similar illustrations, which related to the content of the songs and storyline.[9] The title track was released as a single, with "The Central Scrutinizer" as its B-side. It did not chart.[21]

Act I peaked at #27 on the Billboard Pop Albums chart.[22] It was followed by the double album Acts II & III in November.[2] The gatefold of Acts II & III featured collages taken from a medical journal, while the cover for Acts II & III featured a makeup artist applying makeup to Zappa's face.[9]:381 Acts II & III peaked at #53 on the Pop Albums chart.[23]

Joe's Garage was reissued in 1987 as a triple album, combining Acts I, II & III into a single box set, and as a double album on compact disc.[2] The song "Wet T-Shirt Nite" received two alternate titles, when the album was released on CD: the libretto referred to the song as "The Wet T-Shirt Contest", while the back cover referred to the song as "Fembot in a Wet T-Shirt".[24] In an interview, Zappa explained that the "fembot" was the name given to a female robot in an episode of the TV series The Six Million Dollar Man.[24] The instrumental "Toad-O Line" was renamed "On the Bus".[25] The Central Scrutinizer monologue at the end of "Lucille Has Messed My Mind Up", which concludes the story's first act, was indexed as its own track on the CD reissue, under the title "Scrutinizer

AllMusic writer William Ruhlmann gave 3 out of 5 stars for the individual releases Act I and Acts II & III.[27][28] Ruhlmann wrote of Act I, "although his concern with government censorship would see a later flowering in his battles with the Parents Music Resource Center (PMRC), here he wasn't able to use it to fulfill a satisfying dramatic function."[27] Ruhlmann also felt that Acts II & III "seems so thin and thrown together, musically and dramatically".[28]

Don Shewey of Rolling Stone magazine wrote, "If the surface of this opera is cluttered with cheap gags and musical mishmash, its soul is located in profound existential sorrow. The guitar solos that Zappa plays in Joe's imagination burn with a desolate, devastating beauty. Flaws and all, Joe's Garage is Frank Zappa's Apocalypse Now."[32] The collected Acts I, II & III release received 4.5 out of 5 stars from Allmusic's Steve Huey, who wrote "in spite of its flaws, Joe's Garage has enough substance to make it one of Zappa's most important '70s works and overall political statements, even if it's not focused enough to rank with his earliest Mothers of Invention masterpieces."[26]

For his performance on Joe's Garage, Vinnie Colaiuta was named "the most technically advanced drummer ever" by Modern Drummer, which ranked the album as one of the top 25 greatest drumming performances of all time.[33]:58 On September 26, 2008, Joe's Garage was staged by the Open Fist Theatre Company in Los Angeles, in a production authorized by the Zappa Family Trust.[34]
Track listing
All tracks written by Frank Zappa.

Act I, Side one
No. Title Length
1. "The Central Scrutinizer" 3:28
2. "Joe's Garage" 6:10
3. "Catholic Girls" 4:26
4. "Crew Slut" 6:31
Act I, Side two
No. Title Length
5. "Wet T-Shirt Nite" (a.k.a. "Fembot in a Wet T-Shirt") 4:45
6. "Toad-O Line" (a.k.a. "On the Bus") 4:19
7. "Why Does It Hurt When I Pee?" 2:36
8. "Lucille Has Messed My Mind Up" 5:43
9. "Scrutinizer Postlude" (unlisted) 1:35
Total length: 39:32
Act II, Side three
No. Title Length
1. "A Token of My Extreme" 5:30
2. "Stick It Out" 4:34
3. "Sy Borg" 8:56
Act II, Side four
No. Title Length
4. "Dong Work for Yuda" 5:03
5. "Keep It Greasey" 8:22
6. "Outside Now" 5:50
Total length: 38:15
Act III, Side five
No. Title Length
1. "He Used to Cut the Grass" 8:35
2. "Packard Goose" 11:34
Act III, Side six
No. Title Length
3. "Watermelon in Easter Hay" 9:09
4. "A Little Green Rosetta" 8:15
Total length: 37:33
Personnel
Musicians
Frank Zappa – lead guitar, vocals
Warren Cuccurullo – rhythm guitar, vocals
Denny Walley – slide guitar, vocals
Ike Willis – lead vocals
Peter Wolf – keyboards
Tommy Mars – keyboards
Arthur Barrow – bass, guitar (on "Joe's Garage"), vocals
Patrick O'Hearn – bass on "Outside Now" and "He Used to Cut the Grass"
Ed Mann – percussion, vocals
Vinnie Colaiuta – drums, combustible vapors, optometric abandon
Jeff (Jeff Hollie) – tenor sax
Marginal Chagrin (Earle Dumler) – baritone sax
Stumuk (Bill Nugent) – bass sax
Dale Bozzio – vocals
Al Malkin – vocals
Craig Steward – harmonica
The Cast
Frank Zappa – Central Scrutinizer, Larry, L. Ron Hoover, Father Riley & Buddy Jones
Ike Willis – Joe
Dale Bozzio – Mary
Denny Walley – Mrs. Borg
Al Malkin – Officer Butzis
Warren Cuccurullo & Ed Mann – Sy Borg
Terry Bozzio – Bald-Headed John
The Utility Muffin Research Kitchen Chorus – Al Malkin, Warren Cucurullo, Dale Bozzio, Geordie Hormel, Barbara Issak & most of the people who work at Village Recorders
Production staff
Ferenc Dobronyi – Cover Design
Steve Alsberg – Project Coordinator
Joe Chiccarelli – Engineer, Mixing, Recording
Norman Seeff – Photography, Cover Photo
John Williams – Artwork
Steve Nye – Remixing
Mick Glossop – Remixing
Stan Ricker – Mastering
Jack Hunt – Mastering
Thomas Nordegg – Assistant
Tom Cummings – Assistant
Genre not found
Artist not found
Album not found
Search results not found
Song not found
The Central Scrutinizer
Frank Zappa Lyrics
PRELUDE
Desperate nerds in high offices all over the world have been known to
enact the most disgusting pieces of legislation in order to win votes
(or, in places where they don't get to vote, to control unwanted forms of
mass behavior).
Environmental laws were not passed to protect our air and water...
they were passed to get votes. Seasonal anti-smut campaigns are not
conducted to rid our communities of moral rot...they are conducted to give
an aura of saintliness to the office-seekers who demand them. If a few
key phrases are thrown into any speech (as the expert advisors explain to
these various heads of state) votes will roll in, bucks will roll in, and, most
importantly, power will be maintained by the groovy guy (or gal) who gets
the most media coverage for his sleaze. Naturally, his friends in various
businesses will do okay too.
All governments perpetuate themselves through the daily commission of act
which a rational person might find to be stupid or dangerous (or both). Naturally,
our government is no exception... for instance, if the President (any one of them)
went on TV and sat there with the flag in the background (or maybe a rustic
scene on a little backdrop, plus the flag) and stared sincerely into the camera
and told everybody that all energy problems and all inflationary problems had been
traced to and could be solved by the abolition of MUSIC, chances are that most
people would believe him and think that the illegalization of this obnoxious form of
noise pollution would be a small price to pay for the chance to buy gas like the good
ol' days. No way? Never happen? Records are made out of oil. All those big rock
shows go from town to town in fuel-gobbling 45 foot trucks...and when they get there,
they use up enormous amounts of electrical energy with their lights, their amplifiers,
their PA systems...their smoke machines. And all those synthesizers...look at all
the plastic they got in 'em...and the guitar picks...you name it...
JOE'S GARAGE is a stupid story about how the government is going to try to do away
with music (a prime cause of unwanted mass behavior! It's sort of like a really cheap
kind of high school play...the way it might have been done 20 years ago, with all the sets
made out of cardboard boxes and poster paint. It's also like those lectures that local
narks used to give (where they show you a display of all the different ways you can get
wasted, with the pills leading to the weed leading to the needle, etc., etc.).
If the plot of the story seems just a little bit preposterous, and if the idea of The Central
Scrutinizer enforcing laws that haven't been passed yet makes you giggle, just be glad
you don't live in one of the cheerful little countries where, at this very moment, music is
either severely restricted...or, as it is in Iran, totally illegal.
SCENE ONE
ENTRANCE OF THE CENTRAL SCRUTINIZER
Sometimes when you're not looking he just sneaks up on you. He looks like a cheap
sort of flying saucer about five feet across with a snout-like megaphone apparatus in
the front with two big eyes mounted like Appletons with miniature motorized frowning
chrome eyebrows over them. Along the side of his disc-like body are several sets of
stupid looking headers and exhaust hoses which apparently propel him and punctuate
his dialogue with horrible smelling smoke rings. In the middle of his head we can see
an airport wind sock and constantly twirling anemometer. The bottom of him has a landing
light and three spoked wheels. In spite of all this, it is obvious that the way he really gets
around is by being dangled from place to place by a union guy with a dark green shirt up
in the roof who is eating a sandwich (pieces of which drop off every once in a while
and lodge themselves near the hole where they put the oil in that makes the cheap smoke).
He hovers into view and speaks to us thusly...
CENTRAL SCRUTINIZER:
This is the CENTRAL SCRUTINIZER...it is my responsibility to enforce all the laws
that haven't been passed yet. It is also my responsibility to alert each and every one of
you to the potential consequences of various ordinary everyday activities you might be
performing which could eventually lead to The Death Penalty (or affect your parents'
credit rating). Our criminal institutions are full of little creeps like you who do wrong things...
and many of them were driven to these crimes by a horrible force called MUSIC! Our studies
have shown that this horrible force is so dangerous to society at large that laws are being
drawn up at this very moment to stop it forever! Cruel and inhuman punishments are
being carefully described in tiny paragraphs so they won't conflict with the Constitution
(which, itself, is being modified in order to accommodate THE FUTURE).
I bring you now a special presentation to show what can happen to you if you choose
a career in MUSIC . . . The WHITE ZONE is for loading and unloading only. . . if you
have to load or unload, go to the WHITE ZONE... you 'll love it... it 's a way of life . . .
This is the CENTRAL SCRUTINIZER...The WHITE ZONE is for loading and unloading
only... (etc.)
Lyrics © OBO APRA/AMCOS

Lyrics Licensed & Provided by LyricFind
To comment on specific lyrics,
highlight them