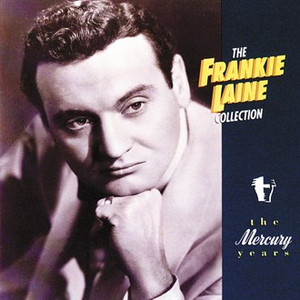 The Frankie Laine Collection: The Mercury Years
Frankie Laine, born Francesco Paolo LoVecchio (30 March 1913 – 6 February 2007), was an American singer and one of the more successful hit-makers of the late 1940s and early 1950s. Laine has had worldwide sales of over 250 million disks, and has earned 21 gold records. Originally a rhythm and blues influenced jazz singer, his energetic, passionate style has led some to consider him the first of the blue-eyed soul singers. Eventually he expanded to such varied genres as popular standards
Read Full Bio
Frankie Laine, born Francesco Paolo LoVecchio (30 March 1913 – 6 February 2007), was an American singer and one of the more successful hit-makers of the late 1940s and early 1950s. Laine has had worldwide sales of over 250 million disks, and has earned 21 gold records. Originally a rhythm and blues influenced jazz singer, his energetic, passionate style has led some to consider him the first of the blue-eyed soul singers. Eventually he expanded to such varied genres as popular standards, gospel, folk, country, rock 'n' roll, and a hard-driving (and slightly campy) form of western/Americana.
... Throughout the 1950s, Laine enjoyed a second career singing the title songs of Hollywood films and television shows, including: Gunfight At OK Corral, 3:10 To Yuma, Bullwhip, and Rawhide. His rendition of the title song for Mel Brooks' 1974 movie Blazing Saddles won an Oscar nomination for Best Song, and his recording of "Rawhide" for the television series of the same name has become a classic of the genre.
Genre not found
Artist not found
Album not found
Search results not found
Song not found
To spend one night with you in our old rendezvous,
And reminisce with you that's my desire.
To meet where gypsies play, down in that dim cafe,
And dance 'till break of day that's my desire.
We'll sip a little glass of wine, I'll gaze into your eyes divine.
I'll feel the touch of your lips pressing on mine.
To hear you whisper low just when it's time to go,
Cherie, I love you so, that's my desire.
Lyrics © Warner Chappell Music, Inc.
Written by: HELMY KRESA, CARROLL LOVEDAY

Lyrics Licensed & Provided by LyricFind
To comment on specific lyrics,
highlight them