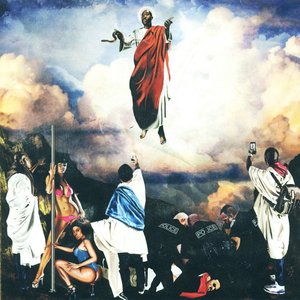 You Only Live 2wice is the third studio album by American rapper Freddie Gibbs. It was released on March 31, 2017, by ESGN and Empire Distribution. The album includes eight tracks with no guest appearances. In June 2016, Freddie Gibbs was arrested in France as a suspect in a rape that took place in Austria. In August, he was formally charged with sexual assault after being accused of drugging a woman and sexually abusing her while she was defenseless. On September 30, 2016, Gibbs was acquitted of all charges related to the sexual abuse allegations. On March 8, 2017, Gibbs
Read Full Bio
You Only Live 2wice is the third studio album by American rapper Freddie Gibbs. It was released on March 31, 2017, by ESGN and Empire Distribution. The album includes eight tracks with no guest appearances. In June 2016, Freddie Gibbs was arrested in France as a suspect in a rape that took place in Austria. In August, he was formally charged with sexual assault after being accused of drugging a woman and sexually abusing her while she was defenseless. On September 30, 2016, Gibbs was acquitted of all charges related to the sexual abuse allegations.

On March 8, 2017, Gibbs returned by announcing his third solo album, You Only Live 2wice, along with its pre-order link, cover art and release date via Twitter. The cover art shows Gibbs floating above a crowd, reminiscent of Renaissance art depicting the resurrection of Jesus. The first single, "Crushed Glass", was released on the day of the album's announcement, March 8, 2017, for digital download. It was accompanied by its music video, directed by Eric Nelson. On March 15, 2017, Gibbs released a freestyle of "PRBLMS" by 6LACK titled "NO PRBLMS". You Only Live 2wice was received very positively by critics. At Metacritic, which assigns a normalized rating out of 100 to reviews from mainstream publications, the album received an average score of 76, based on 9 reviews. Nate Patrin of Pitchfork complimented the album's theme of resurrection and Gibbs' delivery, writing that "His vocal command is still stunning, that rough-hewn flexibility in his voice putting across intensity and vulnerability at the same time. And when the beat goes melodramatic (or dramatically mellow)—the aching violin-laced Speakerbomb-produced flip of Sade's "Fear" on "Crushed Glass," molasses-creeping to billowy new age keyboards on "Homesick," satiny vocal-harmony R&B on "Andrea"—each syllable feels like a knuckle busting your eyebrow open. You could look at You Only Live 2wice as a transitional record—and many could see it that way dismissively, given its brief borderline-EP runtime—but whatever turning point this might be in Gibbs' career, it stands to reason that he'll still be making diamonds out of pressure." Clayton Purdom of The A.V. Club said that You Only Live 2wice "functions as an absolute firehose of dazzlingly dense verses—it's hard to imagine him going for much longer than its 30 minutes, though you know he could—as well as a showcase for some of the strange new ground he's charting", also adding that "much of the rest of this operates in the same mold as his last record, 2015's solid Shadow of a Doubt. It's tempting to want some sort of grand, dark reinvention here", and "It sounds instead much more like an artist stepping back into his old pocket with great relief and delivering the verses he feared he'd never be allowed to. He's packing even more words in and rapping harder than ever, like his life depended on it."

Samantha O'Connor of The 405 commented on the emotive nature of the album, stating "You Only Live 2wice is a reflection of past mistakes, a declaration of dreams for his family's future and a time stamp for the strenuous reality of an artist who nearly lost it all on his way to gaining it all. Despite adamantly denying the claims against him, his self-aware bars admit guilt in allowing the game to get the best of him as he details the price he's paid for rash decisions over personally cinematic beats from the likes of Kaytranada, BADBADNOTGOOD and League of Starz. And in true lyrical Gibbs fashion, his pen paints a peephole into his time behind bars - from his inability to read the jail's German library books to Erica's decision to fly overseas to comfort him leading up to trial." Stephen Kearse of Paste Magazine highlighted Gibbs' lyrical content: "Gibbs' greatest celebration of freedom is his rapping. He's always had a bit of a power-tool approach to rapping, zeroing in on counter-rhythms and replicating them with mechanic precision. But here he alters his flows almost subconsciously, his words tumbling out at different speeds just for the sheer thrill. "Andrea" and "20 Karat Jesus" have sequences where the words just cannot fit within the note, but Gibbs remains completely at ease, determined to keep the stream flowing, obstacles be damned."
Genre not found
Artist not found
Album not found
Search results not found
Song not found
Yeah, kane
Yeah
Yeah, yeah
Ma ambitions as a rider nigga
Survival off that powder nigga
Currently smoking that kill in the hills
Where you can't find a nigga
Crack cocaine, microwave
Dealer was on that type of nigga
No sleep, bags under my eyes is designer nigga
Blinded and misguided nigga
Heavenly father take the wheel
I'm on the inner state with some gurrillas
With shit can get me like two hundred years
Thug in the pen, I need forgiveness
I'm living like a every decision a sin
I know my niggas don't want me to win
Jealousy, chopping off all of my friends
I ride with that white white just
Like fight night we be weighin' in
P.d is ma pieces 20 karats Jesus say amen
Tricked of with my new bitch
She was half black and Malaysian yeah
Spent my last 200 thou' on a bird and a Mercedes Benz
My dogg used to pull up in a 99 GS 300 fresh up on the
Highway with the higher power how you wan' it
First these hoes don't wan't it now they only here to Michael Jones it
Mama say you live next door to the devil
You live in the moment
I-i-i be kickin' shit like Solange in the elevator
The goal when you try to kick that dope
Stuck on the respirator
Got symptoms of withdrawal from the fall when I used to ball
I show you how in one summer one nigga could lose it all
Right now we gotta feel this pain in this friends family dope
Some people would like to walk around in their sleep I'd rather stay woke
I must evoke these are the results of the realest shit that I wrote
These hoes get in the wind burn that ass quick like Galaxy Notes
Thats why I ride with that white white just like fight night we be weighin' in
Please VS my pieces 20 karat Jesus save me
Tricked off on my new bitch, she was half black and Malaysian
Split my last two hundered thousand on a bird and Mercedes Benz
My dogg used to pull up in a '99 GS-300
Fresh up off the highway with the higher power how you want it
First these hoes don't wan't it now they only here to Michael Jones it
Mama say you live next door to the devil
You live in the moment
I-i-i be kickin shit just like Rodman did to camera man
I peel the 100 dope like the poppy seed in Afghanistan
I been to drop by nuts but these cabbage hands do damage nigga
Rich from the clip leave you stiff
Manic and challenge nigga
Me and my chips with airport yay don't care about frito lay
Trying to give me ten I beat a case so it's gon' be okay
Fresh up on the highway with the higher power how you wan' it
Mama say I live next door to the death cuz I live in the moment
To live in the moment
Nigga I'm living in the moment
I'm living in the moment
Yah
Kane baby
Quarter brick, half a brick, hold this shit, cold shit
Scar across my face strap on my shoulder on some Tony shit
Taught myself the streets you know my pops ain't never taught me shit
'Cept for good friend you gon' be solo in your closet bitch
Walkin' home from work my .44 pulled up when I'm walking bitch
Old folks out the church say he need Jesus that boy off a bit
Preacher's daughter said I'll let you fuck it just might cost a bit
Type a shit a nigga been through make you dog a bitch
Loss a bitch, man reap the streets she prenup me can't divorce her
Live from my my cell electrical tape on my tape recorder, sucker shit
Don't blow your money young nigga pay your lawyer
Niggas is wrapped in electrical tape
They walking tape recorders yeah
Yeah, bitch your first motherfucing mixtape was a snitch tape
You ain't think I knew that shit though I knew that shit though
Quarter brick, half a brick, hold this shit, cold shit
Trouble 65 brought 65 I sold the whole shit
Coco searched my cutlass on the road I got my own shit
Boy you know the rules they picked you up don't call my phone bitch
Boy you know the rules that shit don't trump unless you sold it down
Swat team break they cut the water off can't flush the toilet down
454 my morning down got green got dog got yola now
They playin' they suffer exposure now
This rapper shit just for the posers now
The losers now, all these just niggas got videos up with they toolies out
Everybody flashing real money, niggas card cracking getting visa money
Y'all don't knock it I just do the dope the flow
I gotta get it slow so I gotta see the money
Y'all remember peacing out 28th to get the blunt liquor and a piece of money young nigga
Young Nigga
Stay smooth, stay solid nigga
These niggas put your name on anything but a prayer
Amen
Glory be to God
What's happening pimps
It is I the alpha and omega, the original righteous player
You know what I'm talking about?
It's your boy Jesus man
Yes my nigga Jesus is your homeboy
Say it again so I can uh reiterate it man
Your minds not ready and your heart's not open
You know what I'm saying?
That's what's wrong with you man
You doing all that coveting
You trying to, you wan't what other niggas got
You not even just paying attention to your gift nigga
God gave you a gift nigga
Pay attention to what he got for you
You, other niggas over here
Yah he could sell dope real good, that's not your lane my nigga
God gave you hands, you a chef my nigga
Chef up that boysenberry creme brulee man
Lyrics © Sony/ATV Music Publishing LLC
Written by: ANDREW PAPALEO, BLAIR LOWERY, FREDDIE GIBBS, SIDNEY MILLER

Lyrics Licensed & Provided by LyricFind
To comment on specific lyrics,
highlight them