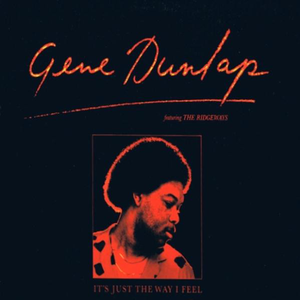 born in Detroit, Michigan, U.S.A.

Gene began to play the drums from the age of four although his first job was in a music store.

While still at school he met Earl Klugh with whom he formed a group.

By the mid-70's Gene was playing drums for Earl professionally, Earl also helping to secure Gene a solo recording deal with Capitol in the early 80's.

His three albums were 'It's Just The Way I Feel' (1981), including 'Before You Break My Heart' (ably assisted vocally by the Ridgeway Sisters)
Read Full Bio
born in Detroit, Michigan, U.S.A.

Gene began to play the drums from the age of four although his first job was in a music store.

While still at school he met Earl Klugh with whom he formed a group.

By the mid-70's Gene was playing drums for Earl professionally, Earl also helping to secure Gene a solo recording deal with Capitol in the early 80's.

His three albums were 'It's Just The Way I Feel' (1981), including 'Before You Break My Heart' (ably assisted vocally by the Ridgeway Sisters), 'Party In Me' (1982) and 'Tired Of Being A Nice Guy' (1983) including the excellent 'Take Back My Love'.

He also played drums with Roy Ayers on 'Don't Stop The Feeling'.

In 1994, he released 'Groove with You', credited to the Gene Dunlap Band, on Avenue Jazz Records, but shortly after gave up performing to teach inner city youth in Detroit.

In April 2000, he returned with his second Avenue Jazz album, 'Tales of the Phatman'.
Genre not found
Artist not found
Album not found
Search results not found
Song not found
We have lyrics for 'The Intro' by these artists:



B.i.G. Ben Push C'mon she almost there push c'mon C'mon c'mon push…
Big K.R.I.T. & Grillade Let's create Nah not yet I'm ready to create now Naah not ye…
C혼 Girl I really love you You gonna love me I know you…
Da I woke up this morning And decided there's no such thing…
DJ Michael 5000 Watts [2 Quarters fall onto a table] [Gun is being loaded and…
Dylan Oh my name it ain't nothin' My age it means less The…
French Montana And I had a dream About my old school And she was…
Future Abu, it's your boy Oh, DJ X tray day Hey man I…
J.O. The Last Man [2 Quarters fall onto a table] [Gun is being loaded and…
L.E *Talking In The Background* Uh The streets of my city be gr…
Late Yeah, a lightning bolt strikes in the air, yeah, finally…
LL Cool J Hey yo this is the infinite, intelligent, extravagant and el…
Murs What up though It's Murs, 9th Wonder Murs 3:16, the 9th Ed…
Pastor Troy & The Congregation Talk like ya'll walk it, Walk like ya'll talk it Where…
Rapsody Uh, yea, Rapsody Return of the B-Girl It go, light it up…
Samaria Everybody out here falling in deep and shit Nobody really kn…
Slim Thug (*talking*) Yeah, it's finally here motherfuckers Long-await…
Swagg B. Baby My name`s Anthony And I am Tony Guest I live in Manchester…
T.H.C. Wait a minute! I forgot my introduction! In-in-in tro-du…
The v Let's talk about love Let's talk about love Let's talk abo…
Trademark Da Skydiver Not a girl around here you already know Life 2012 hear the…



We have lyrics for these tracks by Gene Dunlap:



Sweet Sticky Thing You Just Go From Man To Man Woman I Just Don't…

The lyrics can frequently be found in the comments below, by filtering for lyric videos or browsing the comments in the different videos below.