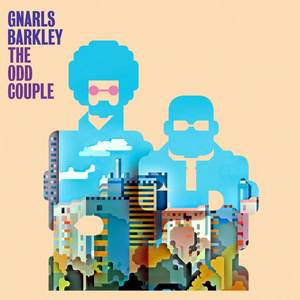 The Odd Couple (International DMD A)
Gnarls Barkley is an alternative/soul group which formed in 2003 in Atlanta, Georgia, United States. The group consists of CeeLo Green (vocals) and Brian "Danger Mouse" Burton (multiple instruments). The group is best known for the international smash hit "Crazy".

"Crazy" - which was their first single - debuted at #1 on the British pop charts on April 2, 2006. It was the first #1 UK single to be obtained solely through Internet downloads. The success
Read Full Bio
Gnarls Barkley is an alternative/soul group which formed in 2003 in Atlanta, Georgia, United States. The group consists of CeeLo Green (vocals) and Brian "Danger Mouse" Burton (multiple instruments). The group is best known for the international smash hit "Crazy".

"Crazy" - which was their first single - debuted at #1 on the British pop charts on April 2, 2006. It was the first #1 UK single to be obtained solely through Internet downloads. The success of the single in the UK was due largely to its use in a promotional trailer for Radio 1 across all of the BBC TV channels prior to the single's release. 'Crazy' stayed at #1 for almost 9 weeks.

The buzz for "Crazy" helped generate a lot of press coverage of their debut album, St. Elsewhere, which was released on May 9, 2006.

The album is seen as a cross-over between hip-hop, rock and soul. Both artists have previously been known to have a quirky experimental side, moving between different genres of music.

Producer DJ Danger Mouse began his career doing remixes of indie rock artists like Neutral Milk Hotel and downbeat instrumental music under the 'Pelican City' alias. He later went on to emphasize more hip-hop production: most notably his The Grey Album, a remix of Black Album, with samples exclusively from The White Album; 2005's Dangerdoom collaboration with MF Doom; and, most recently, the double platinum Demon Days.

Gnarls Barkley singer Cee Lo Green started out in the classic Southern rap group Goodie Mob, but later developed a unique funk-inspired soulful style of singing which developed on his solo albums.

Their new album The Odd Couple was released March 18, 2008.
Genre not found
Artist not found
Album not found
Search results not found
Song not found
(Oh ah)
Gi' gi' give it away now
Gi' gi' give it away now
Give it away now
Give it away now, I, I, I, I don't know what matters to you at this moment
But that's all that matters to me
How are ya?
How are you?
Knock on wood
Well I'm not doing so good
I thought you probably couldn't tell, although your worth it, I'm still not well
And I don't understand how I'm so understanding
I guess that that's all I can be
How are ya
How are you?
I think I can help
But I can't help myself
Should I be happy if you need my help, I usually just keep to myself.
Oh can't ya see
Oh can't ya see
If I help somebody baby there's mercy for me
Ah charity (And you, for you, one for you and you and you)
Don't want to bother you baby but I'm bleeding to
Are you needing me like I'm needing you
Even my shadow leaves me all alone at night
Guess I need to start to take my own advice
Lalalala lalala la
Lalalala lalala la
Oh can't ya see
Oh can't ya see
Somebody's a liar who ever said that freedom was free
Ah charity
(Oh ah)
Gi' gi' give it away now
Gi' gi' give it away now
Give it away now
Give it away now
Oh oh
Alright
Yeah, I want to be your lady
Charity, you betta' give to somebody
Lyrics © BMG Rights Management, Kobalt Music Publishing Ltd., Warner Chappell Music, Inc.
Written by: BRIAN JOSEPH BURTON, THOMAS CALLAWAY, THOMAS DECARLO CALLAWAY

Lyrics Licensed & Provided by LyricFind
To comment on specific lyrics,
highlight them