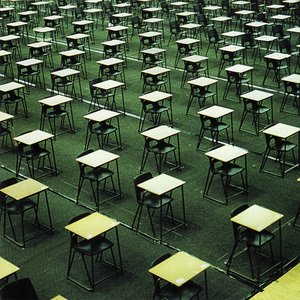 Grinspoon were an Australian rock band from Lismore, New South Wales; formed in …
Read Full Bio ↴
Grinspoon were an Australian rock band from Lismore, New South Wales; formed in 1995 and fronted by Phil Jamieson on vocals and guitar with Pat Davern on guitar, Joe Hansen on bass guitar and Kristian Hopes on drums. Also in 1995, they won the Triple J-sponsored Unearthed competition for Lismore, with their post-grunge song "Sickfest". Their name was taken from Dr. Lester Grinspoon an Associate Professor Emeritus of Psychiatry at Harvard Medical School, who supports marijuana for medical use.

Grinspoon changed their sound to more mainstream rock by their 2002 album, New Detention, gaining fans and peaking at No. 2 on the ARIA Albums Charts; similarly 2007's Alibis & Other Lies also reached No. 2. Their 2004 album, Thrills, Kills & Sunday Pills, which peaked at No. 4, won the 2005 'Best Rock Album Award' at the ARIA Music Awards.

The band was signed to Universal Records in United States by late 1998, they were promoted by the songs "Champion", which featured in Gran Turismo 3; "Post Enebriated Anxiety", which was on the international version of Guide to Better Living; "Chemical Heart", via the internet; and a cover of the Prong song "Snap Your Fingers, Snap Your Neck", from Grinspoon's Pushing Buttons EP, which was included on ECW: Extreme Music.

On 4 December 2013, they announced that they were going on an indefinite hiatus to pursue individual projects.
Genre not found
Artist not found
Album not found
Search results not found
Song not found
New Detention
Grinspoon Lyrics
1000 Miles
Well, I got drunk and I got stoned Shot my family…
Anyday Anyhow
Forgot to mention the new detention Forgone conclusion, curr…
Boltcutter
Killer wax, said the warden when she arrived on the…
Chemical Heart
When Look for a ride and you need to get high…
Damn Straight
Dream,don't forget you got back all that you put in…
Gone Tomorrow
If you can't expect to take some blame, You should fucken…
Hate
Woke up to find you weary, left hand was in…
Killswitch
Despite all of the negatives I still get up and, yeah,…
Lost Control
Times up, yeah you should've known Pretty little princess pu…
Make It Happen
I used to have you pinned You used to work at…
No Reason
If you got the rhyme and you got the reason Somebody…