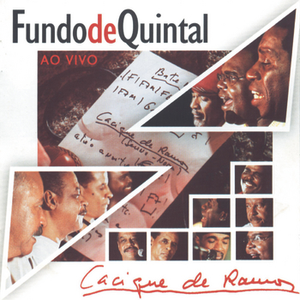 Grupo Fundo De Quintal Ao Vivo - Gravado No Cacique De
Grupo Fundo de Quintal or simply Fundo de Quintal (rough Portuguese translation Backyard Group) is the name of an influential samba group and movement which appeared in Rio de Janeiro at the end of the 1970s. They are considered the main fathers of the pagode genre which gave new life to samba starting in the 1980s.

The original lineup was composed of Almir Guineto, Jorge Aragão, Sombrinha (cavaquinho/violão), Neoci (the son of João da Baiana), Sereno (tan-tan), Ubirany (repique-de-mão) and Bira Presidente (pandeiro).
Read Full Bio
Grupo Fundo de Quintal or simply Fundo de Quintal (rough Portuguese translation Backyard Group) is the name of an influential samba group and movement which appeared in Rio de Janeiro at the end of the 1970s. They are considered the main fathers of the pagode genre which gave new life to samba starting in the 1980s.

The original lineup was composed of Almir Guineto, Jorge Aragão, Sombrinha (cavaquinho/violão), Neoci (the son of João da Baiana), Sereno (tan-tan), Ubirany (repique-de-mão) and Bira Presidente (pandeiro).

Soon after the first record, Almir Guineto and Jorge Aragão left the group to follow solo career, being replaced by Arlindo Cruz and Cléber Augusto. The lineup with Arlindo Cruz and Sombrinha as the lead voices and songwriters (although all integrants sing and compose) is considered the fundamental formation of the Group. It lasted until 1993.

Around then Arlindo Cruz and Sombrinha left the group, being replaced by Mário Sérgio (from São Paulo) and Ronaldinho, which take part in the contemporary formation.

Fundo de Quintal introduced the new instruments tan-tan, banjo (samba) and repique de mão, which gave samba a new clothing and a breath of fresh air. They also pushed samba harmonically through the use of some unusual chords. They are considered by many to be one of the most important movements of Brazilian music.
--- Wikipedia.com
Genre not found
Artist not found
Album not found
Search results not found
Song not found