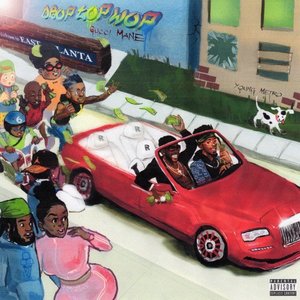 Radric Davis (born February 12, 1980 in Birmingham, Alabama), better known by his stage name Gucci Mane, is an American rapper and CEO of 1017 Brick Squad Records. In 2005 he released his independent debut album, Trap House, which featured the successful single "Icy" that he recorded with Young Jeezy. He has since released a further three albums including 2006's Hard To Kill, 2007's Trap-A-Thon and 2007's Back To The Trap House. His sixth studio album
Read Full Bio
Radric Davis (born February 12, 1980 in Birmingham, Alabama), better known by his stage name Gucci Mane, is an American rapper and CEO of 1017 Brick Squad Records. In 2005 he released his independent debut album, Trap House, which featured the successful single "Icy" that he recorded with Young Jeezy. He has since released a further three albums including 2006's Hard To Kill, 2007's Trap-A-Thon and 2007's Back To The Trap House. His sixth studio album, The State vs Radric Davis, was released in December 2009, just weeks after he was sent back to prison for 12 months for violating his probation. He was released in May 2010 and will now release his seventh studio album, The Appeal: Georgia's Most Wanted, sometime at the end of 2010.

It's said that art mirrors life. In hip-hop's case, there's always been a deliberate entanglement of perception and reality. Fans demand their MCs be real…but never too real. Successful hip-hop is about the hint of the danger, the tease of it, the mystique. Hip-hop is about balance.

Gucci Mane is an artist striving for that balance, volatility versus musicality. Controversy, including a feud with former collaborator Young Jeezy, has grabbed the headlines, with insufficient regard paid to his considerable mic skills, raw talent, and business acumen. Gucci is looking to wrest his name from public speculation and let his own words do the talking.

"I wish everybody well who's making money in this rap game," the Atlanta-raised rapper says, dismissing the controversy that followed him in the past. "My own rap game is going so good, I've got so many things on my plate at my label, that I don't got time for other people's business." With a deal with Asylum Records as the boss of his own label, So Icey Entertainment, Gucci does indeed have a full schedule with no time to dwell on the past.

"I live my life with no regrets. I just wish that a lot of things never happened, but anybody can wish," says Gucci. Sounds like a man with his eyes on the prize. And you'd expect nothing less from an artist who ground his way to the top via the hustle of independent records. Signing to Big Cat Records in the wake of his local single "Black Tee," he dropped his debut record, Trap House, in May 2005. The independent album moved an impressive 140,000 units, largely on the strength of the "Icy" single, featuring Jeezy. Clamor over song rights sparked dispute, and the resulting rift grew.

Controversy notwithstanding, Mane's independence was cemented: "I was on the independent scene for about two years," he recalls. "It's crazy! You gotta go into your own pocket to support your craft. You need other avenues to have money coming in, to support your stuff. You might win, you might lose, and it's a gamble out there with the independent circuit. One thing you'd better have is good music because without that, you go downhill fast in the independent game."

Good music firmly in hand, Gucci was fast approaching stardom when more tragedy befell him. But let's backtrack; how did the man born Radric Davis in Bessemer, Alabama, become Gucci Mane, mouthpiece for Atlanta stuntin'? Mane remembers little from his time in Alabama, just that it was rural, and that it's changed dramatically since he left at the age of nine. "I gotta shout out Alabama though, because they holdin' it down," he affirms. "Every time I go there to do a show, I'm impressed with how hip-hop culture has taken root."

Mane's identity coalesced when he moved with his mother to Atlanta. "I lived all of my adolescent and adult life in Atlanta," he explains. "I'm from East Atlanta Zone Six; it was hard, man, it was real rough. I grew up in the Starter jacket era: they'd take your Starter jacket, your 8Ball jacket, they'd take your hat, your shoes. It was just no holds barred on the streets, dog eat dog. If you missed the bus, you had to be crewed up or you'd get jumped. It was wild when I came up."

It's a bleak portrait. When asked to describe his home life more vividly, Mane offers a look into his contemplative side, a side honed as a schoolyard poet. "I was just a young dude in a single parent house most of my life. I can't complain that much. I would guess it's like any black child growing up in a single parent household. There are a lot of people who know how that is. I didn't have a lot coming up; but what I did have, I appreciated. I was blessed to have a caring mother to raise me right and to help me with my business ventures; she's been there through the whole struggle. There's a lot that goes along with that; it made me who I am today."

A stepfather would enter the picture during Mane's adolescence, introducing not only a male figure, but also inspiration for Mane's unusual moniker. "My father came in, the original Gucci Mane; that's what people in the neighborhood called him, and that's where I get my name from. From then on, I grew up the son of a hustler and a schoolteacher; it was the best of both worlds because I was educated twice." Drawing inspiration from a pantheon of rappers before him –Big Daddy Kane, LL Cool J, Ice Cube, the Beastie Boys, N.W.A—Mane went on to release Trap House, a lethal brew of his signature sound: "I call my music straight Gucci: going hard and whatever beats you make you for me, if I'm feeling it, if I'm rocking with it, I'm gonna crush it. When you hear me, you hear a lot of pain, a lot of hood; you hear what's going on in the inner city in Atlanta."

Unfortunately, Trap House was ill timed; the month of its release, Gucci was accused of murder and jailed for two days. Eventually deemed to be acting in self-defense, and without sufficient evidence to hold him, Mane was exonerated. But the ordeal left an indelible imprint on the man. "I learned to keep better company, watch where I go, and be mindful of my surroundings at all times," he reveals. "Watch what I say, watch what I do and how I do it, just keep myself out of the wrong crowd."

"I always stand up man," he continues. "I'm one of the toughest guys I know. It'll take a lot more than that to break me down." Undeterred, Mane was back in the studio, preparing 2006's eerily apropos Hard To Kill. The buzz from Hard To Kill vaulted Gucci Mane from regional commodity to national treasure, and major labels responded accordingly: "There was a bidding war going on, and I liked Atlantic's approach. They made it known that they wanted me, they felt where I was going and that I could grow with them."

Asylum/Atlantic Records welcomed Gucci Mane in early '07, granting him his own imprint, So Icey Entertainment. With it comes an entire stable of artists, the So Icey Boyz. As the Boyz ready for their own exposure –"I got them in training; they be in the weight room, pumping iron, doing pushups, shopping at the mall, buying ice"—Gucci is focused on his magnum opus, Back to the Trap House. "I started working on the album, and by the third song, I was like 'This is going back to the Trap House.' I started feeling the same way I did when I made my first album. It had the same feel to it, the same freshness. And I had the same hunger and desire I had when I first started rapping."

"Since I went major, I want everybody to know I'm still keeping it street, keeping it hood," Gucci maintains. "I'm trying to take it back to all my fans that I had when I first started my career. And at the same time, I'm trying to open up my new album to a new fan base. So it's a mix for everybody coming together, like my first album was." Gucci has always prided himself on his innate ability, and his refusal to let guest appearances dictate the tone of his records. "I just want people to know I'm a great songwriter, man," he asserts. "I'm passionate about what I do, and it's choreographed strategically when I do it. I bring a lot of experience, creative wordplay, and a crazy style. And my albums, I record most of the songs without writing them down; it's a God-given gift and I just get paid for it. It come from God, it's like wondering what makes a bird fly. He made me a poet like the great poets of the past."

But don't mistake Gucci's confidence for self-absorption. The vicissitudes of his career have dictated a longer view. Lyrics aside, he's less preoccupied with visible means and more so with acting as an emissary from his under-repped block. "I'm not the one to glorify what goes on in the hood," he insists. "We have everything there, the whole range from violence to people getting on the bus and going to work. There's a lot more to the hood than just drugs. It's a bigger story, there's a big picture. I went to school in that neighborhood, I worked there, I trapped there, I hustled there, and I got my name there. I'm proud to be from East Atlanta Zone Six, and I claim there. I hold that on my back and carry that, to be the first one from there to really rock."

And Gucci's professional aims have matured as well. While other rappers stress platinum plaques, Gucci hasn't forgotten the route he took to stardom. "I made a lot of CDs on my own. People fucked with me and supported me, and just made me the man I am today. That's my blueprint right there, and I stay mindful of it. So now, my only concern is that people feel my music; at the end of the day, I do it for people to feel it. If one person feel it, two people feel it, I feel like my job's been done."

Fortunately for Gucci, he should be prepared to welcome an army of new fans with Back to the Trap House. But longstanding fans shouldn't fear; they'll recognize "Freaky Gurl," reprised from its previous appearance from Hard To Kill. Luda, upon hearing the joint, asked for a guest spot on the remix. Said remix now appears as the lead single on Back to the Trap House, following in Gucci's theme of mating old and new. Over a bouncing, meandering beat from Cyber Sapp, the two cook up the requisite concoction of whips, chips, and chicks. Also look out for "Bird Flu," the album's number two single, laced by New-York based Supa Sonics. Elsewhere, firm guest verses from Rich Boy and Pimp C of UGK round out Gucci's regional flavor, while Bay-area producer Zaytoven (of "Icy" renown) locks down Gucci's West Coast appeal.

Gucci Mane has something for everyone, and with the struggles of the past in his rearview, Gucci is settled in for his ride to the top. "I'm best known for controversy but I'm trying to gain respect as a songwriter and entertainer. I plan to hit them so hard with this album; who knows what the future will bring. I'll be banging them out till I can't bang no more."
Genre not found
Artist not found
Album not found
Search results not found
Song not found
5 Million Intro
Gucci Mane Lyrics
Jump to: Overall Meaning | Line by Line Meaning
Hah, hah
It's Wizop, Metro, Metro
It's Gucci, yeah
Southside (hah, sizzle)
Metro Boomin' want some more nigga

I'm just slidin' down the 'crest on a hot summer day
All these diamonds on it got me feelin' some type of way
Drop the top on these haters 'cause the top in the way
And if you ain't gettin' no money then you just in the way
Took my shirt off in the vert 'cause the shirt in the way
If these hoes ain't talkin' 'bout fuckin' then they just in the way
All these diamonds on my fist I'm feelin' some type of way
If that bitch ain't gettin' no money then that bitch in the way
I'm Gucci Mane La Flare I make five million a day (well damn, five million a day?)
Gucci Mane La Flare I make five Million a day

I'm Gucci Mane La Flare, I make five million a day
Hol' up, let me clarify I made five million today
Nigga lookin' at my watch they feelin' some type of way
But these niggas ain't get money man they just in the way
You got a hater mentality it's hard to relate
Hol' up, let me clarify twenty mil' out the gate
Ten million dollar mansion, Gucci Mane Estate
With an all gold Roll' that match the fork and the plate
My album dropped September but I'm booked up to May
These bitches sayin' that I'm gross 'cause I skeet in they face
Why you bring your friend babe man, that bitch in the way
Shit I'm tryna fuck both of y'all, I don't like to play

I'm just slidin' down the 'crest on a hot summer day
All these diamonds on it got me feelin' some type of way
Drop the top on these haters 'cause the top in the way
And if you ain't gettin' no money then you just in the way
Took my shirt off in the vert 'cause the shirt in the way
If these hoes ain't talkin' 'bout fuckin' then they just in the way
All these diamonds on my fist I'm feelin' some type of way
If that bitch ain't gettin' no money then that bitch in the way
I'm Gucci Mane La Flare I make five million a day (well damn, five million a day?)
Gucci Mane La Flare I make five Million a day

I'm Gucci pretty please take your foot off these
Nigga neck and let 'em breathe but I just can't be
I'm too rich too give a shit 'bout anyone but me
And who gettin' cheese with me 'cause that's all I see
Metro on the beat Gucci Mane got a fleet
Orange Vert black rims trick-or-treat on the streets
They sent me five million dollars, I hadn't been out a week
And I got five million niggas playa hatin' on me
Ask all the bloggers, 'cause they love to write 'bout me
Then ask the mobsters, they never sold that white like me
Ask all the boppers, them bitches love to fight 'bout me
Then ask the robbers, nobody's jewelry bright like me
Guwop's a problem, nobody talks the talk like me
Guwop's a cook man, nobody holds a fork like me
These niggas liars, no money in the vault like me
I'm a supplier, nobody stops the drought like me

I'm just slidin' down the 'crest on a hot summer day
All these diamonds on it got me feelin' some type of way
Drop the top on these haters 'cause the top in the way
And if you ain't gettin' no money then you just in the way
Took my shirt off in the vert 'cause the shirt in the way
If these hoes ain't talkin' 'bout fuckin' then they just in the way
All these diamonds on my fist I'm feelin' some type of way
If that bitch ain't gettin' no money then that bitch in the way
I'm Gucci Mane La Flare I make five million a day (well damn, five million a day?)
Gucci Mane La Flare I make five Million a day

Metro Boomin' want some more nigga
This the intro, Metro, Gucc-o, wop, wop
Overall Meaning
The first thing that's noticeable in the intro of Gucci Mane's "5 Million Intro" is that he is boasting about making $5 million every day. Gucci is known to be very successful in the rap game, and he's not afraid to let people know that he's making big money. In the first verse, Gucci is driving down the street with his car equipped with diamond rims and sliding down the road on a hot summer day. He's getting a lot of attention from onlookers, but he doesn't care because he's feeling good about his success.
In the second verse, Gucci Mane talks about how he's not bothered by haters, and he's only concerned with making money. He also mentions that he's booked up for the next few months, and he's making a lot of money in the process. Gucci also makes it clear that he's not interested in anyone who isn't making money, and he doesn't have time for people who have a negative, hater mentality.
Overall, Gucci Mane's "5 Million Intro" is about his success and his ability to make money. He's not afraid to boast about his achievements, and he's not going to apologize for his wealth. The song is a reminder that Gucci is at the top of his game and he's dominating the rap industry.

Line by Line Meaning
Hah, hah
A chuckle from Gucci Mane
It's Wizop, Metro, Metro
Gucci Mane introducing the collaboration between him and Metro Boomin
It's Gucci, yeah
Another short introduction from Gucci Mane
Southside (hah, sizzle)
A shoutout to the producer Southside
Metro Boomin' want some more nigga
A tagline from Metro Boomin, indicating his desire to produce more hits with Gucci Mane
I'm just slidin' down the 'crest on a hot summer day
Gucci Mane casually driving down the street on a hot summer day
All these diamonds on it got me feelin' some type of way
Gucci Mane's expensive jewelry is making him feel a certain way
Drop the top on these haters 'cause the top in the way
Gucci Mane is showing off his convertible and letting the haters know he's above them
And if you ain't gettin' no money then you just in the way
Those who aren't making money are irrelevant to Gucci Mane
Took my shirt off in the vert 'cause the shirt in the way
Gucci Mane had to remove his shirt to show off his expensive car
If these hoes ain't talkin' 'bout fuckin' then they just in the way
Women who aren't interested in sexual activities aren't worth Gucci Mane's time
All these diamonds on my fist I'm feelin' some type of way
Gucci Mane's diamond-studded hand is making him feel good
If that bitch ain't gettin' no money then that bitch in the way
Women who aren't making money are irrelevant to Gucci Mane
I'm Gucci Mane La Flare I make five million a day (well damn, five million a day?)
Gucci Mane is letting everyone know how much money he's making, and it's a lot
Hol' up, let me clarify I made five million today
Gucci Mane wants to clarify that he made five million in just one day
Nigga lookin' at my watch they feelin' some type of way
People are envious of Gucci Mane's expensive watch
But these niggas ain't get money man they just in the way
Those who aren't making money are irrelevant to Gucci Mane
You got a hater mentality it's hard to relate
Gucci Mane can't relate to those who hate on him
Hol' up, let me clarify twenty mil' out the gate
Gucci Mane clarifying that he made 20 million dollars immediately after his release from prison
Ten million dollar mansion, Gucci Mane Estate
Gucci Mane has an expensive mansion
With an all gold Roll' that match the fork and the plate
Gucci Mane's car is gold and matches his gold-forked food
My album dropped September but I'm booked up to May
Gucci Mane's album dropped in September but he is already booked up with performances until May
These bitches sayin' that I'm gross 'cause I skeet in they face
Gucci Mane's sexual activities are frowned upon by some women
Why you bring your friend babe man, that bitch in the way
Gucci Mane doesn't want his sexual experiences with one woman to be affected by the presence of another woman
Shit I'm tryna fuck both of y'all, I don't like to play
Gucci Mane wants to engage in sexual activities with both women
Gucci pretty please take your foot off these
Gucci Mane is addressing those who are trying to bring him down
Nigga neck and let 'em breathe but I just can't be
Gucci Mane is too famous to ignore his haters
I'm too rich too give a shit 'bout anyone but me
Gucci Mane is too wealthy to care about anything else besides himself
And who gettin' cheese with me 'cause that's all I see
Gucci Mane is only interested in making money with those who have similar wealth to him
Metro on the beat Gucci Mane got a fleet
Gucci Mane showing off his cars and indicating that Metro Boomin is a part of his music-making team
Orange Vert black rims trick-or-treat on the streets
Gucci Mane's orange car with black rims stands out like a Halloween decoration
They sent me five million dollars, I hadn't been out a week
Gucci Mane received 5 million dollars after his release from prison
And I got five million niggas playa hatin' on me
5 million people are hating on Gucci Mane
Ask all the bloggers, 'cause they love to write 'bout me
Gucci Mane is very famous and is talked about in the media
Then ask the mobsters, they never sold that white like me
Gucci Mane is bragging about his experience selling drugs
Ask all the boppers, them bitches love to fight 'bout me
Women love to argue about Gucci Mane
Then ask the robbers, nobody's jewelry bright like me
Gucci Mane has the brightest and flashiest jewelry
Guwop's a problem, nobody talks the talk like me
Gucci Mane is the best at bragging and talking himself up
Guwop's a cook man, nobody holds a fork like me
Gucci Mane is also good at cooking
These niggas liars, no money in the vault like me
Gucci Mane is the only one with a lot of money
I'm a supplier, nobody stops the drought like me
Gucci Mane is a great drug dealer and can always provide the drugs people need
Lyrics © Universal Music Publishing Group, Warner Chappell Music, Inc.
Written by: Radric Delantic Davis, Leland Wayne, Joshua Luellen

Lyrics Licensed & Provided by LyricFind
To comment on or correct specific content,
highlight it